Yoshkar-Ola Central Registry Office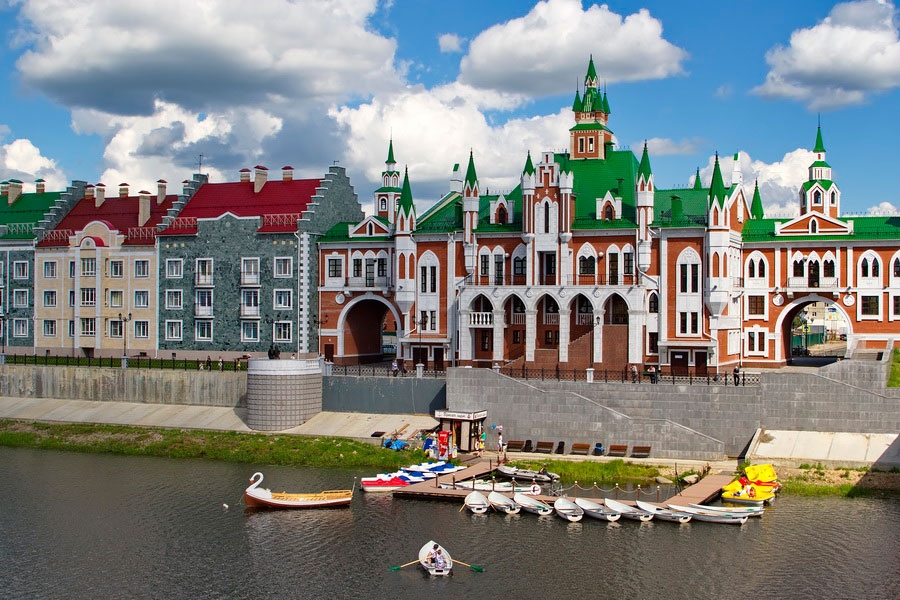 Yoshkar-Ola Central Registry Office, often simply referred to as The Wedding Palace, has enhanced the beautiful Bruges Embankment since 2012. Counted among the three most unusual registry offices in Russia, it is one of the most popular attractions in Yoshkar-Ola, the capital of Mari El Republic.
A large three-story building built in a Gothic style which is reminiscent of a fairytale castle, the palace blends seamlessly with the Belgian architecture prevalent along the embankment, its romantic aura a perfect reflection of its function. Inspiration for Wedding Palace came from Leonid Markelov, then-head of Mari El Republic, who proposed that since the ideal married life should resemble a fairy tale, it was only natural for newlyweds to begin their journey by receiving their marriage license in a fairytale castle.
Construction of Central Registry Office was carried out around the clock, and the result was a red-brick building with marble floors and luxurious décor. Of particular note are the inner rooms, including a wedding hall, newborn registration center and a buffet room, in each of which attention was paid to the finest detail. The architects creatively designed two separate entrances to Wedding Palace: Before receiving their license, the couple enters Central Registry Office from Eshkinina Street, and after being pronounced husband and wife, they step out onto Bruges Embankment to continue their journey on a river tram, as if floating into a future of Happily Ever After.
A nearby monument of Grace Kelly and Prince Rainier III of Monaco has become symbolic of the ideal married couple and is an obligatory stop on all wedding photo shoots. A statue of the couple Saints Peter and Fevronia, also located on Bruges Embankment, is similarly regarded as a symbol of love and devotion, and as such is also very popular with newlywed couples.
The whimsical Yoshkar-Ola Central Registry Office stands as the pride of the city, its doors open to tourists and to everyone wishing to tie the knot.