Republican Puppet Theater, Yoshkar-Ola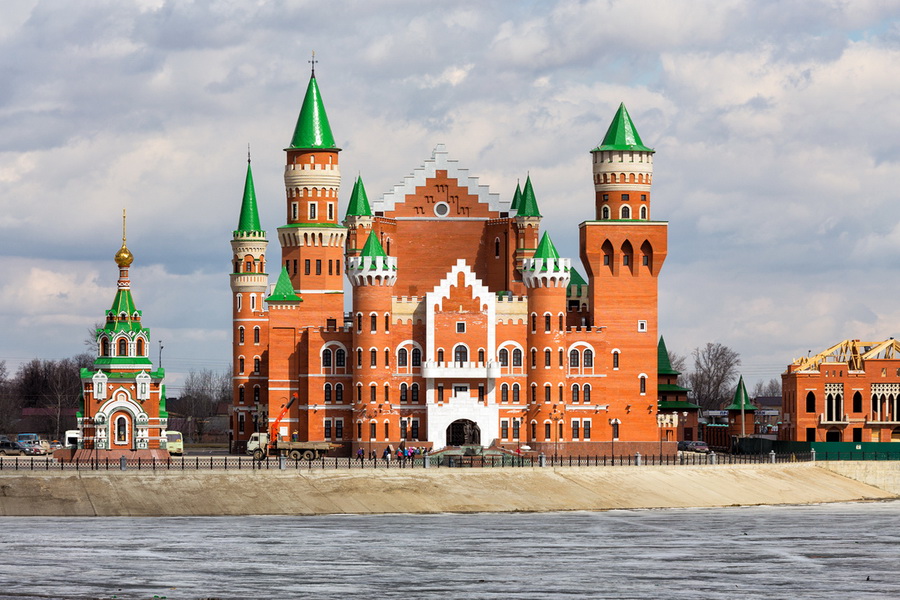 Republican Puppet Theater in Yoshkar-Ola, Russia offers a fun, unique experience for young and old alike. Housed in a luxurious building which resembles Neuschwanstein Castle in Germany, the complex offers award-winning classic and premiere performances and various entertainment activities for children.
Although the puppet theater officially formed in 1942, performances began much earlier. Before obtaining their own building, Yoshkar Ola's puppet troupe spent years touring the cities of Mari El Republic to give performances in schools. The establishment of an actual puppet theater came about somewhat by chance: At the outset, puppet shows were arranged by the drama theater actors as a form of entertainment during intermissions. Theater director G. K. Kryzhitsky was the first to propose the idea for an actual puppet theater. His suggestion was carried out by a team of creative entertainers who established the ensemble now known as Republican Puppet Theater. It was still some years before the actors and their puppets got a stage of their own, and it was only in 2014 that the performers moved to the current palace, which was built specifically for Republican Puppet Theater.
The theater building is defined by turrets, spires, high domes and battlements on the outside and equally charming décor within. Today it is not just a theater but an entire children's complex whose spacious foyer and halls allow active young visitors to burn off some energy. In addition to a huge stage of 230 square meters and an auditorium which can seat up to 300 spectators, the castle includes a spacious game room, a museum and a children's cafe.
The theater's repertoire is very diverse and includes both classic performances and modern productions written by local directors. Republican Puppet Theater is well known even outside the Mari El Republic, for it regularly participates in festivals and competitions and has garnered awards on many occasions. Thanks to the talent of the actors-puppeteers as well as the directors, producers and stage designers, the performances never fail to delight audiences.
Republican Puppet Theater is located in the heart of Yoshkar-Ola on Patriarch Square, which straddles the Bruges Embankment along Kokshaga River.