Tsarevokokshaysky Kremlin, Yoshkar-Ola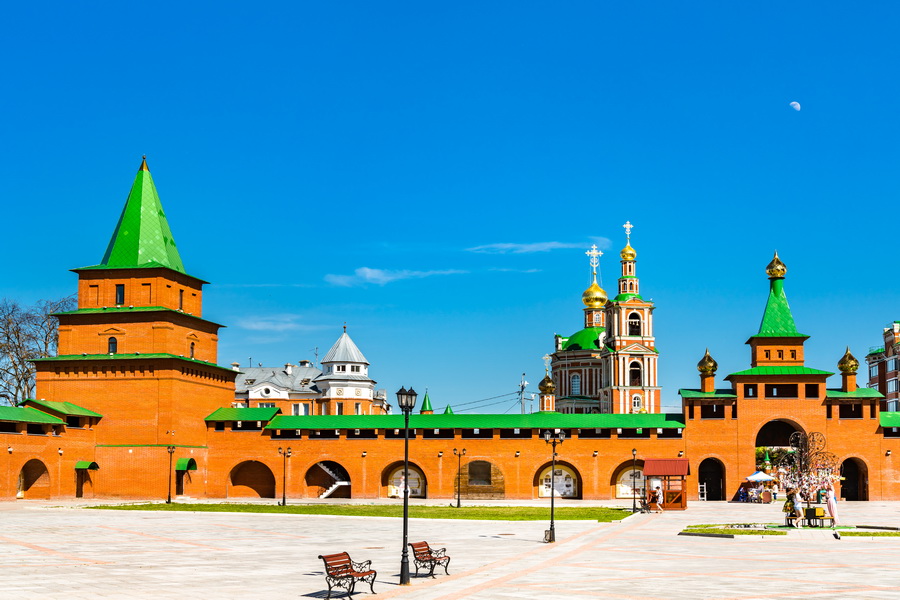 Tsarevokokshaysky Kremlin in Yoshkar-Ola, Russia is one of the city's central attractions. As the capital of the Mari El Republic, Yoshkar-Ola and its colorful Kremlin are a testament to the region's centuries-old history, while the Kremlin also serves as the backdrop for many city festivals.
The Kremlin is located on the site where the original town of Tsarevokokshaisk once stood. The fortress was known as Market Square until 1919, at which time it was given the name Revolution Square. Unfortunately, the original defensive structures have not survived to our times. The Kremlin seen today was restored in 2009 and opened to the public on November 4, the anniversary of the founding of the Mari El Republic.
Tsarevokokshay Kremlin consists of four red-brick towers connected by walls which form a rectangle. Inside the complex are several churches and a beautiful park, at the center of which is a monument to the 16th-century founder of the city, Tsar Fyodor Ioannovich. In 1584 the tsar issued a decree for the formation of the town of Tsarevokokshaisk, whose name was changed to Yoshkar-Ola in 1919. Today the statue of Tsar Fyodor Ioannovich, the only one of its kind in the world, remains the pride of the city.
Recreated 16th-19th century artillery pieces are also on display in Kremlin Square, while realistic guns cast according to old sketches help to recreate a historic atmosphere. The Legend of Tsar Grand Exhibition narrates Yoshkar-Ola's founding and its development from the 16th-20th centuries. No less interesting is Museum of the History of Yoshkar-Ola, which showcases many artifacts discovered during excavations of the area. The territory of the Kremlin is being expanded and will soon be supplemented with an Orthodox center, Trinity Church and Annunciation Cathedral.
Tsarevokokshaysky Kremlin holds regular historical events both indoors and outside and is often the staging ground for fairs, holidays and agricultural exhibitions. Victory Day (May 9) and City Day (August 6) are both celebrated at the Yoshkar-Ola Kremlin, and since 2011, the actors of the Opera and Ballet Theater have staged regular performances on the grounds. During Maslenitsa, a folk religious holiday celebrated in late February or early March, fairs staged at Tsarevokokshaysky Kremlin attract guests with delicious pancakes and holiday activities.