Hulbuk, Tajikistan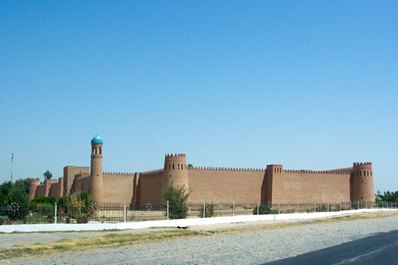 In 1952 the archeologists started exploration of a place near Kurgan Tube named Khisht-Tepa (" the Brick Hill"). Presumably there had to be the site of the "vanished" medieval capital. The entire area (about 70 hectares) abounded with pieces of pottery and glass, ceramic and metal slag, and fragments of burnt bricks. According to historians Hulbuk's structures were made from these materials.
The further excavation proved that it was on this hill, in the center of Hulbuk, where the palace of the local ruler used to stand. The inspection of the remains of the citadel which was a part of the palace revealed that it stood on an even platform; its walls were made of mud bricks and tiled with burnt ones. The palace consisted of big rectangular rooms and long wide corridors. The parquet0like floors were laid with burnt bricks. The palace was richly decorated: the walls and ceilings were covered with wall paintings showing warriors, musicians and musical instruments as well as alabaster carving in the form of vegetative and geometrical patterns, Arabian inscriptions, images of fishes and mythical animals.
The further excavations revealed that under the palace, dated the 11th century, there are some earlier structures which means that the palace was constructed on the debris of another. It was also found that in the ancient city there were a sewer, water and heating systems with brick ducts and ceramic pipes. The rooms were heated by means of big jugs, khums, dug into the floor. A jug filled with hot wood coal gradually heated the floor. One of significant finds in Khuttal' were huge Hulbuk ivory chess figures. The archaeologists found 20 intact and 8 half-destroyed ones.