Road conditions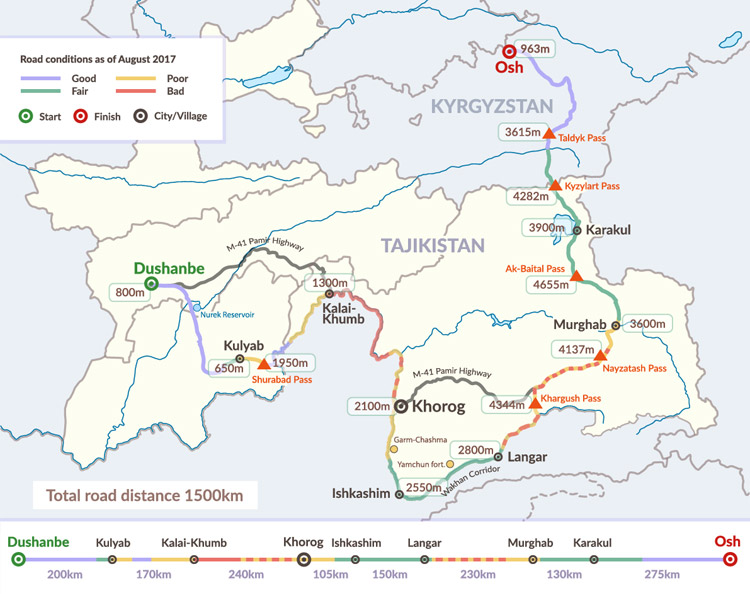 View detailed road map in JPG, SVG
Pamir Highway is a road running for more than 1500 km, starting in Dushanbe and ending in Osh. The peculiarity of the road is that it lies on the height from 900 to 4655 meters, and the route goes through picturesque mountainous regions of Pamir. Due to the harsh mountain climate, road conditions in many places are bad. For this reason, we recommend alternatives roads from Dushanbe to Kalai-Khumb and Khorog to Murghab. If in the first section longer road takes less time, in the second section, from Khorog to Murghab, you will enjoy rather diverse nature and sights in the Wakhan valley.
It is worth noting that the Pamir Highway trip goes via Gorno-Badakhshan autonomous region. GBAO permit is required to visit the area. You will be asked to provide its copy at every checkpoint. That's for it is recommended to print out 10 copies in advance.
We recommend learning in advance road conditions, altitude fluctuations, duration of the trip and some other details from our experience we found noteworthy before traveling to Pamir. It will help planning your trip program and getting ready for possible inconveniences.
Below you will find more information on every section of Pamir Highway that can usually be covered in one day.
Dushanbe – Kalai-Khumb
Distance from Dushanbe to Kalai-Khumb is 370 km, and the most part of the road is in a very good condition. Only the last 40 km of the road lies via a narrow gorge and a dirt road. The road usually takes 8 hours including stops for lunch and taking photos in beautiful places. The highest point on this part of the Pamir Highway is Shuroabad pass (1959m). Most popular stops for photos are: Nurek water reserve and panoramic view over river Panj from Shuroabad pass.
Kalai-Khumb – Khorog
The piece of road from Kalai-Khumb to Khorog goes via deep gorge along the river Panj. The road is in a poor condition and thus distance of 240km is covered in 8 hours. Combination of dirt and old pavement allows driving only for jeeps and cross-country cars. Sometimes the road gets that narrow that you will have to follow a slow car in front or wait on the descent until oncoming traffic will pass by. Some roads are very dusty and all windows need to be closed. The road runs along the river, and that is why all day it will be a smooth drive up to the height from 1300 m to Qalai-Khumb at 2100 m in Khorog. Hundreds of picturesque mountain landscapes will pass by as you drive, but since the road is too narrow it is not possible to stop. The only way to take photos is from the car.
Khorog – Ishkashim
The road Khorog-Ishkashim runs for 110 km; the first half of the road runs across a dirt road, and the second half – on rather good pavement. Thus it lasts around 3,5-4 hours. As it was in the lot of Qalai-Khumb, there are narrow parts of the road, lying along the river Panj on the ascending altitude of 2100 - 2500 m above sea level. You won't see noticeable mountain views for photo stops as you drive. In the middle of your way the road branches out to the local sight Garm-Chashma.
Ishkashim – Langar
This section of the Pamir Highway lies across a picturesque Wakhan corridor with several interesting sights and you can enjoy snow-white six-thousanders (mountain peaks that are over 6000 meters high). It is only 150 km from Ishkasim to Langar, but taking into consideration stops at all possible interesting places, the road may last up to 8-10 hours. Road conditions are decent: pavement and some dirt road. As you drive, you can see such attractions as Kakh-Kakha and Yamchun fortresses, beautiful villages, and breathtaking panoramic views of Wakhan valley. In addition, there will be no gas stations further on, and it will be possible to get fuel only at mobile stations which is a truck with an oil tank. The climb will reach 300 meters: from 2500 m in Ishkasim to 2800 m in Langar. Turning from the road to the Yamchun fortress, you will move up for 400 m.
Langar – Murghab
Distance between Langar and Murghab is 255 km. There road conditions are poor and it takes around 7-8 hours to reach the destination. The first 100 km of the road lie via a dirt road further continued with a pavement that has many wavy parts causing the speed limit.
The elevation on this day will be from 2800 to 3600 m (above sea level). You will drive through two mountain passes – Khargush (4344m) and Naizatash (4137m) and enjoy many interesting landscapes, several lakes and green meadows around Murghab.
Murghab – Karakul – Sary-Tash – Osh
The final part of the route on Pamir Highway from Murghab to Osh stretches for 410 km. It is the longest and the highest mountain part that includes a drive via three passes; Ak-Baytal is the highest one among them (4655m). The heights resemble the sinusoid with several ascent and descents: Murghab (3600m), Ak-Baytal pass (4655m), Lake Karakul (3900m), Kyzyl-Art pass (4280m), Sary-Tash (3200m), Toldyk pass (3615m), Osh (1200m).
In general, road conditions are rather decent: 90% is pavement, and only passes have some parts of dirt road for better grip of the car on long lifts and descents. The road may take up to 10-12 hours; the duration also depends on how long it takes to cross Tajik-Kyrgyz border of Kyzyl-Art. It is possible to make a stop at the Ak-Baytal pass that is one of the highest automobile mountain passes in the world, and enjoy breathtaking view of the Karakul Lake, and then, on the Kyrgyz side, see the Lenin's Peak (7134m) in Sary Tash.
For those planning to travel solo to Pamir Highway, we recommend to consider fuel reserves in advance and take all necessary tools as there will be very few gas stations and garages on the road, and it may last hours to wait for the help of other drivers, as traffic on the highway is rare.
For those taking a group tour to Pamir Highway, it is to know that there will be long hour drive for the whole week on bad roads with constant jolting and other inconveniences. However, still in return, you will see beautiful landscapes as you drive and have an opportunity to get to know unique culture of this region on the edge of the world.