Ulugbek Madrasah, Bukhara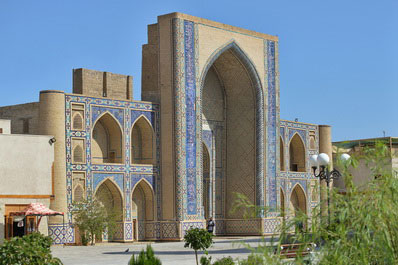 Ulugbek Madrasah was found in 1417, as the inscription on the bronze plate of door runs says. There is a name of master in the portal tympanum, which was building this monument – Ismail ibn Takhir ibn Makhmud Ispfargoni. It is possible he was a grandson of one of the masters, who had been captured by Timur in Iran and left their names on the portal of Gur-Amir complex in Samarkand.
Bukhara Madrasah is the first Madrasah, built by Ulugbek. It is comparatively small, but has great forms. This is a building with two-ayvan square yard, surrounded by two-storey hudjrs, with darskhana cupola halls and mosque on the cross of entrance hall.