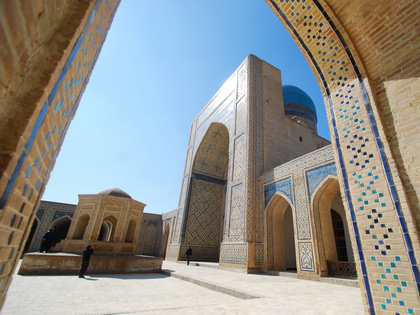 Spend two days exploring Holy Bukhara - the city, whose age is already over 2,000 year. During the tour to Bukhara you will see the main city's symbols, such as the Ark Fortress, Kalyan minaret Lyabi-Khauz complex, visit numerous medieval mosques and mausoleums of Bukhara and its vicinity.
A guide will meet you at hotel in Bukhara, which is a starting point of the city tour. Enjoy a walking sightseeing tour with a guide in Old City. Visit
Lyabi-Khauz Ensemble
,
Magoki-Attori Mosque
,
Chor-Minor Madrasah
,
trade domes
,
Kalyan Minaret
,
Kalyan Mosque
and
Miri-Arab Madrasah
,
Ulugbek
and
Abdulazizkhan
madrasahs,
Ark Fortress
,
Bolo-Khauz Mosque
,
Ismail Samani
and
Chashma-Ayub
mausoleums.
Duration of sightseeing tour: 6-7 hours
Start the second day with a visit to
Sitorai Mokhi-Khosa
, the former summer residence of Bukhara's last emir. This is a unique site combining Oriental and Russian architecture. Continue to the mausoleum of the founder of Sufi Muslim order
Bakhouddin Naqshbandi
and
Chor-Bakr Necropolis
. Return to Bukhara. End of the tour.
Duration of sightseeing tour: 3-4 hours
Guided sightseeing tour;
Entrance fees to the museums, mausoleums and other sights;
Transport throughout the tour on 2-nd day.
Full board (lunch and dinner);
Hotel accommodation;
Travel insurance.