Shakhimardan, Ferghana Valley
Tours, Attractions and Things To Do in Shakhimardan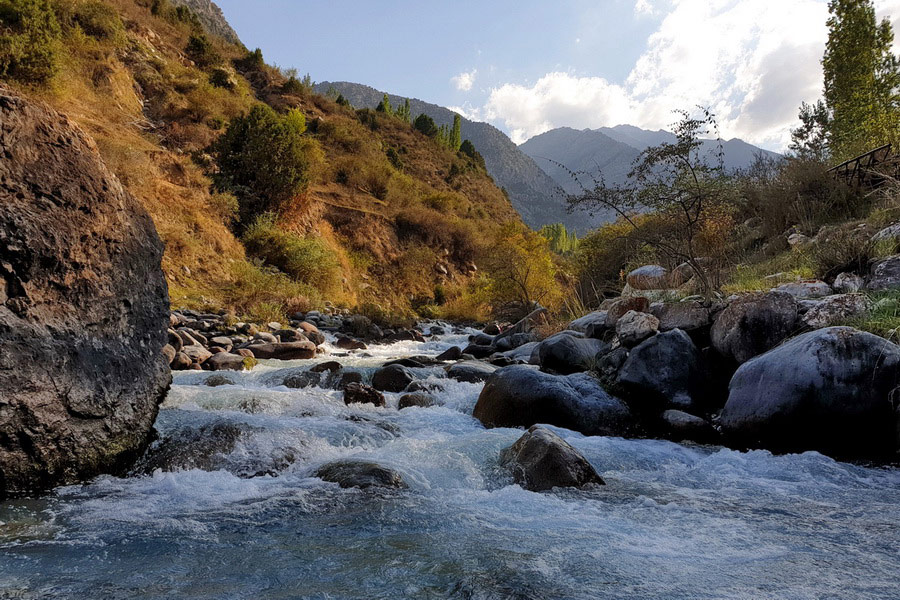 The city-resort Shakhimardan lies in the picturesque mountainous region (1500 m above sea level), 55 km from Ferghana. This is the place of great beauty, lost in the mountains of the Alai Range and washed by rivulets of Oak-Su and Kok-Su on both sides. Seven kilometers to the southeast of Shakhimardan there is the lake Kulikubbon or Blue Lake. It was formed after a series of strong earthquakes in 1766. The lake lies at the altitude of 1,724 meters above sea level. Its length is 170 m, width - 60 m, depth – 5-10 m. Two kilometers cableway leads to the lake.
Cool air, rushing rivers and mountain lakes make this region a wonderful place for recreation and travel. Moreover, Shakhimardan is also considered the sacred area, a place of religious pilgrimage.
Muslim tradition states that Hazrat Ali himself, the fourth caliph, son-in-law of Prophet Muhammad visited Shakhimardan, and one of his possible seven graves is located here. "Shakhimardan" in Persian language means "Lord of the people", which also correlates with the name of Hazrat-Ali. In 20-ies in the center of Shakhimardan there was the mosque and the mausoleum of Hazrat-Ali, where believers came to pray. However, during the era of religion persecution, the Soviet authorities destroyed the mausoleum of Ali. And only when Uzbekistan gained independence in 1993 the mausoleum of Hazrat-Ali was re-built in the same place and preserved its outer form.
In the 1930's in the result of exchange of territories between Uzbekistan and Kyrgyzstan, Shakhimardan became the part of Uzbekistan. For short period Shakhimardan was called as Hamzaabad, in honor of the poet and the founder of the Uzbek drama Khamza Hakim-zade Niyazi. In March 1929 in the village of Shakhimardan Khamza was killed. In the 60ties the museum and mausoleum of Khamza were constructed in his honor, and in 1989 during the celebration of the centennial anniversary of the birth of Khamza the new museum and a monument to this talented figure were opened in Shakhimardan.