Amirsoy Ski Resort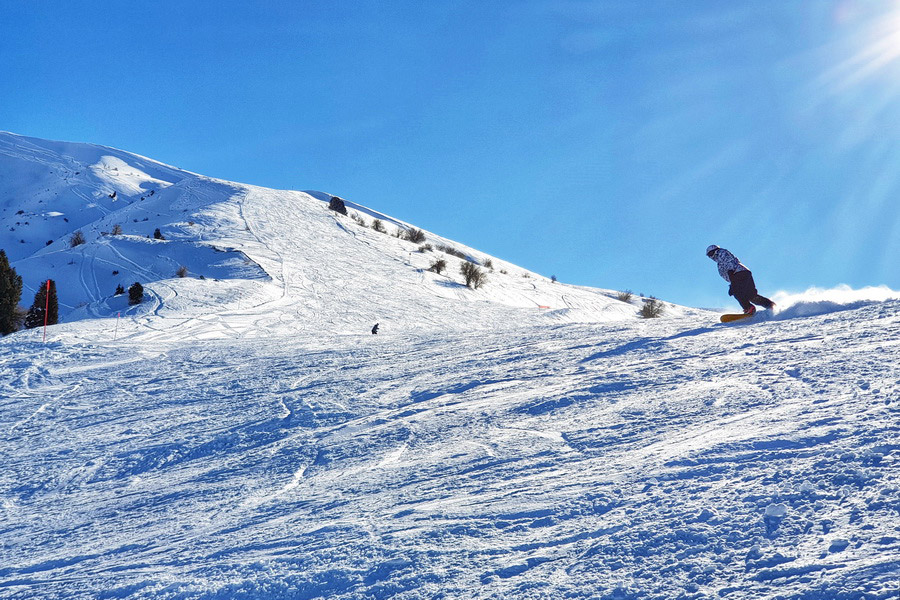 In late 2019, a dream came true for fans of alpine skiing and snowboarding: the opening, at long last, of Uzbekistan's first international-standard, all-season mountain resort.
The Amirsoy resort is located at an altitude of 2,494m on the northern slopes of the majestic Tien Shan mountains of Maigashkan.
Amirsoy (Amirsay) is particularly attractive due to its proximity to Tashkent and the Islam Karimov International Airport. The 65km drive takes no more than 2 hours, with an excellent high-altitude highway leading to a high-quality parking area at the resort.
There is unfortunately no public transport to Amirsoy. However, if you need transport, Advantour will gladly arrange it for you. We have at our disposal cars and minibuses, as well as buses for groups of thirty or more people.
While the 900-hectare resort complex is only planned to be completed by 2022, many facilities are already operating:
8 ski trails of varying degrees of difficulty, with a total length of 10 kilometres
5 lifts (including one 8-seater gondola type)
Three travellators
Sledding, snowmobiles, and tubing (for both children and adults)
Areas for playing in the snow
Alpine-style chalets and a camp site for overnight stays
Restaurants
Parking.
Amirsoy's winter sports season opens in late November or early December and ends around early March, depending on weather conditions.
Equipment is available for hire and professional, English-speaking local and international instructors are available for skiing and snowboarding lessons throughout the season.
After the ongoing construction work is finished, the resort will offer an even wider range of services and infrastructure – especially for summer visitors. A hotel and an artificial lake will be built, as well as year-round restaurants and cafés, a sauna complex, and many other facilities.
A camp site for summer holidays is already operating. There are also hiking trails surrounded by wonderful mountain scenery. Quad bikes can be rented, with a dedicated area for quad biking ensuring that riders can enjoy themselves without worrying about pedestrians.
Amirsoy is also an attractive destination for people not interested in active sports. The well-appointed alpine-style chalets, located on the lower plateau of the complex away from the busy ski slopes, are the ideal place to relax and enjoy nature.
For both winter and summer visitors, a highlight of the resort is riding the gondola cable car to the top of the mountain to enjoy the beautiful views of the Tien Shan Valley.
A variety of entertainment options, available in special areas away from the busy ski trails and lifts, ensures that children will not get bored. In addition to learning to ski with professional instructors, they can try tubing, ride children's go-karts, or simply play in the snow. An indoor play area for children, which is expected to offer childcare, is also planned to be built by winter 2020-21.
The resort has two restaurants, Olive Garden and La Brasa. The former specialises in European cuisine and the latter offers Uzbek dishes. While the menus have few vegetarian options, you can always ask the chef to cook something specially for you. The Olive Garden is open until 22:00, while La Brasa closes earlier. A food court and lounge bar are also planned to be built in time for the upcoming winter season.