Traditional Armenian Dishes to Try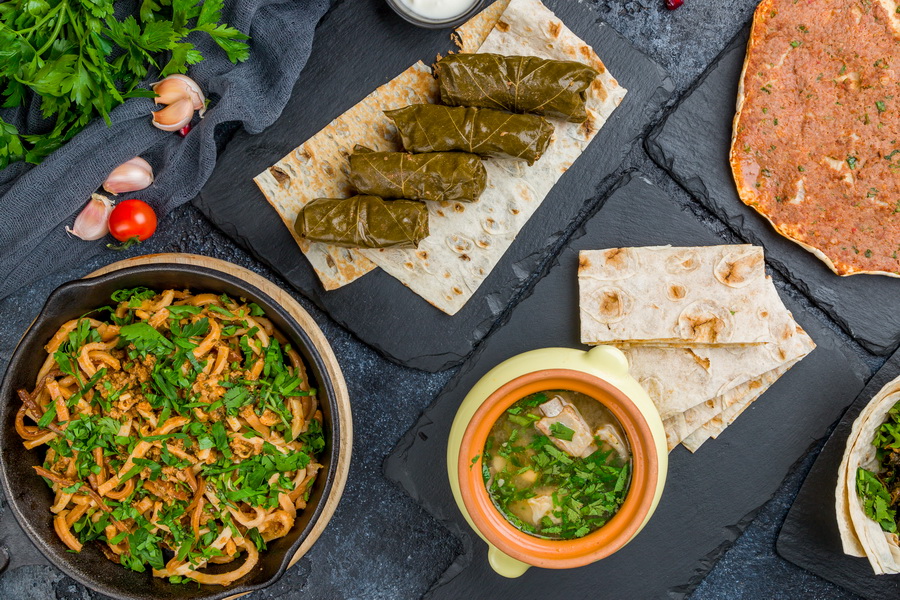 Popular Armenian dishes
Colorful, varied and satisfying Armenian cuisine is a fun discovery for anyone who enjoys authentic and unusual dishes. The meals enjoyed by ordinary families in Armenia are a reflection of the nation's vibrant culture and ancestral heritage. Each item in our list of top 10 Armenian dishes you have to try is a window into the original culture of this hospitable and cordial people.
Zhengyalov Hats
One of the most delicious traditional Armenian dishes to try is Zhengyalov hats, a ruddy fried cake with thin layers of dough which are stuffed with up to 20 types of greens, fresh shoots and other fillings. Spinach, lettuce, nettle, sorrel, woodlice, beet tops, green onions, violet leaves and even quinoa are just some of the ingredients for Armenia's famous zhengyalov hats. Once cooked, this popular Armenian street food is greased with butter for a tasty finish.
Kufta
Hearty and mouthwatering meatballs, which in Armenia are called kufta, will captivate you with their delicate texture and rich taste. These round cutlets are made from finely chopped lamb which is carefully beaten into a sticky minced meat with an incredibly soft consistency. The cooked meat is mixed with a sauce made from beaten eggs, milk, flour, spices and finely chopped onions. From the resulting mass, medium-sized balls are formed and boiled in water until fully cooked. This popular Armenian dish never fails to satisfy meat lovers!
Khorovats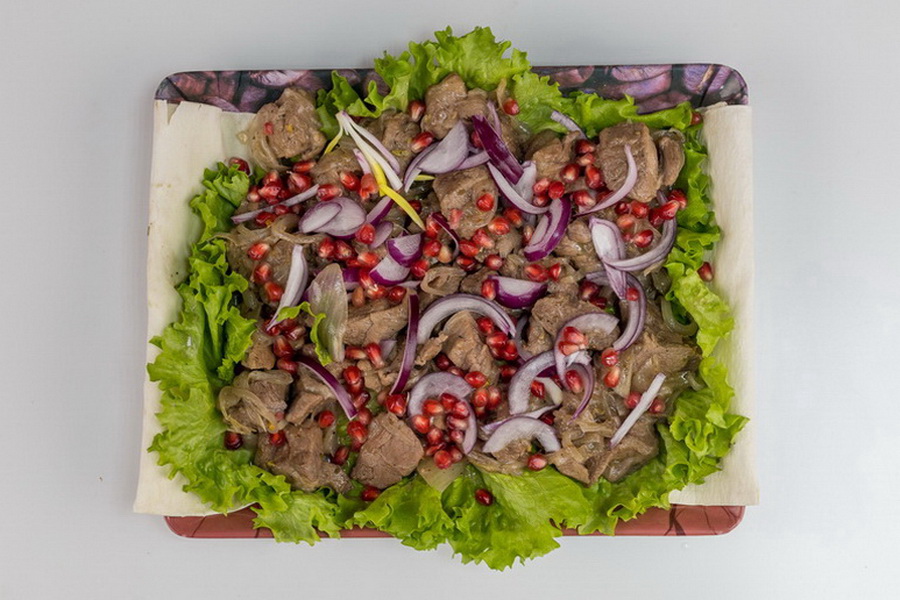 Local shish kebab, called khorovats, is the most popular traditional Armenian food and a must-try for visiting tourists. Khorovats can be found on the menu of almost any restaurant and on the table at any family celebration. The dish is prepared with beef, pork or lamb which is cut into pieces and marinated with onions, spices and salt for several hours. Once the meat has saturated the marinade juice it is cooked on a charcoal grill. The steaming aromatic chunks are served with herbs and freshly chopped vegetables.
Dolma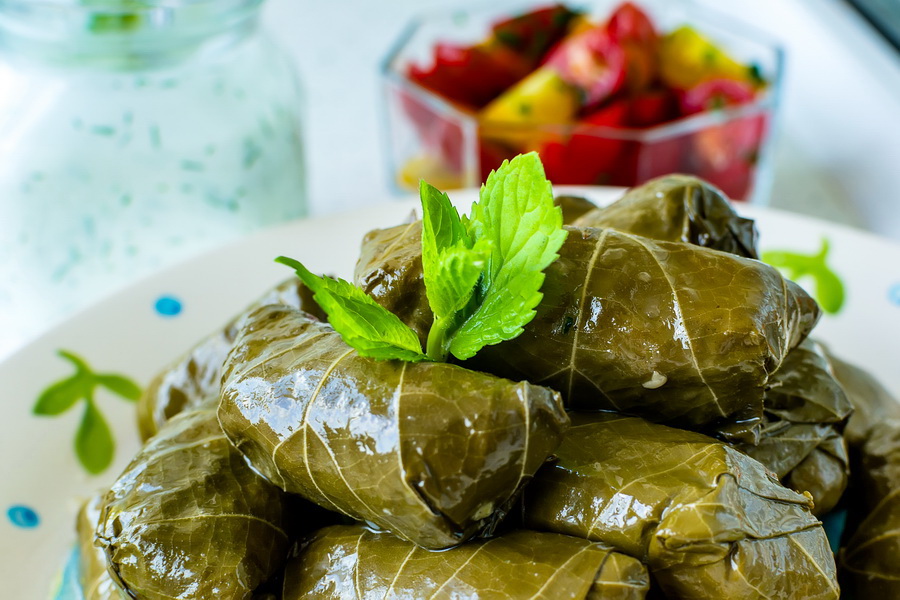 Dolma is a classic food in the wider region and a staple in Armenian cuisine. This boiled dish of delicate ground beef and rice wrapped in large grape or cabbage leaves is both healthy and satisfying. The stuffed rolls are formed into the shape of neat, elongated "fingers" and are traditionally served with chopped garlic and a sour yogurt called matsun. Since there is no official Armenian recipe for this ancient dish, you will taste different variations of dolma in almost every region of the country.
Tzhvzhik
Tzhvzhik is an Armenian meat dish made from veal or beef liver and offal. The insides are washed and divided into parts, after which they are fried until half cooked. Chopped onions, tomato puree and spices are then added to infuse the mixture with a delicate, spicy flair. The ready tzhvzhik is sprinkled with finely chopped parsley and served on the table along with traditional lavash.
Bozbash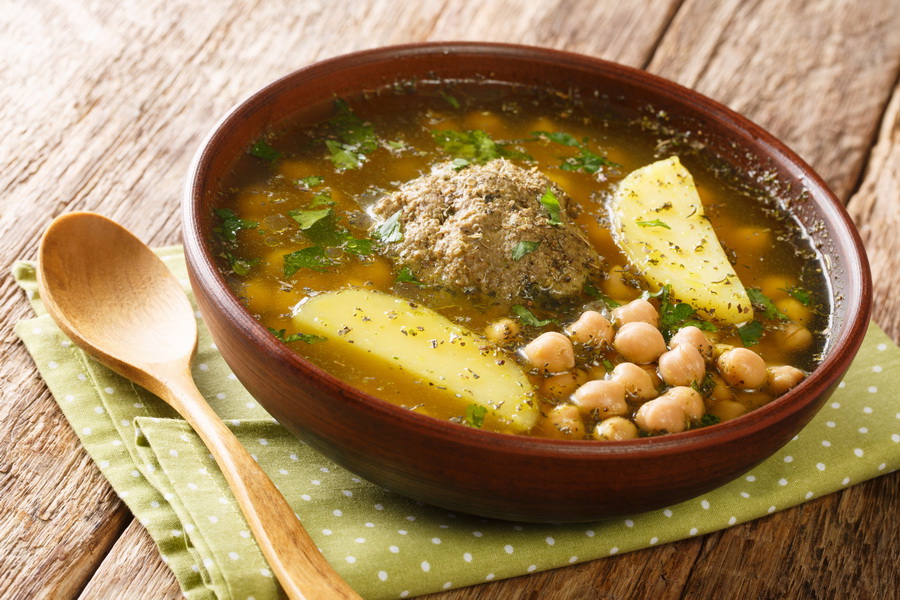 Thick and rich bozbash soup, one of the most traditional Armenian dishes to try, gets its flavor from lamb brisket soaked in fat. Many additional ingredients can be added, including chickpeas, chestnuts, potatoes, zucchini, carrots, bell peppers, turnips, tomatoes, beans, eggplants and various fruits. Not surprisingly, there are dozens of recipes for making bozbash which differ from region to region. There are even summer and winter bozbash varieties, so when traveling in Armenia you are sure to encounter many types of this hearty and tasty dish.
Kololak
Another popular Armenian recipe is kololak, a rich and slightly spicy soup which uses lamb or beef bone broth as its base. Pieces of meat are double processed in a meat grinder so that the minced meat acquires a delicate texture. Semolina, rice, milk, herbs and spices are then added to the minced meat and the mixture is formed into medium-sized cutlets. The boiled bone broth is complemented by tomato paste, potatoes and chestnuts. The final touch is the immersion of the meatballs into the thick and savory broth, where they are boiled until they float to the surface. If you want to experience the Armenians' love for delicious dishes made from fresh and natural products, be sure to try a bowl of kololak!
Spas
An unusual food that is eaten in Armenia is spas, a refreshing and fermented milk-based soup which is usually prepared in the heat of summer. Although typically served cold, it is also very tasty when eaten hot. Matsun yogurt and sour cream are used as the milk base. During cooking, grains (usually millet), onions and various greens are added, and it is this combination of matsun and greens which gives spas a pleasant sourness. The finished dish is flavorful and energizing and is served with bread or lavash.
Amich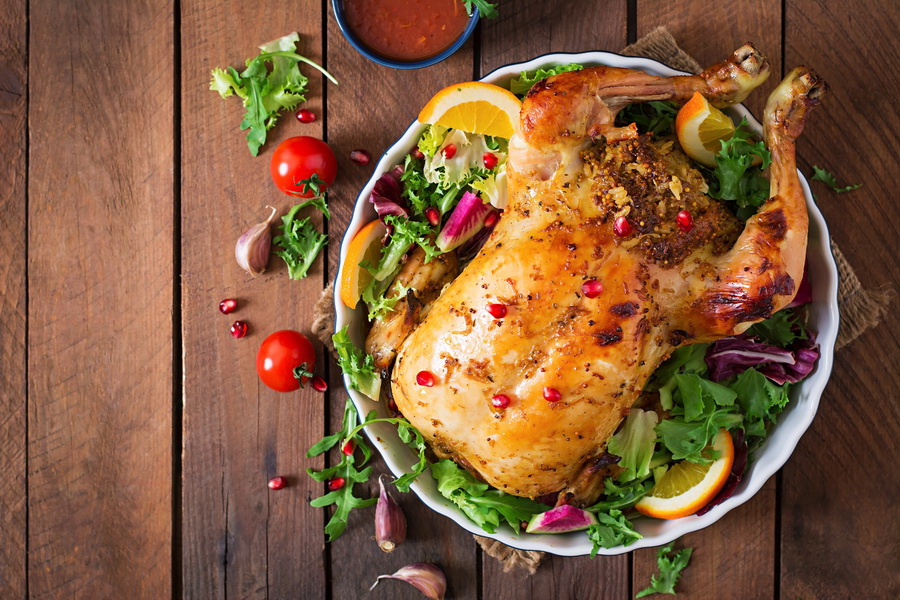 Amich is a colorfully stuffed chicken or turkey. The filling is made from rice, spices, dried fruit and almonds which are packed into the bird until it is full. The dish is then baked at a high temperature until golden brown. To serve amich, the steaming filling is dished onto plates as a side dish for the baked poultry, which is cut into portions and usually garnished with basil sprigs.
Gata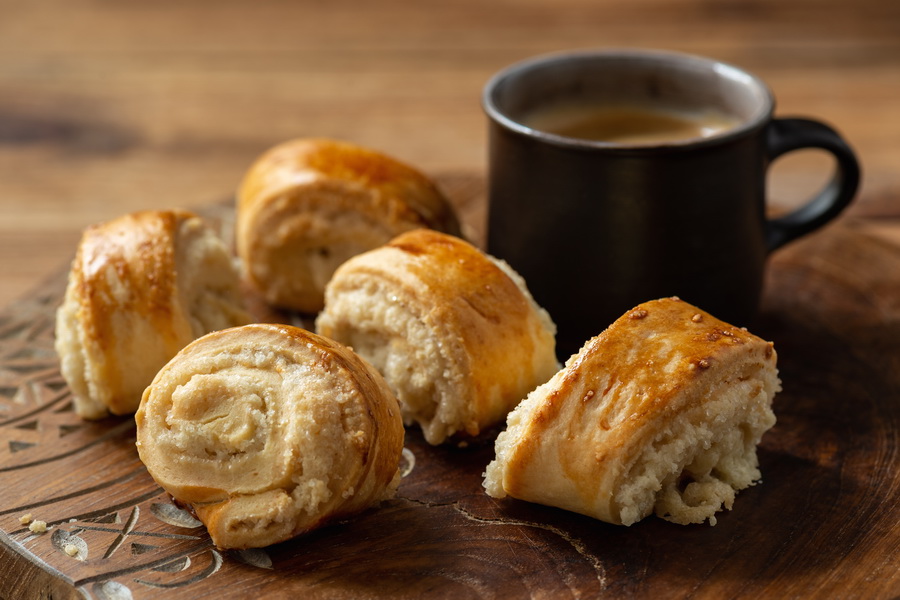 Last but not least on our list of top 10 Armenian dishes you have to try is an amazing dessert called gata, a crumbly biscuit-like cake stuffed with a sugary filling. Gata is made with the simplest ingredients -eggs, flour, matsuna, sugar and butter – which are mixed together to form a dough. Before baking, the dough is smeared with a light layer of egg yolk so that a glossy crust forms on top. The filling hardens slightly while baking, which creates a delicate and almost uniform texture. Gata is considered the highlight of Armenian pastries and is served at many special events, so be sure to try this tantalizing dessert while traveling in Armenia!