Armenian National Cuisine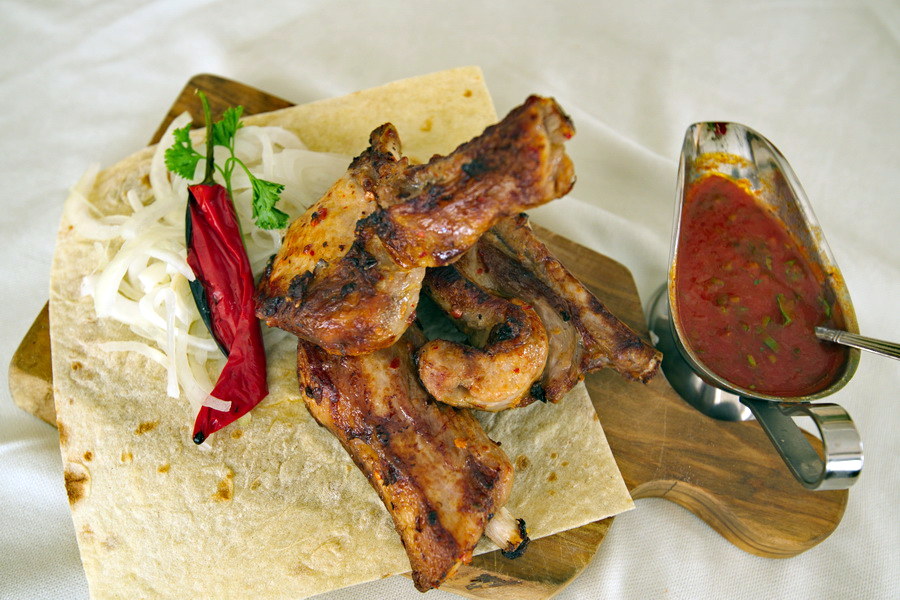 Armenian national cuisine is among the oldest in the world, with some Armenian recipes over 2000 years old. Beyond traditional dishes such as dolma and khorovats, today French croissants, Indian biryani, Arabic falafel, Sicilian arancini, American steaks and the like have found their way into local fare.
It is impossible to fly to Armenia and stay hungry, as a variety of dishes from dozens of countries will satisfy even the most demanding gourmet. Armenian cuisine may be divided into three main categories: Armenian, European and Asian dishes.
Traditional Armenian Cuisine
Armenian national cuisine is known for its abundance of meat, cheeses, herbs and spices which are used to created dishes with unique flavors. Many national foods are still prepared regularly both in restaurants and at home.
Any mention of Armenian cuisine must include khorovats (meat kebabs with vegetables); tolma or dolma (minced meat and rice wrapped in grape leaves); kufta (meatballs); bozbash (meat stew); spas (cold sour milk soup); the popular Armenian vegetarian food zhengyalov hats (flatbread with greens); amich (stuffed poultry); borani (chicken with eggplant); matsun (sour milk drink); and gata (sweet biscuits).
The country is also famous for its numerous fish dishes which have long played a central role in the history of Armenian food. The most popular fish is a Sevan trout called ishkhan, meaning "royal". Ishkhan may be served as ishkhan khorovats (fish kebab), ishkhan in wine (a delicate dish with spices), ishkhana (minced fish balls), ishkhan in oil (fish fried in butter) and ishkhan khashats (stewed fish). There is also stuffed fish, fish dolma, kchuch (fish baked in a pot) and many others.
Anyone traveling in Armenia will want to try delicious Armenian jam, which may be made from cherries, mulberries, figs and quince or even from pumpkin, eggplant, rose petals and walnuts.
International Cuisine in Armenia
European Cuisine
European cuisine in Armenia includes Italian, Sicilian, Czech, Hungarian, Polish, Romanian, Russian, Ukrainian, Bulgarian, Greek, French, Austrian, Spanish, German and Georgian meals. American and Mexican foods are also commonly referred to as "European" dishes.
Italian restaurants are quite popular in Armenia. Most offer the standard pizza, pasta, focaccia, minestrone, ravioli and risotto as well as lasagna, polenta (a cornmeal dish), gnocchi (dumplings), pancetta (bacon), frittata (scrambled eggs with vegetables, cheese and meat), trippa (an offal dish), seafood and delectable Italian desserts.
Sicilian (southern Italian) cuisine is common in Armenia. Due to the influence of different cultures on the island of Sicily, the cuisine absorbed recipes from Italy, Greece, Spain and Arabia. In Armenia you can taste bean soup, baked bread soup, pasta alla Norma and pasta with sardines, wavy ricotta lasagna and arancini (stuffed rice balls). Pecorino siciliano and caciocavallo cheeses, along with desserts such as cannoli, buccellato and granita, are also quite popular.
Central European cuisine in Armenia includes Czech, Hungarian, Polish and Romanian dishes. In specialty restaurants Hungarian pörkölt (stew), langos (fried flatbread with toppings) and goulash are served. Czech cuisine offers knedliks (boiled dough or potatoes), chesnechka (garlic soup), fried cheese and beer. Polish cuisine is represented by flyaki (tripe soup), zhurek (hangover soup) and bigos (sauerkraut and meat dish). You can also try Romanian meals such as mititei (cutlets or small sausages), yahnia (stewed vegetables) and sarmale (cabbage or grape leaves stuffed with minced meat and rice).
Eastern European cuisine in Armenia includes Russian, Ukrainian and Bulgarian favorites such as borscht (beet soup), manty (steamed dumplings), krucheniki (meat loaves), crepes, fried pies, pelmeni (boiled dumplings), pickles, aspic (meat jelly), draniki (potato pancakes), cabbage rolls, chicken Kiev, Bulgarian gyuvech (stewed meat with vegetables), banitsa (layered pie), patatnik (potato and cheese casserole) and bob chorbu (bean soup).
There are not many Georgian restaurants in Armenia, but those that do exist offer juicy khinkali dumplings with various fillings, hot khachapuri cheese bread and fresh churchkhela candies.
French dishes found in many European restaurants in Armenia include quiche, onion soup and croissants. Many of these same restaurants also offer German sausages and flammkuchen (a kind of pizza); Mexican quesadillas, tacos and nachos; American burgers and steaks; Spanish jamon (cured pork), tapas snacks and gazpacho soup; Austrian beef rolls; and Viennese schnitzel and strudel.
Greek food is less common on the Armenian menu but includes moussaka (a meat and vegetable dish), fresh olives, seafood and, of course, Greek salad, which in Greece is called rustic.
Asian Cuisine
Asian cuisine in Armenia includes Lebanese, Turkish, Iranian, Japanese, Arabic, Indian, Chinese, Thai and Uzbek specialties.
There are few to none exclusively Chinese and Thai restaurants in Armenia, but select meals from both cuisines can be ordered in pan-Asian cafes along with Japanese food. Japanese cuisine in Armenia includes seafood and vegetable rolls, soups and various noodle dishes. East Asian favorites in Armenia include the Thai soups tom yum and tomkha and pad thai noodles, Chinese salads and meat and fish dishes.
Armenian-Turkish cuisine includes shawarma wraps, kebabs, pide breads and soups. Indian establishments offer thali platters, dhal lentils, curry meat and vegetables, biryani rice, flatbreads and desserts.
Iranian restaurants in Armenia promise filling kebabs, fesenjan (meat, nut and pomegranate balls), tah-chin (casserole with rice layered on top of meat), kyukyu (scrambled eggs with greens) and lavangi (stuffed chicken or fish).
Arabic cuisine in Armenia, available in several specialized restaurants, includes falafel (ground chickpea balls), fava bean soup, mezze (snack platters), hummus, manakish (thin pizza) and umm ali (bread pudding).
Uzbek cuisine in Armenia is growing in popularity, and there are now several cafes where you can try rice pilaf, manty dumplings, juicy kebabs and savory samsa pastries.
Armenian national cuisine has absorbed treasured recipes from around the world, allowing any traveler to feel at home. No tour to Armenia is complete without culinary discoveries integrated into your itinerary alongside sightseeing excursions.