Oshakan, Armenia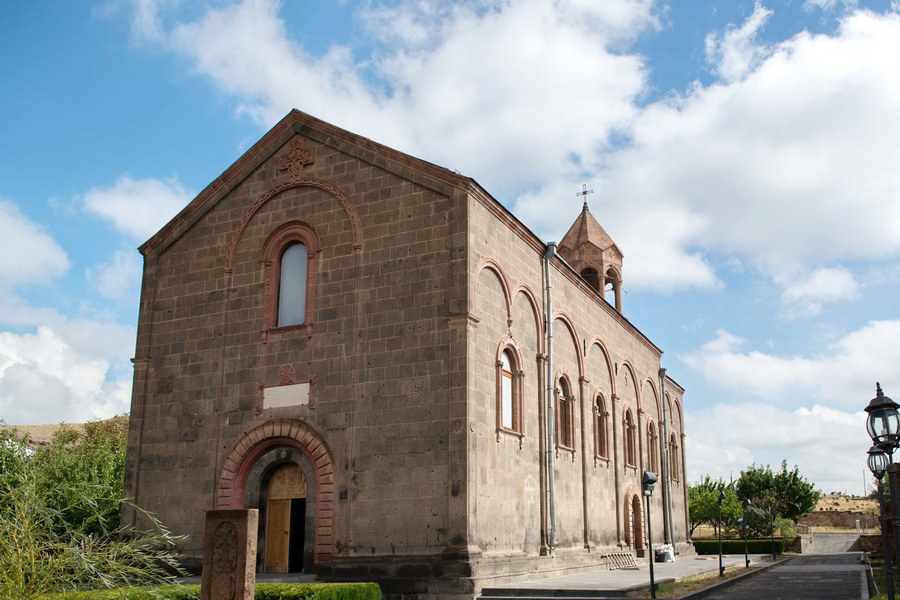 Mesrop Mashtots Church, Oshakan
Tours, Attractions and Things To Do in Oshakan
Oshakan (Armenian: Օշական) is a historic village in Aragatsotn Province, Armenia. This unassuming town is valued by historians and revered by members of the Armenian Apostolic Church as the burial place of Saint Mesrop Mashtots, a theologian best known as the creator of the Armenian alphabet.
The historian Faustus of Byzantium was the first to mention Oshakan (formerly known as Ushagan, Ushakan and Oshagan) in his 4th century narrative. At the time, the village belonged to the Arsacid Dynasty, which had ties to the Parthian Empire. Faustus describes the battle between the Persians and Armenians which took place in Oshakan in 336 AD, outlining the outstanding bravery of Armenian King Khosrov III and the nobleman Vahan Amatuni.
Archeologists have discovered the remains of even earlier settlements near the village. On a large hill, the expansive Urartian Fortress has been dated to the 7th-6th centuries B.C. Excavated remains have uncovered a chapel and forty rooms inside the palace, which was built with huge stones. Pottery shards and items made from gold, silver, bronze and stone were also found at the site.
On the banks of the Kasagh River, several necropolises constructed from large slabs have likewise been unearthed. Many cross-stone tombstones, called khachkars, have been preserved at these cemeteries. It was on this territory during the Russo-Persian War of 1826-1828 that the Armenian militia and Russian troops banded together to fight bloody battles against the army of Persian prince Abbas Mirza.
According to the 2012 census, the village had a population of nearly six thousand people. Agriculture and winemaking are its primary industries, with Oshakan's weather and fertile soil supporting orchards, vineyards, arable fields and grasslands that supply the villagers with an abundance of fruits, vegetables, grain anad other crops.
Oshakan's churches and quaint atmosphere have led some to call it a hidden gem of Armenia. The highlight of Oshakan is Mesrop Mashtots Church, where the revered saint of the same name now lies buried. Other notable attractions include the 7th-century domed Church of Zion, built of pink tuff, and the Monument of the Early Middle Ages (7th-8th centuries), which if legend is true is also the tomb of either Emperor Mauritius or his mother. The chapels of Surb-Thaddeus Arakel, Surb-Grigol, Surb-Sarkis, Surb-Astvatsatsin and Tukh-Manuk (all 13th century), located in and around Oshakan, are all worth a visit, as is Oshakan's medieval bridge. Built from red limestone in 1706, the bridge spans the Kasagh River and is still in use today.
Travelers in Armenia who wish to visit Oshakan may easily do so from Yerevan, which is only a 40-minute drive from the village.