Marz of Vayots Dzor, Armenia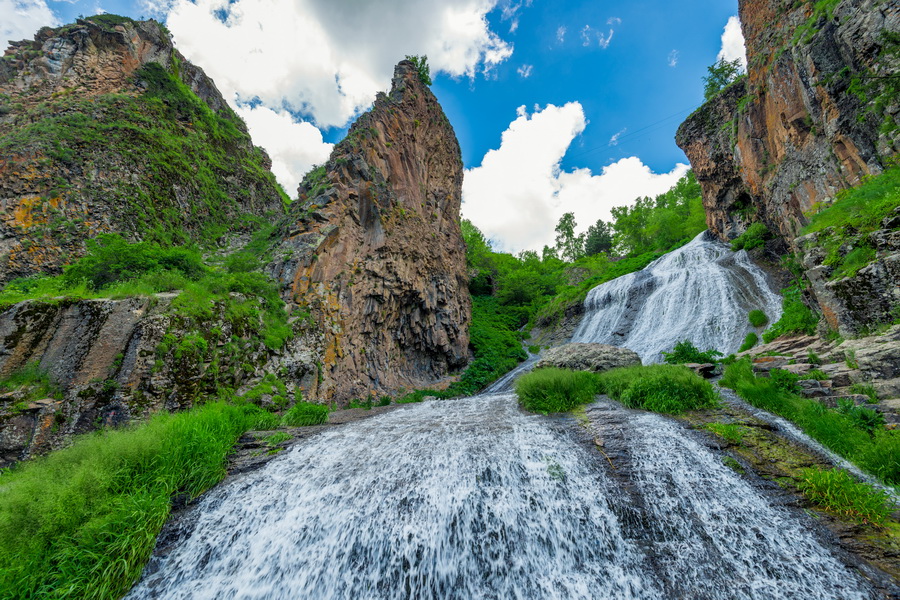 Jermuk Waterfall, Marz of Vayots Dzor, Armenia
Area: 2,308 sq km
Administrative centre: Yeghegnadzor
Distance from Yerevan to Yeghegnadzor: 123 km
The marz of Vayots Dzor (Vayots Dzor region) is the least populated in Armenia. It is located in the country's southeast. This is kingdom of gorges ("dzor"). The slopes are broken by deep gorges everywhere; looking down some of them will take your breath away. Vayots Dzor is severe and beautiful with its magnificent mountain landscapes. Mountain valleys and plateaus, narrow gorges, rapid rivers, mysterious caves (the largest is the Magil cave), Alpine pastures, small lakes and picturecque settlements looking as if growing from mountain slopes are the main attractions of the marz. There are practically no woods but locals make the best honey in the country honey and are proud of the most beautiful landscapes of Transcaucasia. The main roads connecting the marz with the neighbors run over high and remote passes the highest of which is Selim pass (2,410 m).
The main river of Vayots Dzor is the Arpa with its Jermuk (over 60 m) and Gerghera waterfalls. The marz has a lot of mineral water springs with the most famous – Jermuk.
Archeological excavations testified that Vayots Dzor was populated from the Bronze Age. Vayots Dzor used to be a part of historical Syunik area of Great Armenia. In the Middle Ages Vayots Dzor belonged toOrbelyan and Proshlyan princes who, according to the legend, hid their treasures in Vayots Dzor mountains, gorges and caves. Within Russian empire the marz was called Sharur-Daralagyaz district of Yerevan province.
Here there are such well-known historical monuments as the ancient bridge in Vayots Dzor, Noravank monastery (13 th century) with the tomb of Orbelyan family and Jermuk resort with its well-known warm mineral waters.
Yeghegnadzor
The centre of Vayots Dzor marz is the city of Yeghegnadzor. It is located on the right bank of the river Arpa. Yeghegnadzor is one of the most ancient settlements of historical Syunik. There used to be the throne of different Armenian princes such as Orbelyan family.
Yeghegnadzor expanded due to the resettlement of Armenians from Persia in the 19 th century. In 1932 Yeghegnadzor became the re gion al center.
The city has preserved he monuments dated 1 st millennium DC to 17 th century AD. There you will find the Museum of Ethnography, picture galleries, parks and ancient 700-year-old Gladzor University. In 1280-1338 it provided medieval education, translations and copies of scientific works; it even had the military school of miniatures. The same territory hosts the national park with numerous caves which attract researchers in this field. There are the remains of ancient settlements – Egegiz (5 th – 8 th centuries), Mog (2 nd millennium BC – 15 th century AD), Proshaberd (8 th century), Smbataberd (10 th – 13 th centuries) and fortresses Berdakar (5 th century) and Kechyt (10 th – 14 th centuries).