Yerevan History Museum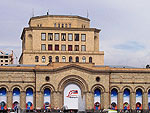 The oldest museum of Armenia was created in 1931 and has collected about 80 thousand exhibits which represent various periods of Yerevan existence from the times of immemorial to present days.
The museum dispalys the most ancient objects, unique medieval books, graphic drawings of foreign travelers who visited Yerevan, military banners, awards and weaponry, jewelry, the first telephone and camcoder and many others. It is worth noting that historical record of Argishti I, Tsar (king) of Urartu, dated 782 B.C that evidences the date of birth of the fortress city of Erebuni (today's Yerevan) can be found there. Thanks to the panoramic models, drawings and photos the visitors can draw the image of old Yerevan.