Yerevan, Armenia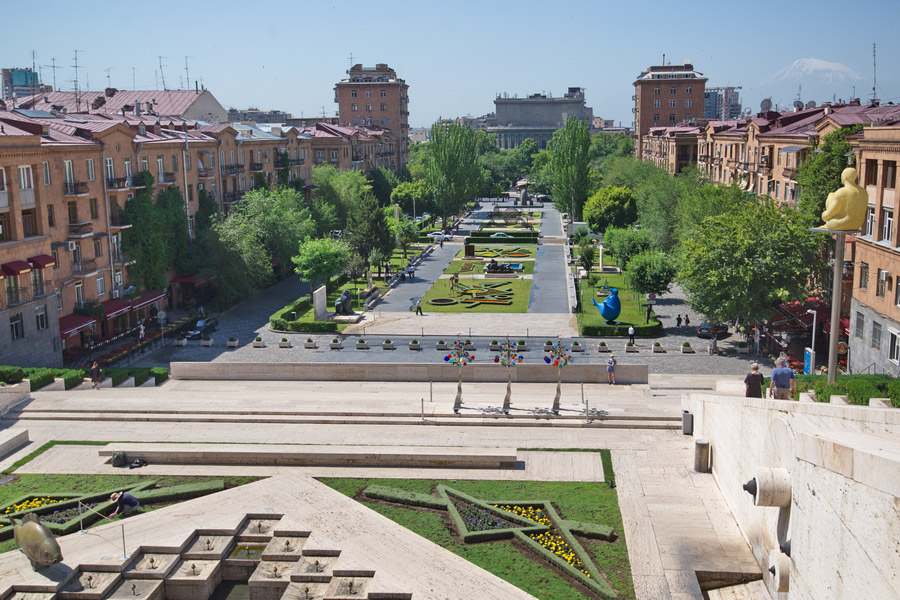 Tours, Attractions and Things To Do in Yerevan
Yerevan Travel Guide
Welcome to the soulful and cozy capital of Armenia, Yerevan. Nestled in the heart of the Caucasus and home to over a million residents, this bustling metropolis may feel like a warmly welcoming, smaller city. As a visitor, you're not just a tourist in Yerevan, but an honored guest. The legendary Armenian hospitality shines here, with locals considering it a personal responsibility to showcase the best their city offers. With an easily accessible location and an international standard airport, Yerevan is reachable conveniently by air or land.
Yerevan is known for its elegant and stately architecture, expansive boulevards and plazas, charming lanes and squares, globally-renowned Armenian cuisine, and the breathtaking views of Mount Ararat. It is a city that invites you to immerse yourself in its culture, history, and way of life.
History of Yerevan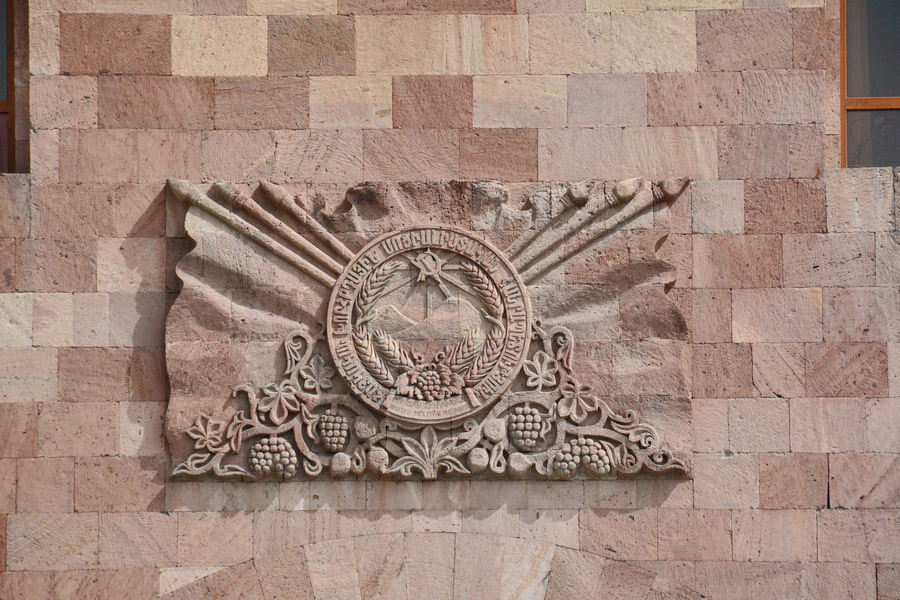 It's astounding to contemplate the age of Yerevan, a city believed to have been established as far back as 782 B.C. The Erebuni fortress, constructed during that era on the southern periphery of today's metropolis, eventually lent its name to the city. Yerevan's strategic location on essential trade routes has played a pivotal role in shaping its growth and historical narrative.
Starting from the 7th century A.D., a succession of forceful invasions swept across Transcaucasia. Initially, the Arabs took control of surrounding territories, followed by the Seljuk Turks, with the Persians not far behind in their pursuit of conquest. Consequently, the city fell under the dominion of a diverse range of invaders, no less than fourteen times.
During the 17th to 19th centuries, the then modest-sized Yerevan was divided among Russia, Turkey, and Persia. The Russian Empire ultimately claimed victory in 1827 and penned the Treaty of Turkmenchay with the Persians, who surrendered all of their Transcaucasian territories. Yerevan was designated as the capital only in 1920, despite the lingering effects of wars and earthquakes.
Over the next decade, however, an architectural revival unfolded in the city's central and outlying districts, with buildings primarily constructed from tuff - a durable, lightweight, and appealingly pink-colored material. This led to Yerevan earning the nickname of the "pink city", and it has since come to symbolize unity, stability, and peace.
What to do in Yerevan
Traveling around Yerevan offers the distinct advantage of having all major attractions within close proximity to each other. You can effortlessly traverse from one site to another on foot, taking leisurely strolls and snapping pictures along the way.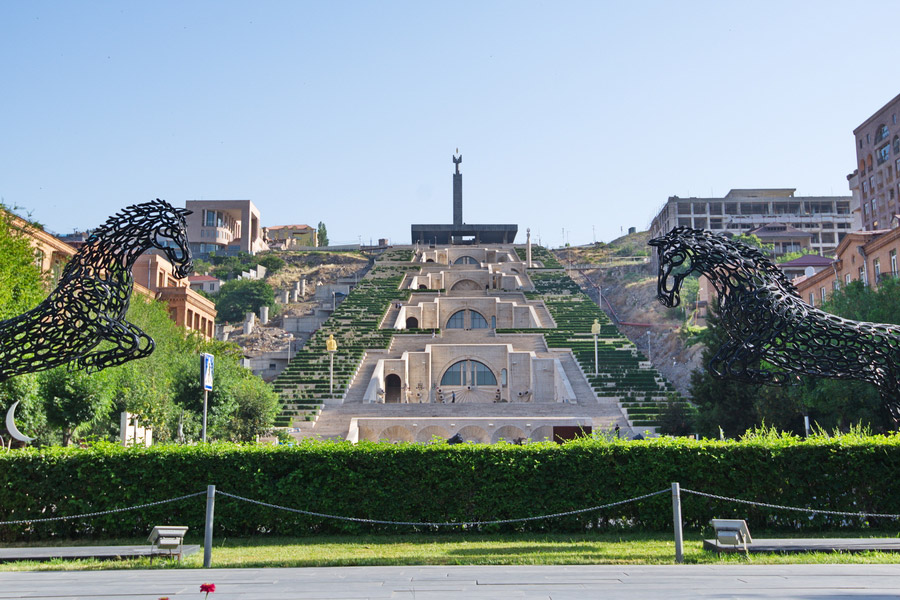 Likely to be one of your first stops is the Grand Cascade, a unique structure unparalleled in any other former Soviet Union city. This tiered stair system is interspersed with creatively designed fountains and sculptures. From the Cascade's upper platform, you can gaze upon the peak of Mount Ararat on a clear day and marvel at the beautiful descending mosaic staircase.
Another significant feature of the city is the expansive Republic Square, encircled by grand Soviet-era buildings. While it's partially used for vehicular traffic on regular days, the square transforms into a hub for large-scale stage setups for festivals and concerts during holidays.
For those with a preference for potent spirits, a visit to the Yerevan Ararat Brandy Factory is in order. Here, you can partake in tastings and factory tours, during which the staff will regale you with engaging tales about the various types of brandy they produce.
Yerevan Museums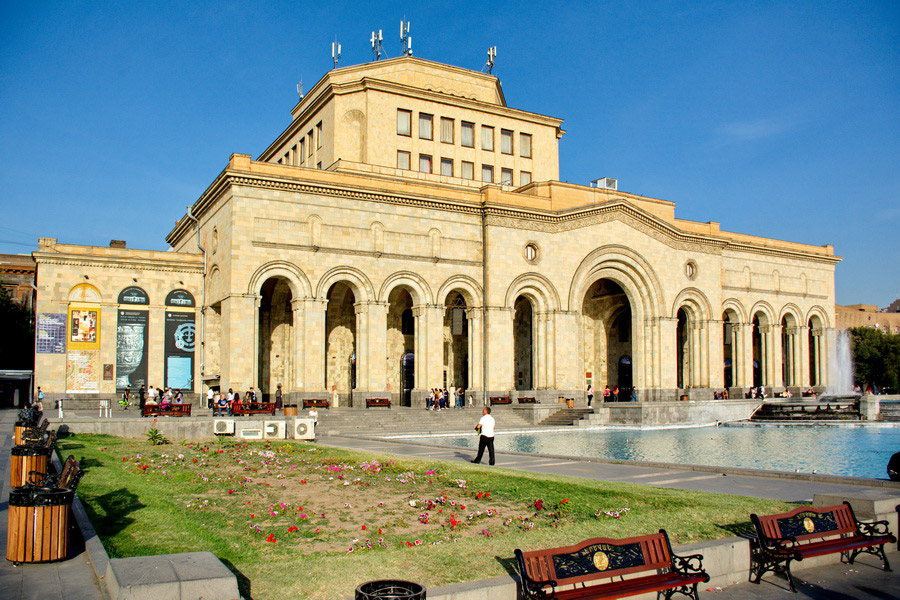 As a nation steeped in a rich cultural heritage shaped by thousands of years of dramatic historical events, it's no surprise that Armenia has dedicated numerous museums to them. Prime destinations for important artifacts and documents include the State Museum of History of Armenia, the Museum of History of Yerevan, and the Armenian Genocide Museum. Each of these institutions deserves individual exploration and will appeal not only to history enthusiasts, but also to casual visitors. The National Gallery of Armenia houses an exquisite collection of paintings and fine art. The entry fees for these museums are reasonably priced, enabling even budget-conscious tourists to delve into Armenia's history and gain a deeper understanding of this country and its capital.
Yerevan Theatres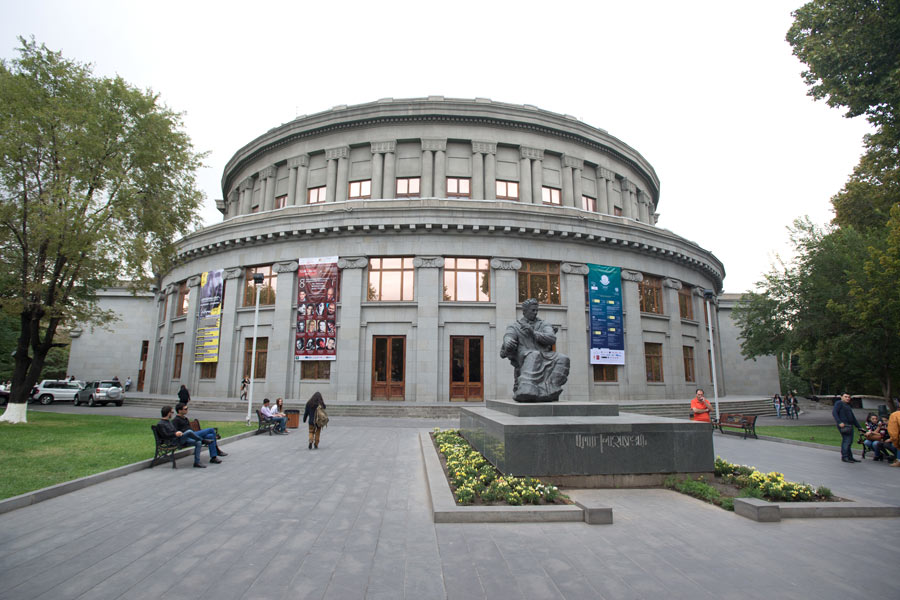 One of the most direct ways to engage with art is to experience a performance at one of Yerevan's theaters. The Yerevan Opera and Ballet Theatre is perhaps the most renowned. Premier theater productions and top-tier performances are regularly showcased here. Moreover, the theater itself is housed in a stunning semicircular building, a standout landmark in the city center. With its superb acoustics and ornate interior, the Opera and Ballet Theatre arguably embodies Armenia's rich cultural legacy at its finest.
The Hakob Paronian State Theater of Musical Comedy also merits attention, with its record of participating in global festivals and winning major awards on six occasions.
Entertainment, Parks, and Shopping in Yerevan
Parks of Yerevan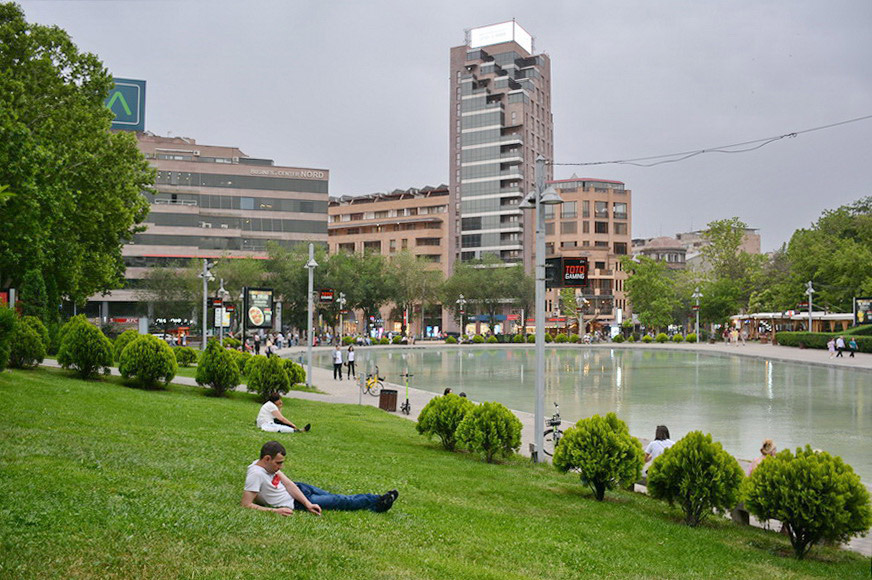 The city's intimate, welcoming atmosphere is enriched by its array of parks and squares. These well-maintained public spaces, adorned with unique sculptures and shaded by expansive trees, offer refreshing respite on warm days.
Tumanyan Park, located in the Hrazdan River Gorge, is one of Yerevan's most cherished green spaces. Here, weary travelers can find serenity amidst the clean, winding pathways, manicured lawns, pure air, and soothing rustling leaves. This park remains a favorite attraction for both locals and visitors year after year.
Equally popular is Lovers' Park, so named due to the adorable local custom of young couples rendezvousing here. The park's tranquil pathways, comfortable benches, and chirping birds all contribute to a setting conducive to romance and introspection. Plus, with four waterfalls within its boundaries, the park caters to nature lovers seeking an exhilarating experience.
Shopping in Yerevan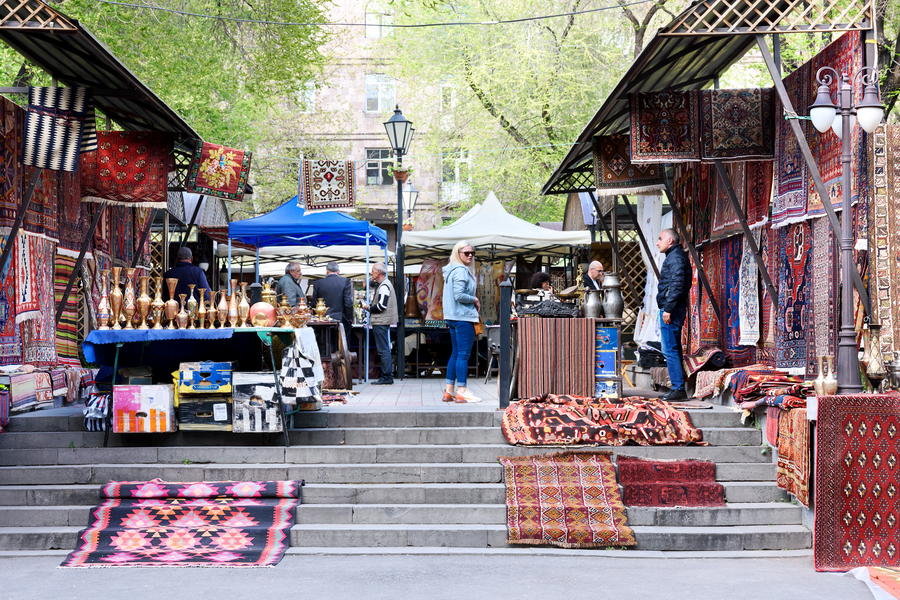 Armenia's capital city is well-appointed with up-to-date boutiques and shopping centers, offering a wide range of products from affordable everyday wear to more exclusive, pricier items.
For a unique shopping experience, head to the renowned "Vernisage" market, a hotspot for souvenirs, home decor items, and even genuine art pieces. You'll encounter a plethora of vendors selling distinctive products. Modern shopping and entertainment complexes are abundant in the city, with notable examples being Yerevan Mall, Dalma Garden Mall, Metronome Shopping Center, and Tashir, among others. These centers aren't just about shopping - they also feature areas for kids, food courts, cinemas, gaming zones, bowling alleys, and more.
Food in Yerevan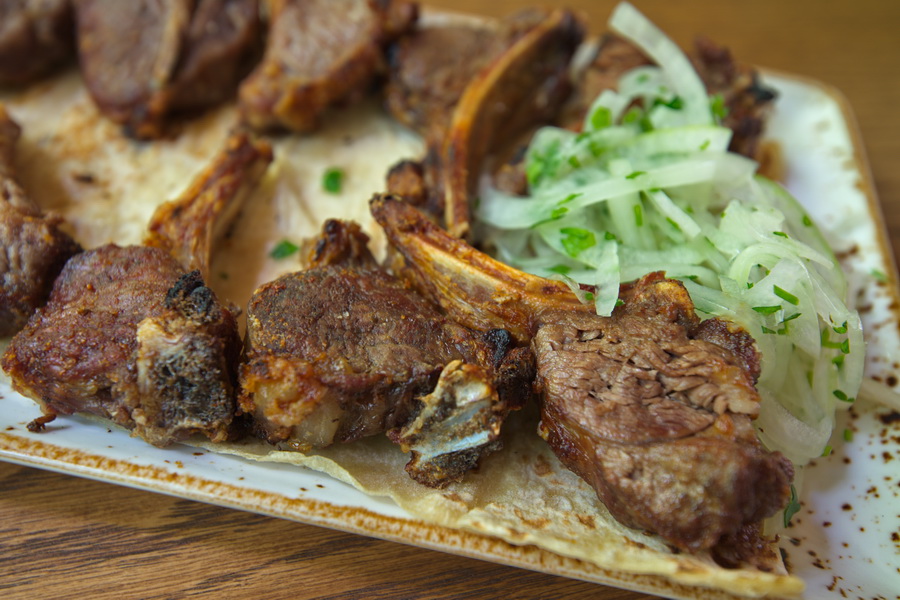 Armenian Cuisine
The richness and diversity of traditional Armenian cuisine is impossible to ignore. Over the centuries, Armenian culinary artisans have honed recipes that have brought worldwide fame to the nation's food culture. From succulent dolma and tempting kebab to aromatic and spicy khash soup and tender cufta (minced meatballs) - and let's not forget Zhengyalov Khats, the celebrated Armenian flatbread filled with spinach, coriander, and sorrel. Armenia boasts a selection of unique dairy products scarcely found elsewhere, including matsun, a smooth additive-free yogurt, crumbly motal cheese, as well as chechil, chanakh, and other cheese variations.
Armenian cuisine, with its array of diverse, flavorful dishes, will astonish, delight, and satisfy. All Armenian dishes are prepared using time-honored recipes, providing yet another avenue for immersing yourself in the country's culture and traditions.
Vegetarian Restaurants
Despite Yerevan's reputation for meat-based dishes, this progressive, rapidly evolving city caters to diverse dining preferences. There is a selection of cafes and restaurants that offer hearty, delicious meals for those who choose not to consume animal products. While vegetarianism is gaining traction, many of Yerevan's eateries wisely maintain a balanced menu, with options for both meat lovers and those preferring plant-based dishes and fruity desserts. Therefore, virtually any establishment can cater to vegetarian preferences.
Coffee Houses, Bakeries, and Patisseries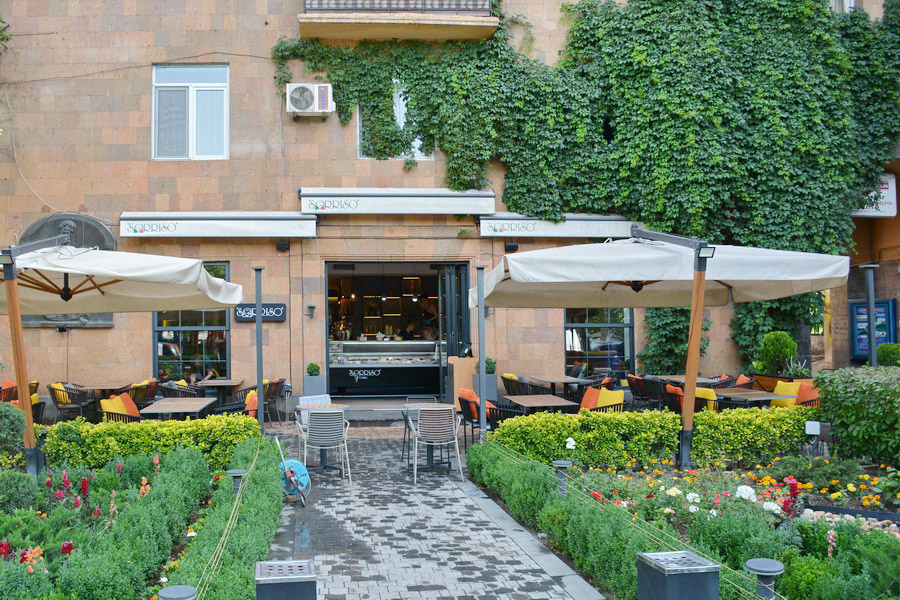 The café culture in Yerevan is thriving. The city center is studded with stylish signage and enticing names, while the scent of fresh coffee and aromatic pastries wafts through the air, drawing potential customers in for a taste of the baked treats, coffee concoctions, and freshly steeped

tea

on offer.
Public Transport in Yerevan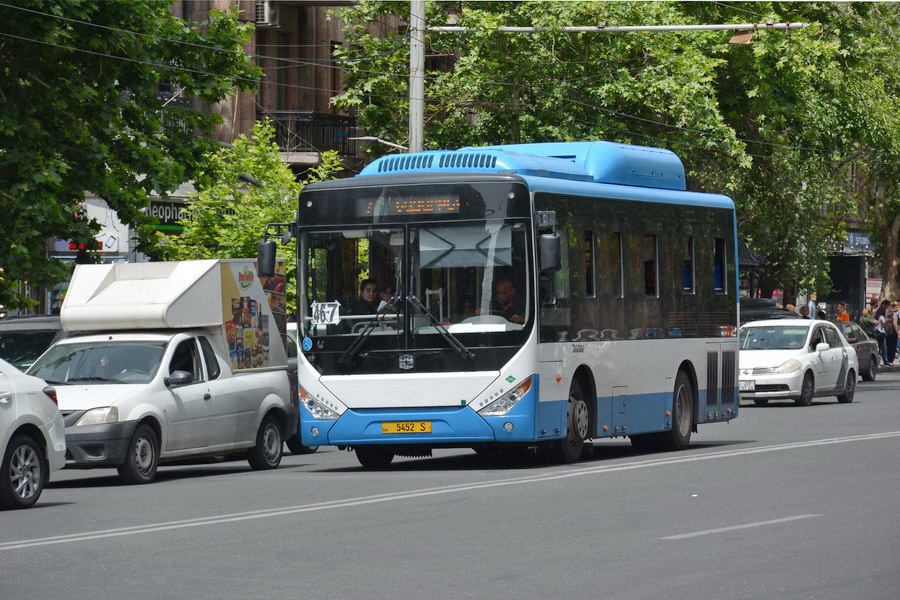 Public transport is the primary mode of commuting for the vast majority of Yerevan residents. Consequently, as a visitor, you're unlikely to encounter any significant challenges navigating the city.
Buses and Shuttles
Yerevan boasts a robust network of buses and shuttle services, offering access to nearly every part of the city, either directly or with one or two transfers. The fare for public transportation is a nominal 100 Armenian drams (approximately $0.2), payable in cash upon exiting. This arrangement conveniently keeps drivers undistracted during the journey.
Taxis
Like many capital cities, Yerevan has a flourishing taxi system. Increasingly, international taxi services are making inroads, providing easy booking via their websites or smartphone apps. Taxi fares depend on various factors, including the distance traveled, the car class, and the current demand, which may rise during peak hours or adverse weather conditions. Overall, Yerevan's taxi services are noted for their ease, comfort, and safety.
Metro
Yerevan also features a metro system. Though it consists of a single line, its presence is a boon, especially when needing to cover long distances quickly and avoid traffic congestion. Trains typically arrive at each station approximately every five minutes. The fare is the same as for buses and shuttles, set at 100 drams.
Car Rentals
Car rentals in Armenia are readily available. However, it's important to note that you must be at least 21 years old to rent a car. While you'll need a valid driver's license, an international permit is not mandatory; a license issued in your home country is sufficient. The cost of renting a car can vary significantly, with the make of the car and the length of the rental being key factors in the price.
Alternative Modes of Transport
Yerevan also offers a modern bike rental system, available throughout the city. The city center is progressively being outfitted with bike lanes, but as they're not available everywhere yet, cyclists often share the road with vehicles. If you choose this mode of transport, it's advisable to wear protective gear like knee and elbow pads, as well as a helmet. These are usually supplied by the rental companies.
How to Get to Yerevan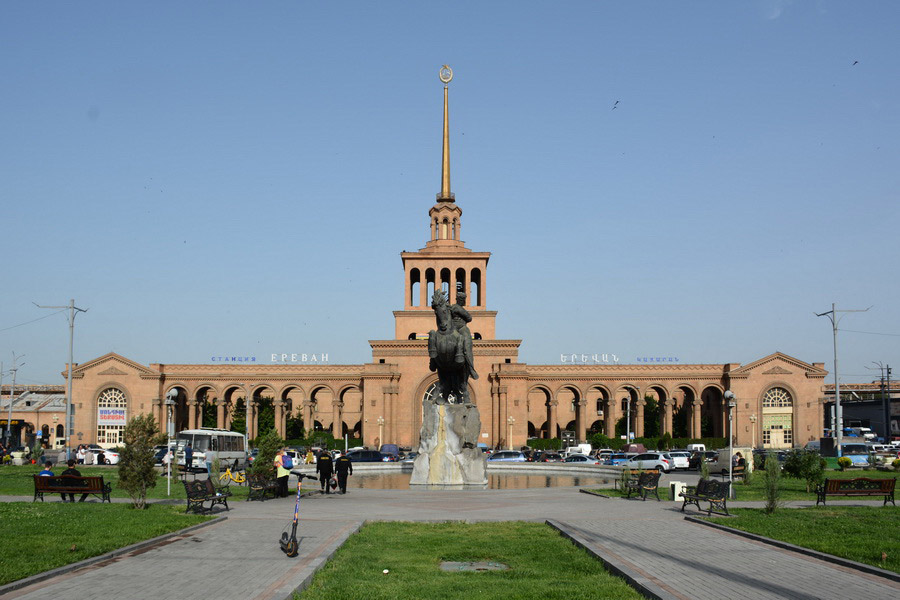 For international travelers, flying is the most convenient way to reach Yerevan. The city's main airport, Zvartnots, is situated to the west of the city and serves as the country's busiest aviation hub. It handles flights from nearby countries, as well as those from Europe, the Middle East, and some parts of Asia. Alternatively, if you're coming from Russia or Georgia, you can reach Yerevan by road. The average drive time from Tbilisi is roughly 5-6 hours.
Languages Spoken in Yerevan
The official language of Armenia is Armenian, and it's the primary language spoken by the majority of Yerevan's residents. Due to Armenia's history as part of the USSR, many of the city's older inhabitants can also communicate in Russian. However, younger generations are increasingly gravitating towards English as their chosen second language for international communication.
Currency in Yerevan
The official currency of Armenia is the Armenian Dram, which exists in both paper and coin form in a variety of denominations. Exchanging money in Yerevan is straightforward, with both banks and currency exchange points readily available. Accepted currencies for exchange include U.S. dollars, Euros, Russian rubles, and several other currencies from neighboring countries.
Security in Yerevan
Armenia is a peaceful and safe country, and Yerevan is regarded as one of the safest cities, ensuring the well-being of both its residents and visitors. City police maintain public order in the central areas of the city. Locals are known for their hospitality and willingness to lend a hand in times of need, providing a comforting environment for tourists to enjoy the warm-hearted spirit of sunny Yerevan.