Yerevan, Armenia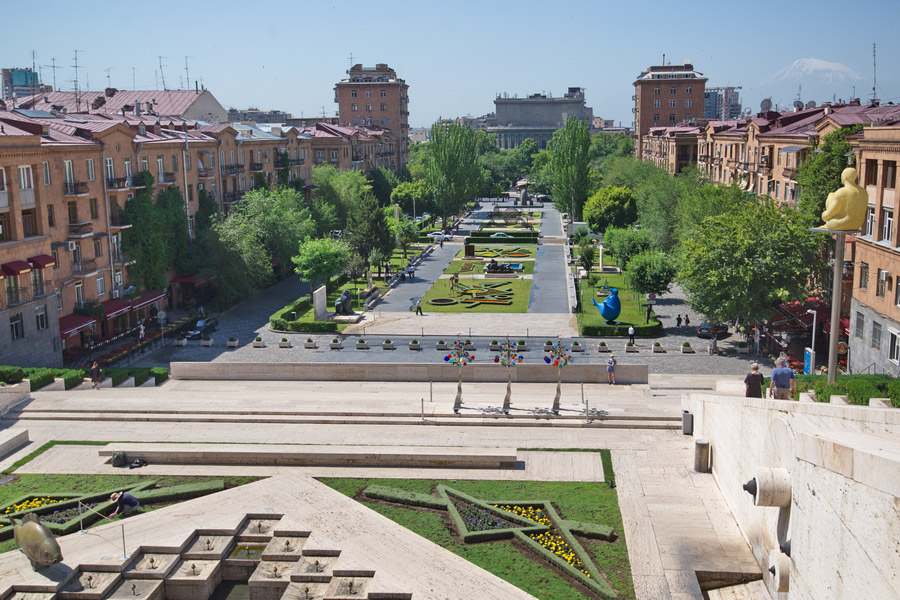 Tours, Attractions and Things To Do in Yerevan
Yerevan Travel Guide
Yerevan, the beautiful and welcoming capital of Armenia, rewards visitors with mesmerizing views of Mount Ararat, wide and imperial boulevards, lively city squares and graceful, majestic (and pink) architecture.
Located in the heart of the Caucasus, this metropolis of more than a million people feels like a home away from home, a proud, tranquil and welcoming city of gracious and warm-hearted people. Guests are received with open arms by the residents of Yerevan, many of whom are eager to help you discover every hidden gem that its ancient streets have to offer.
Browse the Yerevan Travel Guide for a virtual overview of this vibrant, eclectic capital.
Yerevan Facts: A Brief History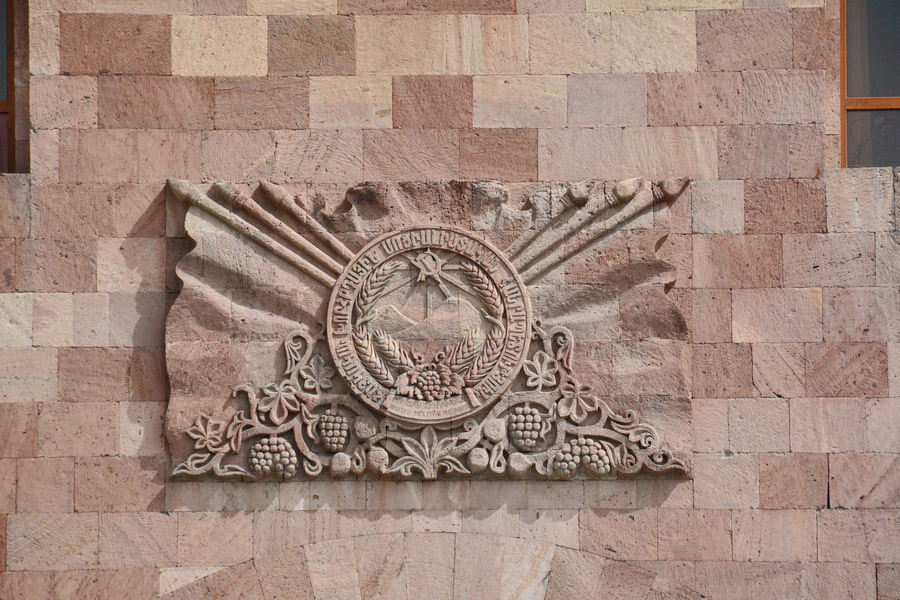 Yerevan is one of the oldest cities in the world. In 782 BC the fortress of Erebuni was built on the southern outskirts of the modern metropolis, from which the name 'Yerevan' was later derived. The city's history has been strongly influenced by its location, for strategically important trade routes crossing Yerevan played a vital role in the development of the city. The beginning of the 7th century AD brought a wave of invasive attacks against Transcaucasia: the entire region was first conquered by the Arabs, followed by the Seljuk Turks and the Persians. Continual attacks from these warring, marauding invaders brought the city under the control of competing attackers more than fourteen times.
From the 17th to 19th centuries Yerevan was parcelled up between Russia, Turkey and Persia. In 1827 Russia and Persia signed the Treaty of Turkmenchay, which granted Russia control of Yerevan and greater Armenia. As a result, Persia's involvement in the Transcaucasian territories was terminated once and for all.
In 1920 Yerevan, still weakened by devastating wars and earthquakes, received the status of capital of Armenia. During the next decade, active development of the city began. Tuff, a durable, light material of a delicate pink colour, was used to construct countless buildings in Yerevan, leading it to be dubbed the "Pink City". Yerevan stands proudly today as a symbol in Armenia of unity, stability and tranquillity.
There are plenty of things to do in Armenia, and one mistake made by many tourists is to rush past the capital in order to reach the nation's cliffside monasteries and hiking trails. Yet each of Yerevan's diverse attractions tells another piece of this ancient city's story while quietly impressing those who take the time to appreciate them. Most places are within walking distance of each other, allowing for easy pedestrian access and the chance to take breathtaking photos along the way.
Highlights of Central Yerevan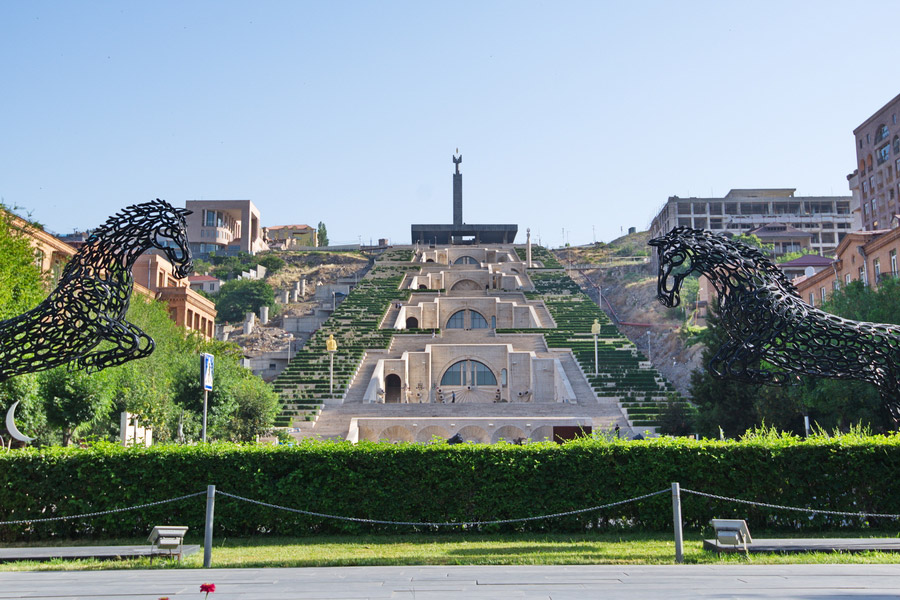 A great place to begin your tour is at Grand Cascade, unique in that it has no equivalent among any city of the former USSR. The cascade is a multi-tiered system of stairs, with fountains and sculptures artfully completing its graceful aesthetics. The view of the beautiful and mysterious Mount Ararat from the top of Grand Cascade, combined with a sweeping view of pink-tinted Yerevan, feels nothing short of a warm, welcoming embrace from the city.
Republic Square, surrounded by monumental buildings of the Soviet era, is the center of the city's social life and a must-see for anyone wishing to catch the capital's true vibe. During holidays and festivals, the government installs a large stage for concerts and shows at Republic Square, where many of the city's key events are organized.
Wine connoisseurs will not want to miss Ararat Brandy Factory, where you can taste world-famous Armenian cognac, purchase gifts for friends and learn about the city's history from local guides. Considering that they have access to this delicious drink all day long, you may want to double-check the truthfulness of their stories!
Yerevan Museums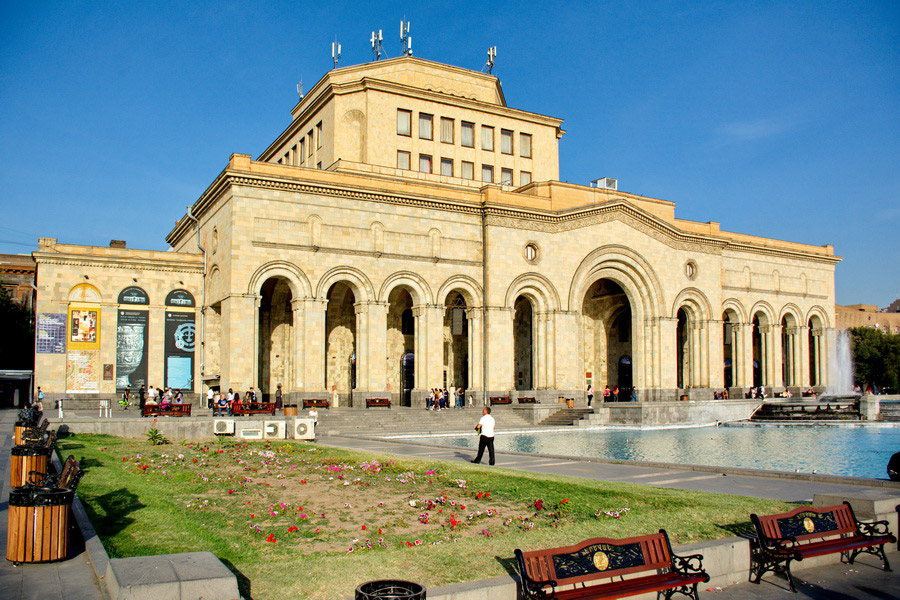 Museums are central to Yerevan tourism and are highly recommended for anyone wishing to understand the history and character of the Armenian people. Each museum poignantly captures a different aspect of the country's complicated past while honouring the memory of those who suffered during the city's tumultuous eras:
History Museum of Armenia will walk you through thousands of years of history with excellent displays, most notably a Bronze Age exhibition, ancient coin collection and the oldest shoe in the world.
Yerevan History Museum holds equally commendable exhibitions that focus exclusively on the history of Yerevan. Facts come to life through the museum's displays that span millennia.
Armenian Genocide Museum is an informative, heart wrenching memorial dedicated to over 1.5 million citizens who were killed in the Armenian Genocide of 1915-1917. The museum sits adjacent to Tsitsernakaberd Plateau, a large and moving memorial to the genocide victims.
National Gallery of Armenia is the country's largest art gallery, displaying many masterpieces that convey Armenia's history in resplendent colours.
Matenadaran is the pride and joy of Yerevan, a museum of ancient Armenian manuscripts and book paintings, statues and carved cross-stones known as khachkars.
Entrance fees to each museum are reasonable, enabling even budget tourists to benefit from the wealth of knowledge preserved in each gallery.
Yerevan Theatres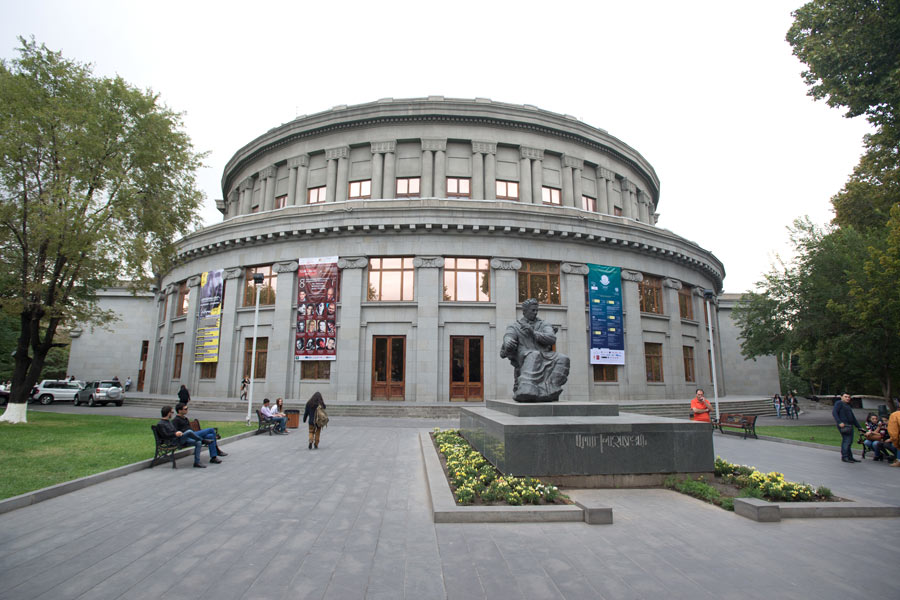 Patrons of the arts will be delighted to know that Yerevan is home to many commendable theatres. The most famous one is the Yerevan Opera and Ballet Theatre, where all major premieres and the country's best performances are staged. One of the finest examples of Armenia's cultural heritage, the theatre building itself impresses with its richly decorated halls and semicircular shape that allows for excellent acoustics.
Paronyan Musical Comedy Theatre, located near Republic Square, is named after the beloved Armenian playwright and author Hakob Paronyan. The comedy troupe has participated in numerous festivals around the world and been awarded 1st prize on six occasions.
Yerevan State Puppet Theatre was established in 1936 and continues to hold entertaining puppet shows to delight both young and old. Apart from marionette performances, the theatre has a small puppet museum and regularly hosts live performances, art exhibitions, festivals and more.
Yerevan Parks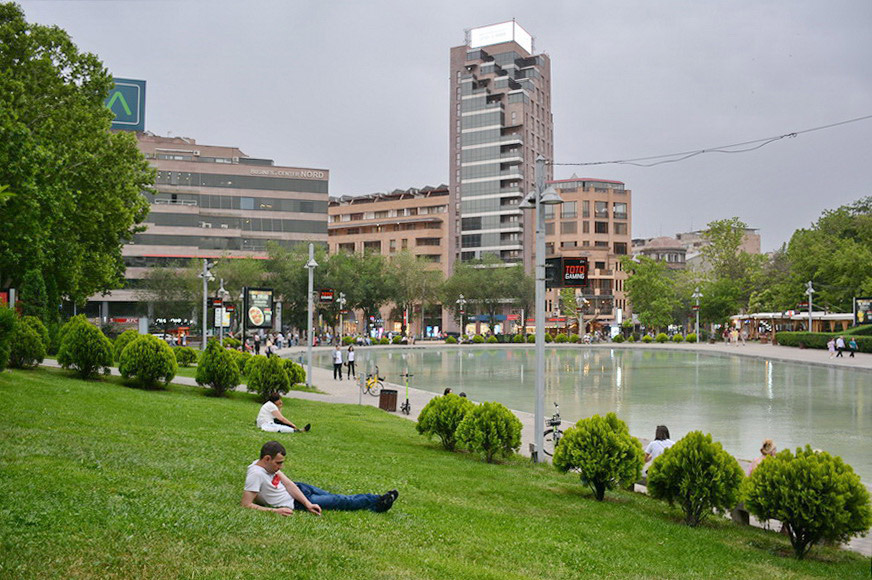 Yerevan weather brings hot, sunny summers and delightfully pleasant autumns days. The city's numerous parks, lined with shady green trees and original sculptures, are an easily accessible and rewarding getaway during your city escapades.
Tumanyan Park, located near the Hrazdan River, is the ideal place to enjoy a morning stroll, a picnic lunch or quiet conversation with a friend in a peaceful and calming environ. Tumanyan Park's neatly trimmed lawns, fresh air, dainty winding paths and natural foliage combine to create the perfect escape from Yerevan's lively city streets.
True to its name, Lovers' Park is a city hotspot for budding teenage romances, longtime couples and newlyweds taking photo shoots. Whether or not you're traveling with a significant other, you can appreciate the labyrinth of walkways, comfortable benches and cascading waterfalls designed by famous French architect Pierre Rambach.
Victory Park delights children with rides, games and ice cream vendors, while adults will appreciate the 22-meter-high statue of Mother Armenia, a city landmark symbolic of the countless Armenian mothers who struggled for their country's peace and freedom.
Yerevan Shopping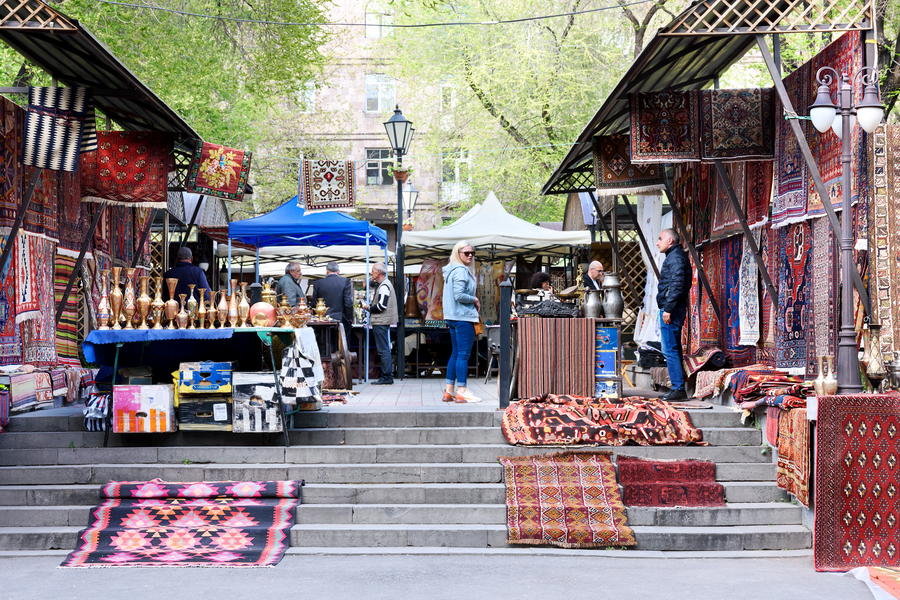 Armenia's capital offers modern boutiques and shopping centers stocked with every material good your heart desires, from casual clothing and budget souvenirs to luxurious and name brand items. The famous Vernissage Market offers an infinite selection of souvenirs, home decorations and even original works of art.
There are also several modern shopping and entertainment centers in the city, most notably Yerevan Mall, Dalma Garden Mall, Metronome Shopping Center and Tashir. Like any true shopping mall, at each of these centers you'll find children's play areas, food courts, cinemas, gaming rooms, bowling centers and a wide selection of clothing, book and appliance stores.
Yerevan Eats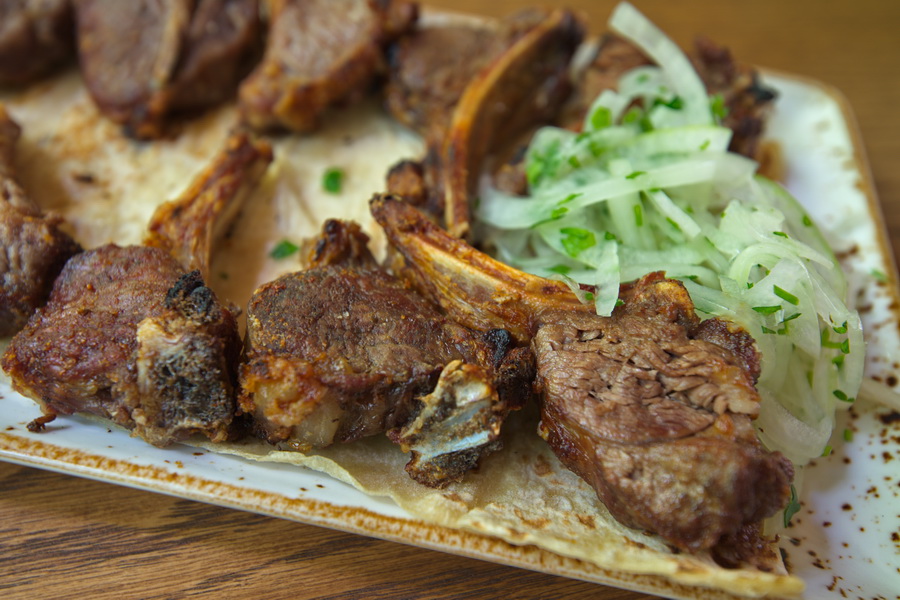 Armenian Cuisine
The richness and variety of traditional Armenian dishes cannot be underestimated. For centuries, Armenian housewives have been refining classic recipes so that today local dishes, prepared according to traditional method, are nothing short of perfection.
When in Yerevan, don't forget to try juicy stuffed dolma, mouth-watering meat kebabs, spicy cow-hoof khash soup, delicate minced meat kufta balls and the king of greens known as zhengyalov-hatz, a traditional pita bread stuffed with spinach, coriander and sorrel. Armenia offers rare and fresh dairy products, most notably matsun, a soft, airy yogurt, and countless varieties of local cheeses.
Vegetarian Restaurants
Yerevan is a modern, rapidly developing city, and in recent times many vegetarian and vegan cafes have been opened. Such restaurants are helping to bolster Yerevan tourism by providing travelers on a restricted diet with an assortment of local and international meal options. Many of these restaurants now offer vegetarian appetizers, main courses and desserts, as well as nonvegetarian option for your meat-loving travel companions.
Coffee Houses and Bakeries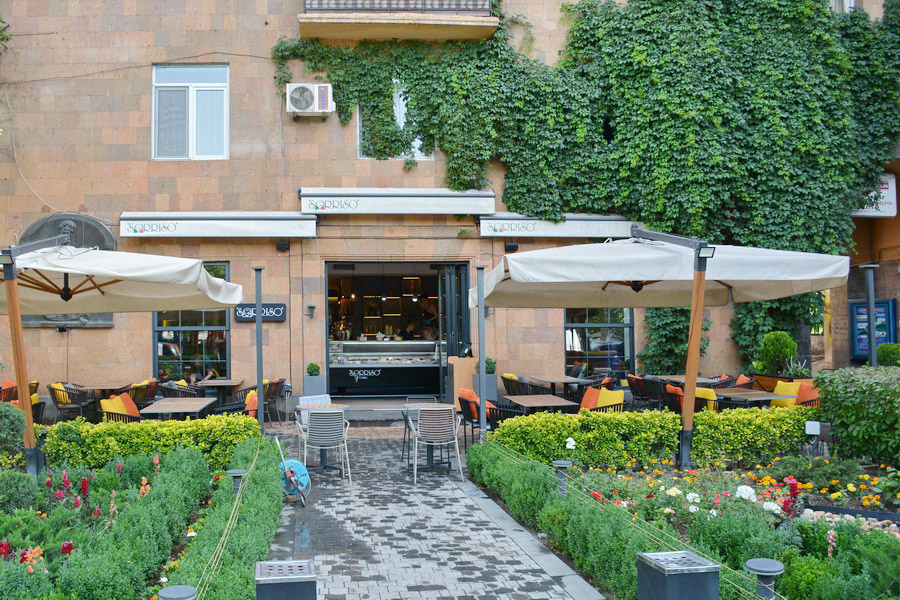 Clustered at nearly every corner of downtown Yerevan are coffeehouses, tea shops and bakeries that present city strollers with a tempting selection of fresh brews, savory snacks and fragrant buns. Be sure to try kyata, an Armenian sweet bread, and nazuk, layered pies soaked with butter, sugar and nuts. Be forewarned: you may find it difficult to lose weight in Yerevan!
Public Transport in Yerevan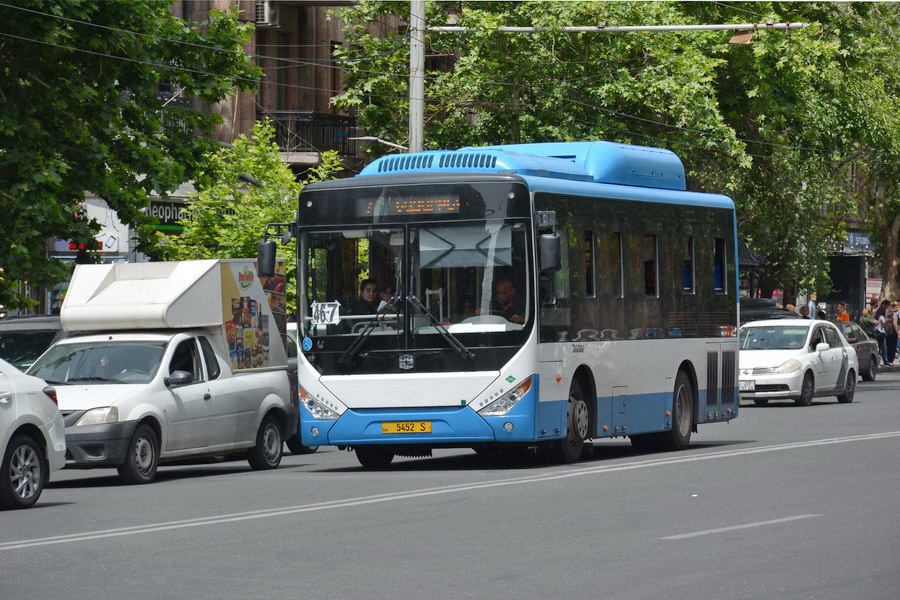 Buses
The network of buses and fixed-route taxis in Yerevan is quite well developed, so that you can easily reach almost any corner of the city either directly or with one or two transfers. The fare of each ride is 100 Armenian drams (~ 0.2USD). If riding the bus, you'll need to pay the driver directly before exiting. Keep in mind that a driver might not have lots of change on hand, so paying in coins is preferable. Buses in the capital are generally comfortable and clean, and since much of the Yerevan population relies on them for daily transport, a city bus ride is a great way to immerse yourself in local life and interact with the kind-hearted Yerevanians.
Taxis
A reliable taxi system is actively developing in Yerevan, with many international networks now providing services. You can order a taxi over the phone or via an app on your smartphone. Services are usually multilingual. Taxi prices will vary depending on the distance between points, the quality of the taxi and the time of day, with higher fares during rush hour and in bad weather. Many drivers will point out Yerevan's key attractions and little-known hideaways if you ask them, so if you want to explore the city in comfort and style, a taxi ride is a good option.
Metro
The Yerevan Metro consists of only one line that connects the main hubs of the city. If you want to avoid traffic jams and hit many different attractions in one day, the metro is a perfect choice. As a rule, trains arrive every 5 minutes. The fare is 100 AMD, and you'll need to pay in coins.
Car Rental Services
Renting a car in Armenia is a fairly straightforward process. In order to rent a car, you must be at least 21 years old and possess either an international driver's license or a license issued by your home country. The rental price, which is contingent on the model of the car, can be paid by credit card through most companies. While Yerevan's traffic rules are not too complicated, we advise you to familiarize yourself with local laws before jumping behind the wheel for a self-guided city tour.
Bike Rentals
Cycling through Yerevan is a great way to explore the city's main thoroughfares and side streets in an unhurried manner. Although Yerevan is serviced by a modern bike rental system, bike paths are limited mostly to the downtown area. If you venture outside of the city center on a bike, be prepared to pedal alongside cars and trucks. It's advised to wear basic protective equipment such as helmets, knee pads and elbow pads, which may also be rented or purchased through most bike rental companies.
How to Get to Yerevan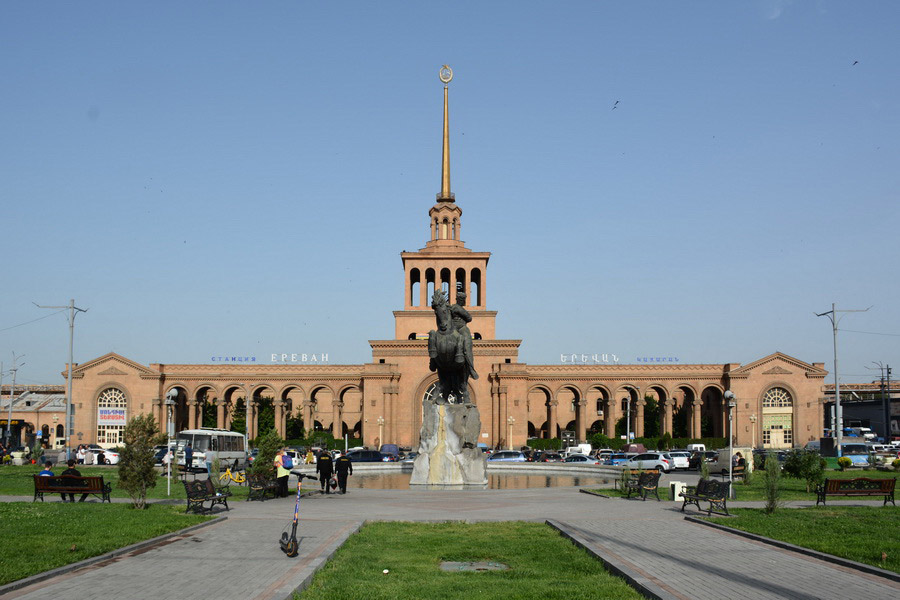 You can easily reach Yerevan by land or by plane. If coming by air, you'll arrive at Zvartnots International Airport, which welcomes flights several times a day from numerous countries in Europe, the Middle East and Asia. The airport provides Wi-Fi, luggage lockers, cafeterias, waiting areas and a VIP room, a pharmacy, first-aid post, a mother-and-child room and a Duty Free zone, in addition to other services. You can get from the airport to the city either by taxi or by taking an express bus, which departs every half hour daily from 7 am to 10 pm.
You can also reach Yerevan by road from Russia and Georgia. A drive from Tbilisi to Yerevan takes 5-6 hours. There is a comfortable train that connects Yerevan to Tbilisi, giving you the chance to relax and enjoy the passing scenery during the 8-9 hour ride. Alternatively, the Yerevan to Tbilisi overnight train runs regularly between the two cities and allows you to arrive feeling rested and refreshed for your Yerevan explorations.
Yerevan Languages
The official language of Armenia is Armenian, one of the oldest spoken languages in the world. Locals will proudly teach you some basic words and phrases, so don't be shy to ask! Since Armenia was a part of the USSR for several decades, many residents speak Russian as well. Young people prefer to learn English, which is taught at schools as the main foreign language.
Yerevan Currency
The currency of Armenia is the Armenian dram. Both paper bills and coins of various denominations are in circulation. It is quite simple to exchange money in Yerevan: it can be done both at banks and at exchange points in the city. US dollars, Euros, Russian rubles, and some currencies of neighboring states are accepted for exchange. Please keep in mind that small shops and cafes do not accept credit cards and it is therefore advised to always keep some cash on hand (preferably coins and paper bills of smaller value) so as not to encounter any payment difficulties.
Safety in Yerevan
Yerevan is recognized as one of the safest cities in the region. You can freely stroll the city's beautiful and sunny streets, as police are careful to maintain public order and regularly patrol Yerevan's central avenues. Armenians are warmhearted, hospitable and helpful, and travelers overwhelmingly report feeling safe and welcomed here.