Megerian Carpet Factory, Yerevan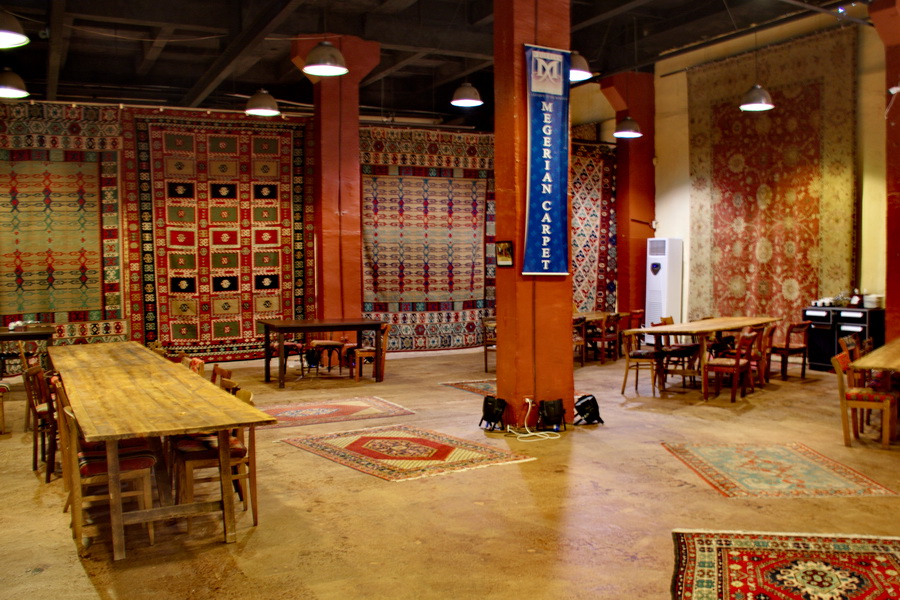 Megerian Carpet Factory in Yerevan is sure to delight anyone interested in the rich Armenian tradition of carpet weaving. Carpets have been central to Armenian culture since ancient times, and carpet weaving practiced in the land for thousands of years. In keeping with this rich heritage, theMegerian family has been restoring old carpets and producing new ones for more than four generations.
Megerian Family
The Megerian family immigrated to the USA at the beginning of the 20th century, where they began buying, selling, cleaning and repairing handmade Armenian rugs. Afamily business was officially established in 1917 in New York City. In the early days, the Megerianssold onlyantique or modern Armenian rugs. Over time the family expanded their work, and currently they offer several different collections:
Armenian collection;
Tabriz collection - exquisite replicas of antique Persian rugs;
Sultanabad collection–replicas of traditional Sultanabad designs from the 17th – 19th centuries;
Mamluk collection–replicas of 15th-century Egyptian rugs;
Oushak – 18th – 19thcentury Egyptian rugs;
Bijou - recreations of Pakistani rugs.
Other collections include Kazak, Savonnerie, modern and antique rugs. Theirmain Megerian carpet shop is located on 5th Avenue, New York. Additional shops can be found in Brooklyn and Zurich, andthe company has showrooms in Italy, France, Switzerlandand Germany. Megerian Carpet Factory in Armenia is one of their more unique and fascinating establishments.
Megerian Carpet Factory in Yerevan
The Megerian family owns 22 facilities in Armenia which provide jobs to thousands of workers. The family is known for having successfully introduced natural dyeing methods to Armenia, obtaining their natural dyes from the flowers, roots and plants of the Armenian highlands, much as their ancestors did thousands of years ago.
At Megerian Carpet Factory, located at 9 Madoyan Street in Yerevan, visits are organized for both locals and tourists. Inside, you can enjoy a walk through the unique museum, purchase your own Megerian rug from the exhibition hall, watch the process of rug making and learn about the technique of dyeing and processing with natural materials. The delicious Armenian dishes at Megerian Carpet Restaurant, which offers an authentic atmosphere and friendly staff, only add to the experience.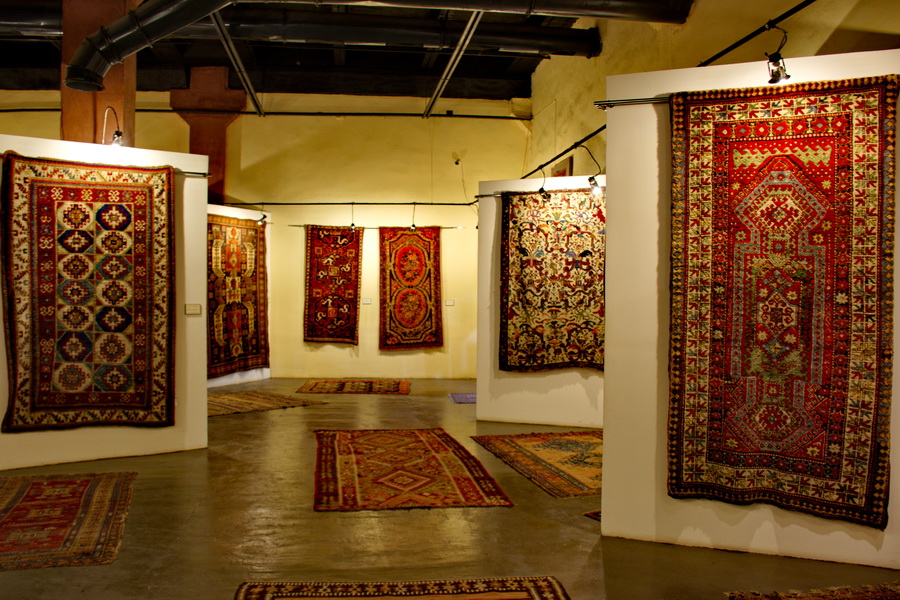 Visitors can also watch the weaving process firsthand. In the first step, a designer paints a blueprint of the carpet for the weaver. Before the weaving begins, the base of the rug must be made, usually from wool or silk. (Woolen bases are used in Armenia, while the silk bases are used in their factories in Egypt). After the base is in place, the weaving process starts with Armenian double knots. On one square meter of carpet, 160,000 Armenian double knots are present! Making a large carpet can take several months or even years.
The factory museum was opened in 2014 and includes carpetsdating back to the 17th century. The exhibition hall contains antique Armenian carpets from the Megerian family's exclusive collection, some of which are over one hundred years old.
Behind every rug in the museum is a unique and interesting story. For example, during the Armenian genocide,a mother decided to tearher rug into two pieces. She gave a piece to each of her daughters and told them that if they became separated from one another, perhaps they could find each other again someday with the help of their matching rug halves. They were indeed separated and reunited some years later, and the rug was stitched together again.Today this rughangs on the walls of the factory.​
Megerian Carpet Factory has captured the attention of countless visitors to Armenia, including Conan O'Brien and Kim Kardashian West.
It is open from Monday to Saturday, 09:00 a.m.to 06:00 p.m.