Opera and Ballet Theatre, Yerevan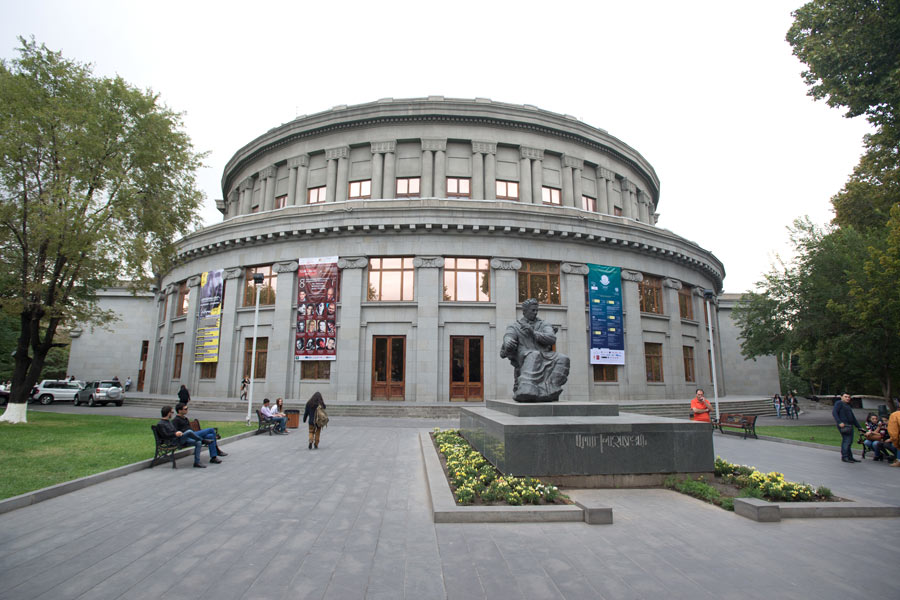 The Opera and Ballet Theatre is one of the most outstanding landmarks of in Armenia. Located in the heart of Yerevan, it was designed by the architect Alexander Tamanian, who connected two auditoriums in a uniform semicircular building in unusual manner. While building this artistic monument, Tamanian used the best traditions of medieval Armenian architecture while stylizing traditional national ornaments.
The theater part of the building was finished in 1939. In 1963, the big hall of the philharmonic society was added. The building in its present condition appeared after the reconstruction of 1980. The theatre capacity is 1,260 people; the philharmonic society hall can hold 1,400. Both halls have the shape of an amphitheatre and are distinguished by magnificent acoustics. The project was awarded the "Grand Prix" at the International Exhibition in Paris in 1937.
The square in front of the Opera building is decorated by sculptures of the poet O. Tumanian and the composer A. Spendiarian. The square in front of the Opera House has a statue of Aram Khachaturian, and one of the halls in the theater itself is also named after him. There is a swan lake near the square. Numerous cafes give a special color to the adjoining district, and are very popular with Yerevan youth.