Vernissage Flea Market, Yerevan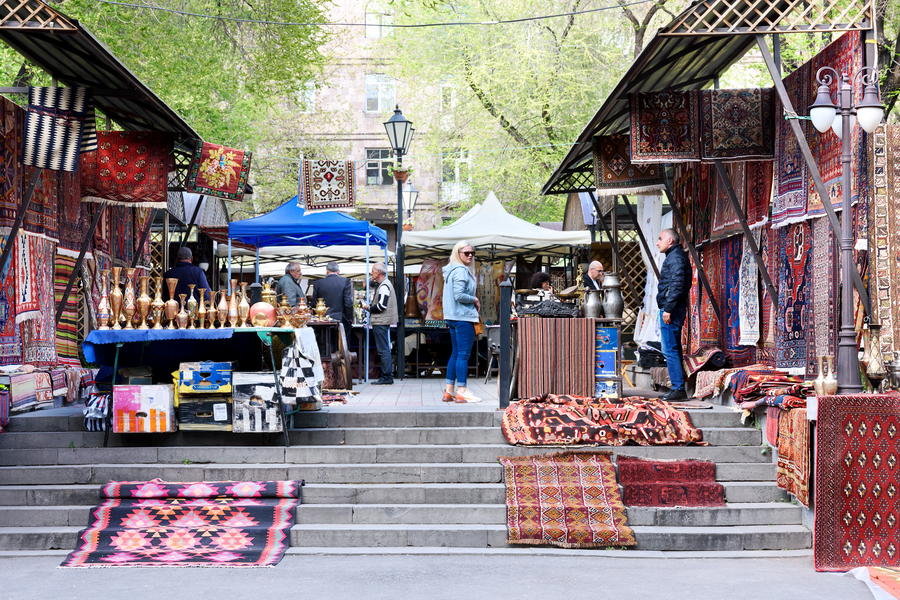 In the center of Yerevan, next to Republic Square, you will find a fascinating flea market called "Vernissage", filled with many different things, memorabilia, and antiquities.
You can find everything here, starting from hand-carved wooden chess and backgammon, Armenian duduk in numerous variations, self-woven carpets and textiles to Armenian national handmade dolls, caskets, carved crosses, pre-revolutionary utensils, and antiquities.
Those who are interested in the Soviet past will find here many different things: old gramophone records, binoculars, photographic equipment, sets, crystal glasses and decanters, coasters, vases, and various painted porcelain figurines, brought to the flea market from different parts of Armenia and from other post-Soviet countries as well.
A huge selection of spoons, forks, knives, and wine glasses made of an alloy of nickel and copper await the lovers of original cutlery.
A special place is given to the carpets: a bright element of the Armenian national culture. Your head will spin from the variety of colors, patterns, and ornaments of self-woven carpets created by the hands of painstaking craftswomen. Since ancient times, carpet weaving has been a traditional craft of the Armenian people. Most Armenians have a national colorful carpet at home, a symbol of the talent and industriousness of the nation.
Those who want to decorate home interiors with beautiful things will appreciate the intricate paintings and original clocks of various shapes, earthenware jugs, kitchen utensils, irons, and horseshoes that are more than three hundred years old.
The assortment of market traders also includes handmade jewelry inlaid with precious stones. There are also chains, earrings, necklaces, and pendants made of silver, a complete set for those who appreciate the beauty of traditional and elegant style.
While in Yerevan, be sure to visit this fascinating market, where you can buy and admire the works of Armenian masters.