St. Zoravor Church, Yerevan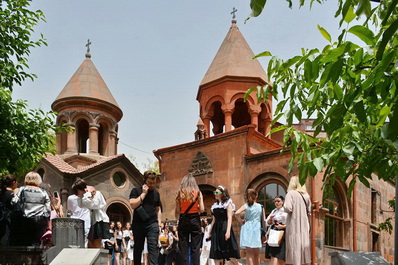 St. Zoravor church is one of the oldest churches in Yerevan. Originally it was named after Astvatsatsin (the Virgin). The church was erected in Shaar district of old Yerevan. This place was earlier occupied by the tomb-chapel of St. Anania and the monastic complex which consisted of the church, the chapel, and the residence. The complex was completely restored in1632-35 but in 1679 it was totally destroyed by the earthquake.
The existing church of St. Zoravor was built from bright-red stones on the same site in 1693.Its interior is distinguished by severity. There are some 17 th – century khachkars cut in the outer walls. The church vestibules are decorated with domed belfries with bells. In 1889 to the northwest from the church the new St. Anania chapel was added. Thanks to the support of Echmiadzin in 1970s the church underwent fundamental reconstruction. The dilapidated walls, the roof, and the gallery for choir were constructed.