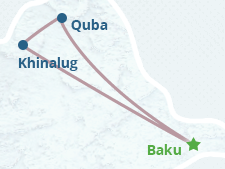 Tour to Khinalug, a small mountain village, one of the oldest in the world. Its age is more than 5,000 years. This is the highest and most isolated settlement in the Greater Caucasus mountain range, located on the border with Dagestan, 63 km from Quba. Its residents numbering about 2,000 still retain unique cultural traditions, speak their own language and wear their own traditional clothes.
Tour itinerary:
Day 1: Baku – Khinalug – Baku
In the morning, meet your guide and the driver at your hotel in Baku. Depart the capital city to the norhwest of the country. Drive through Red Village (Krasnaya Sloboda), the biggest settlement of Mountain Jews in Azerbaijan. The road to Khinalug is a picturesque mountain road at an altitude of 2,000 m. Enjoy breathtaking views of the landscape. Khinalug is one of most ancient settlements in the country where people have been continuously living for more than 5,000 years. Return to Baku. On the way back stop at Quba mass grave. Arrive in Baku. End of Tour to Khinalug Village.
Duration of sightseeing tour: 8-9 hours
Price includes:
Guided sightseeing tour;
Entrance fees to the museums, mausoleums and other sights;
Transport throughout the tour.
Price does not include:
Tips are not included, but would be appreciated;
Meals.