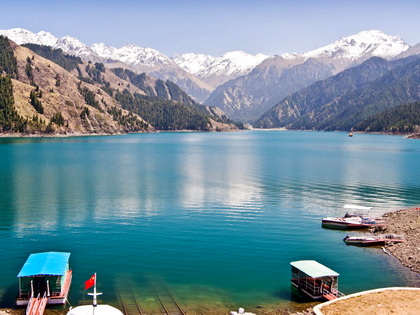 Heavenly Lake (Tianchi) is a clear blue lake located on the north side of the Bogda Shan Mountains in the Tian Shan range. At 1,907 m (6,257 feet) above sea level, Heavenly Lake is surrounded by jagged peaks, the highest of which is Bogda Peak (5,445 m or 17,864 feet). In summer, the lake is surrounded by flowers, and the surrounding peaks are all visible. Heavenly Lake was given the highest possible rating by the Chinese National Tourism Association, making it one of the most beautiful places in China.
Tour itinerary:
After leaving the hotel in the morning, it takes 1.5 hours to reach the entrance of the Heavenly Lake Geological Park. After buying a ticket, a shuttle bus will take you an additional 30 km (20 miles) along the mountain roads to a bus station, a ride of about 40 minutes. From the bus station, there are another 700 m (0.5 mile) to the lake, which can be covered by foot or a shuttle car (10 yuan). On average, guests spend about 3 hours at the lake. Small boats are available for rides. Eat lunch at the lake, and return to Urumqi later in the day. Stop at the International Grand Bazaar for dinner in Urumqi, and then return back to the hotel.
Distance: 110 km (10 miles), 2 hours
Price includes:
English speaking guide;
Transport;
Entry fees.
Tour price does not include:
Meals;
Tips are not included, but would be appreciated;
Other expenses.