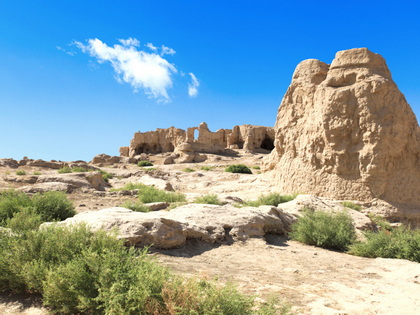 185 km (115 miles), 2.5 hours
Turpan was long an important city on the Silk Road, as the city was an oasis along the edges of a vast desert. Located to the southeast of Urumqi, Turpan has a history that covers thousands of years and many empires and religions. Due to the famous irrigation systems in the region, the residents of Turpan have been able to grow delicious fruits for centuries.
Tour itinerary:
After breakfast, leave Urumqi for Turpan. One the way, visit Dabancheng (the largest wind power station in China) and a saltwater lake (with water so salty that people can float on the surface of the lake). In Turpan, visit the Emin Minaret, the tallest minaret in China, and then stop for lunch. After lunch, continue to the Jiaohe ruins, all that remains of an ancient city from 2,000 years ago. The final stop is to see the local irrigation system ("karez") that makes life in the desert possible. This irrigation system has gathered groundwater in the mountains and channeled it through to the basin where people lived. At the end of the tour, return to Urumqi.
Price includes:
English speaking guide;
Transport;
Entry fees.
Tour price does not include:
Meals;
Tips are not included, but would be appreciated;
Other expenses.