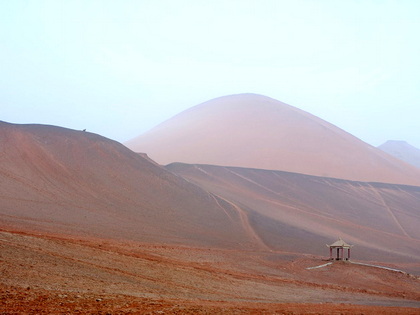 The Kumtagh Desert is a section of the Taklamakan Desert in far western China. The name Kumtagh means "sand mountain" in Uyghur, and the desert covers 2,500 square kilometers (965 square miles). The desert is made up of towering sand dunes, marked by small rivulets that may only run with water once every couple years. The main city, Turpan, is well known for its fruits, even though temperatures can soar quite high during the day and drop below freezing at night.
Tour itinerary:
The tour departs from Urumqi in the morning, and passes through the Dabancheng wind power station, the largest such station in China. The first stop is a saltwater lake, after which there is a stop at the Flaming Mountains outside Turpan. These red sandstone cliffs often look like they are on fire, and this place is one of the hottest place in the region. After a lunch in Turpan, take a trip out into the sand dunes. Here, you can ride a camel or take a tour on a sand buggy through the red sand mountains of the Kumtagh Desert. Afterwards, return to Urumqi.
Distance: 280 km (175 miles), 4 hours
Price includes:
English speaking guide;
Transport;
Entry fees.
Tour price does not include:
Meals;
Camel riding;
Tips are not included, but would be appreciated;
Desert Safary by 4x4.