Geography of Georgia - Landscape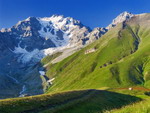 The mountains occupy thirds of Georgia. In the south there are the mountains of the Minor Caucasus (2,000–3,000 m above the sea level). In the north – the ridges of the Major Caucasus (up to 5,000 m above the sea level). The highest peak of Georgia is Mount Shakhra (5,068).The southern slopes of the Major Caucasus are crisscrossed by deep river valleys. There is also well developed system of karstic caves (over 470) with the largest of them, Novoafon (3.3 km long, 50,000 sq. km).
In the west of the country lies the Colchis lowland. From the West it borders on the Black Sea; from the east it is lined by the Suram (Lihsky) ridge which separates the western and eastern parts of Georgia. To the east of the Suram ridge is the Kartlia plain, Ioria and Shirak plateaus and the Alazani valley.
Georgia 's east is the fertile plains with historical areas Imeretia, Kartli and Kakhetia.
The territory of Georgia is characterized by high seismic activity; in some areas of the regions take places the 5-7 points earthquakers (especially in the Eastern regions).