Nokalakevi, Kutaisi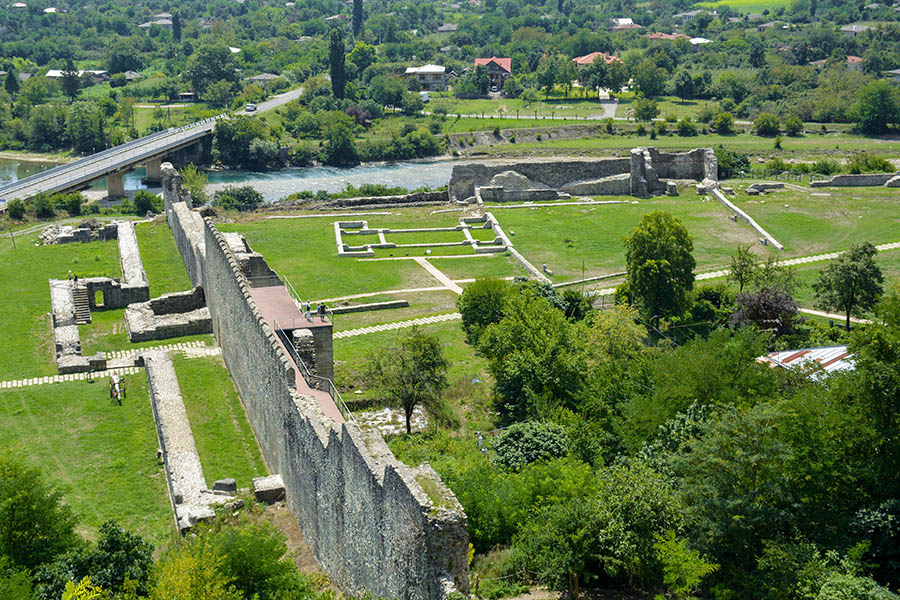 Nokalakevi, also known as Archaeopolis (which means "ancient town" in Ancient Greek) is a village and archaeological site in about 50 kilometers from Kutaisi.
The early Byzantine defensive fortifications of Nokalakevi-Archaeopolis take advantage of the site's position within a loop of the river Tekhuri, which has carved a gorge through the limestone to the west of the fortress. The steep and rugged terrain to the north of the site made the citadel there almost unassailable. A wall connected this 'upper town' to the 'lower town' below, where excavations have revealed stone buildings from the fourth to sixth century AD.
Based on historical sources, the first fortress here was built in the third century AD. As the capital of Lazika (Modern western Georgia), Nokalakevi was very important strategical point. The fortress played a part in the major wars fought between the Byzantines and Sasanians in the South Caucasus during the sixth century AD.
An archaeological excavation on the territory of Nokalakevi, held in the 1930s, became a reason for disagreement among archaeologists. Some think that the site was Aia, the ancient Colchian capital in the Greek Argonaut myth.
Nowadays Nokalakevi is a part of Georgian cultural heritage and a silent witness to history. There are plenty of interesting religious and historical monuments in the ancient settlement: the remains of the city's fortification, a unique tunnel to the river Tekhura, churches and more.