Sataplia near Kutaisi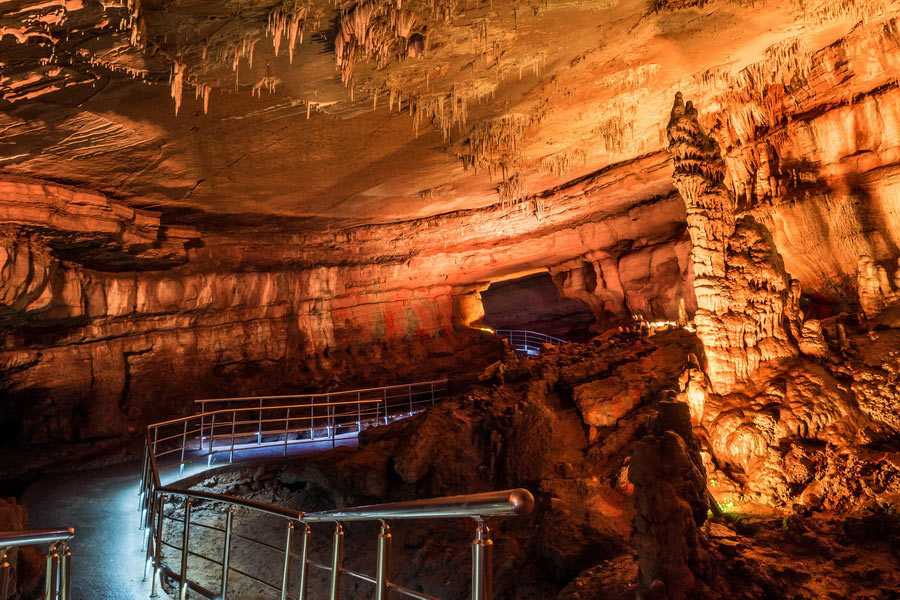 Opening hours: 10:00-17:30
Day off: Monday
This place has preserved a prehistoric nature with wooden relics, labyrinths of karst caves and fossilized tracks of dinosaurs that lived there in the Mesozoic era, 160 mln years ago. There are only 3 places where you can find such traces of dinosaurs in the CIS: one in Ravat gorge in Tajikistan, another on in the Sataplia Mount in Georgia and the third one is Khodja-pil in Turkmenistan.
"Sataplia" means "honey place" in Georgian. The naming is related to the fact that in ancient times wild bees nested in numerous hollows of these caves and the primitive people were used to treat themselves to honey there.
Many archeological findings including labor tools and remains of primitive people found by PetreChabukiani in the 30's of the last century prove the existence of pre-historic tribes there.
Chabukiani was the first who has discovered ancient karst caves. It happened accidentally when the researcher followed the streamlet that was running through the cliffs. The water brought him to the big underground cave covered with stalactites and stalagmites, formed during the centuries. Behind it there were hidden other caves connected with a complicated a kilometer long labyrinth path. Some halls are so difficult to reach that not everyone would go for it, even an experienced speleologist. Desperate adventurers who would dare to go til the end, the depth of the karst labyrinths will open amazing wonders of the nature.
In the end of the 50's Sataplia became a reserve. Over time, the Colchis grove acquired paved roads and sculptures of died dinosaurs; a building with a path for tourists was erected above the tracks of dinosaurs that remained in lime formations.
The karst caves are equipped with backlight and acoustic system that will add up to your impressions from Sataplia brightness and make it lifelike. The central point of the touristic part of the labyrinth is a "Stone heart". A huge heart shape stalagmite attracts romanticists, who make a wish near the "sculpture". Next to the "Stone heart" is a hall for patients suffering from bronchial asthma. The permanent temperature in the caves is approximately 14 degrees Celcius and cave has a healing air.
You can find an observation deck at the highest point of the Sataplia reserve, built on the rock in the form of a horseshoe with a transparent floor which will make you feel as if you are hovering over the abyss. It opens up a breathtaking view of the surroundings of Kutaisi.