Svaneti, Georgia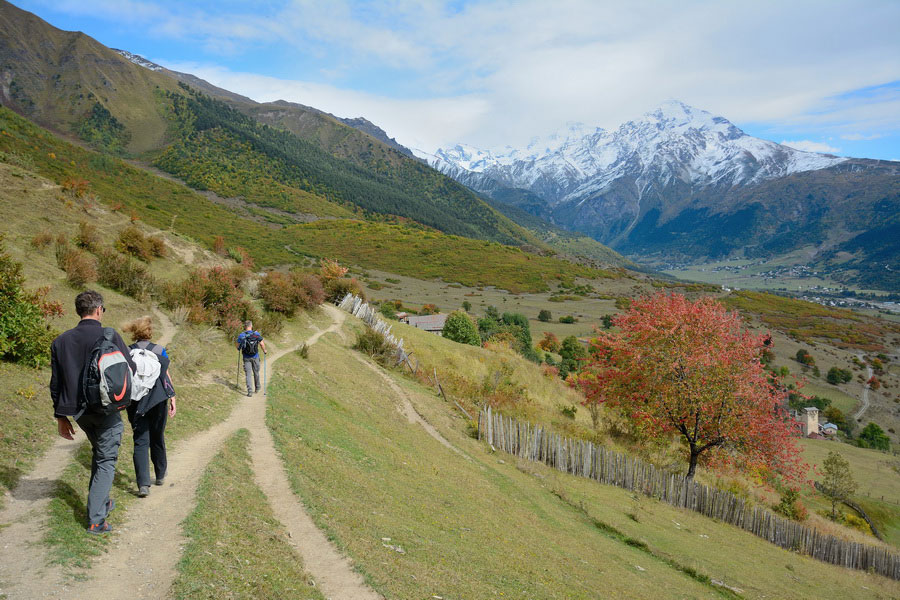 Tours, Attractions and Things To Do in Svaneti
Live a Life of Adventure
Svaneti, Georgia is a reclusive mountain community which tempts travelers with unusual local customs and the promise of reckless abandonment among its intimidating yet grandiose peaks.
One of the most captivating regions in Georgia, Svaneti is inhabited by the Svan, a minority people who possess their own language, traditions and beliefs. Nicknamed the Land of a Thousand Towers for the historic stone outposts which dot its landscape, Svaneti Region is also known for its majestic mountain scenery which attracts outdoor enthusiasts year round.
Svaneti Travel Guide
Svaneti at a Glance
Nestled in northwest Georgia along the southern slopes of the Greater Caucasus Mountains, Svaneti consists of Upper (Zemo) Svaneti and Lower (Kvemo) Svaneti. Four of the 10 highest peaks of the Greater Caucasus are located in Svaneti Region, including Shkara (5200 meters) and Janga (5078 meters), the two highest peaks in Georgia. Mount Ushba and Tetnuldi likewise stun with their majesty while beckoning adventurous skiers and trekkers to an unforgettable vacation.
Svaneti is home to some of the earliest known settlements in the Caucasus. Historically, Georgians in the lowlands would send icons, jewels, and manuscripts to Svaneti's towers and mountain churches for safekeeping in times of danger, and with time Svaneti became a repository of early Georgian culture. Around 7 BC the Greek geographer Strabo provided this remarkable account of the Svan people:
"Svans are superior perhaps to all the tribes in strength and courage. They are masters of the country around them and occupy the heights of the Caucasus above Dioscurias. They have a king and a council of three hundred persons. They can assemble, it is said, an army of two hundred thousand men, for all their people are fighting men…In their country the winter torrents are said to bring down even gold, which the Barbarians collect in troughs pierced with holes and lined with fleece, and hence the fable of the Golden Fleece. The Svans use poison of an extraordinary kind on the points of their weapons; even the odor of this poison causes suffering for those who are wounded by the arrows thus prepared." ~ Strabo, Geography, XI. 2. 19
Travelers to Svaneti today will be delighted to know that the Svan laid down their poisoned weapons long ago in exchange for peaceful relations with their neighbors. Yet a spirit of fierce independence and a strong national identity still permeate the local mindset, and this cultural pride is palpable in the original architecture and local customs which display a cultural and religious heritage unique to Svaneti.
Visiting Svaneti
For anyone undecided on whether to include an excursion to Svaneti on your Georgia travel itinerary, a well-known local saying best sums it up: "If you have not been to Svaneti, you have not seen Georgia!"
Svaneti attracts visitors year-round. In summer, both experienced trekkers and novices can enjoy hiking, horseback riding and cycling along the pristine rivers, turquoise lakes and forested trails of the Caucasus Mountains. In winter, Svaneti is an ideal skiing destination as its towers, covered in thick layers of dreamy white snow, blend with the soaring snowcapped mountains to create a truly stunning wonderland.
Mestia, Svaneti Region's administrative center, has grown in popularity in recent years. Along with ancient towers, medieval churches and the Svaneti Museum of History and Ethnography, Mestia now offers warm hospitality, a robust city life, decent dining options and the most comfortable hotels in Svaneti. The city is also a great starting point for hikes to Koruldi Lakes, Chaladi Glacier, Ushguli villages and the scattered but famous Svaneti Towers. For a unique adventure, take a cable car from Mestia up to the gorgeous Mount Zuruldi.
Ushguli villages, situated at the foot of Mount Shkara at an elevation of 2,200 meters above sea level, are some of the highest settlements in all of Europe. Now listed as a UNESCO World Heritage Site, Ushguli's gorgeous alpine scenery, narrow streets, rustic architecture and secluded locale never fail to captivate adventurous travelers and photographers. When in Ushguli, Georgia, be sure to stop by Lamaria Church, known for its scenery and frescoes.
Svanetian Culture
Thanks to their remote locale which has kept the Svan people largely insulated from the outside world, travelers to Svaneti will detect many distinctive features in the local culture.
The Svan language is a unique and endangered tongue which is only spoken in this region. Svan belongs to the Kartvelian language family, along with Georgian and two other minority languages spoken in the country, yet due to its many distinctive features most linguists believe that it developed in isolation for hundreds if not thousands of years. It includes several dialects and although it is primarily an oral language, the Georgian script is used for its written form.
Svanetian complex polyphonic music has existed since at least the early Middle Ages and is now identified by UNESCO as an endangered musical genre. Reverberating with emotion and distinguished by its trill and rhythmic three-part harmonies, use of metaphors and references to traditional everyday life, these polyphonic songs serve to preserve the Svanetian language in oral form. A musical style highly unusual to the Western listener, Svanetian polyphonic music is an excellent way to appreciate the local arts while in the region.
Svanetian cuisine is a dream come true for anyone fond of cheese, bread and grains. In addition to traditional Georgian fare, the region offers the hearty kubdari bread stuffed with meat or mushrooms, a cornmeal and cheese bread called chvishtari, a cheesy mashed potato blend known as tashmijabi and a unique spin on Georgia's famed khachapuri bread, which in Svaneti is called lukne and is made with a special local cheese. The unique flavor of spiced Svanetian salt is known throughout the country and makes a great gift.
Festivals in Svaneti
Another expression of Svaneti's cultural heritage is the mesh of pagan and Christian beliefs held throughout the region. These deeply ingrained views are perhaps nowhere more evident than during local celebrations, which will often be held in churches but will center around the people's ancestors or pre-Christian gods.
One of the most famous local festivals is Lamproba (Lamps Festival), which in Upper Svaneti is known as Svimonoba (Simon's Festival). Held ten weeks before Easter in February or early March, the origins of Lamproba remain murky. One version states that the ceremony began as a pagan ritual to implore the gods for good weather and a fruitful harvest, while others claim that its roots lie in ancient times, when the men of fighting age in each village would be counted as they gathered in the street holding a candle. Today Lamproba is observed in an early morning gathering of villagers carrying torches made from oak or birch tree branches. After singing hymns and visiting the graves of their ancestors, the participants light their torches and walk around the leader's house as he prays. The candles are then set aside as the community holds a festival filled with dancing and games.
Kvirikoba, also known as Lagurka, has been celebrated for centuries on July 28th and is one of the most significant religious festivals in Svaneti. Prior to the holiday, participants hike together to the 11th-century St. Kvirike and Ivlita Church in the village of Kala, where they gather for all-night prayer. The vigil concludes with a sacrifice and a holiday filled with song, dance and games held at the church and in nearby homes and cafes. During Kvirikoba a special sacred bread called lemzir will often be prepared.
The people of Svaneti, Georgia have managed to retain their ancestral traditions, language, celebrations and architecture, making a visit to the Land of a Thousand Towers a truly remarkable experience!