Georgian Fine Arts Museum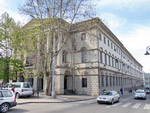 Near the Square of Freedom in the picturesque public garden stands the massive building with a portico and colonnade. Before, it was the building of Tiflis Theological Seminary. Now is the Georgian Fine Arts Museum with the rich collection including the Gold Fund with valuable masterpieces of medieval chasing (the 8 th —13 th centuries) and plique-a-jour (10 th —12 th centuries). The most precious artifacts are the golden cross of queen Tamara with the inscription decorated with emeralds, rubies, and pearls and Bagrat III's cup (999).
The most ancient icon of Georgia (the 6 th century) - the Anchi icon of the Vernicle Image of the Savio (Anchiskhati) is also kept in the museum. Besides, the museum has the pictures of European masters, masterpieces of Chinese and Japanese art, monuments of Egyptian, Iranian and Indian art, shawls from India, Turkey, Iran, Persian carpets.along with the pictures of Russian artists - I.Repin, V.Surikov, V.Serov, I.Ayvazovsky, A.Vasnetsov and the richest collection of pictures by great Georgian artist Niko Pirosmani.