Freedom Square, Tbilisi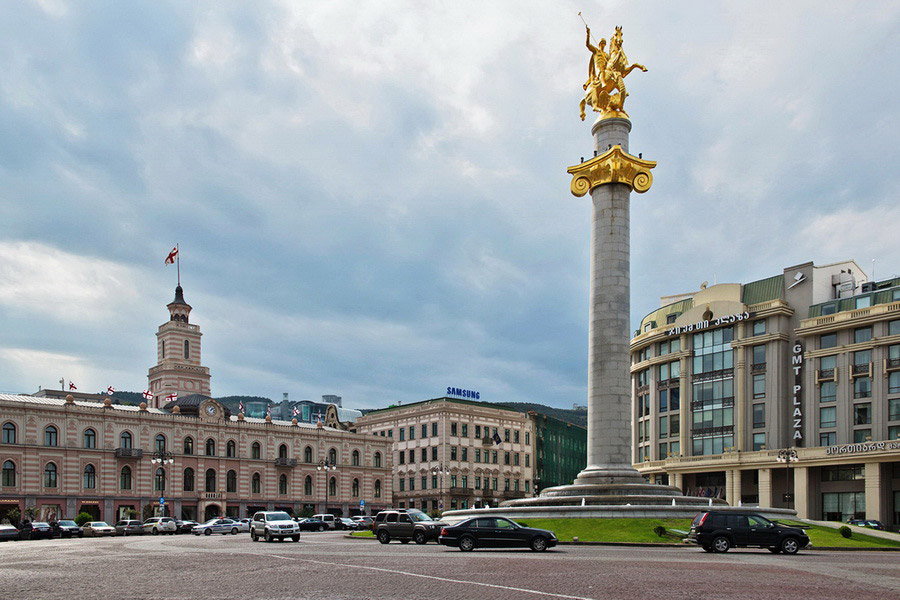 Freedom Square in Tbilisi has been the staging ground for many pivotal events which have unfolded in the country of Georgia over the past two centuries. Now a symbol of the unity, equality and independence of Tbilisi residents, Freedom Square straddles historic and modern neighborhoods and is a must-see for tourists in Georgia's capital.
History of Freedom Square
Prior to the 19th century, the land surrounding the square was called Garetubani (Outer District) due to its location directly behind Tbilisi's defensive wall. In the late 17th century, King's Caravanserai was built on the northern stretch of the square, only to be destroyed by the Turks during an attack in 1724. Today, Art Museum of Georgia occupies the land where King's Caravanserai once stood.
After Georgia became part of Tsarist Russia in the early 19th century, Tbilisi's central district was gradually expanded. In 1824, Transcaucasian Military Headquarters was built on the northwest corner of Freedom Square, a lot near modern-day Pushkin Park now occupied by offices. In 1825, the house of Georgian businessman Jacob Zubalashvili was built by Swiss architect Giuseppe Bernadette, yet has since been replaced by the Art Museum of Georgia.
In 1851, Italian architect Giovanni Scudieri designed a building which housed a Renaissance-inspired caravanserai and theatre, the latter of which was painted on the inside by famous Russian artist Grigory Gagarin. The building belonged to influential Tbilisian merchant Gabriel Tamashev and adorned the center of the square until it was destroyed in a fire in 1874.
In 1880, Sololaki Gorge was filled and the square became a single plaza paved with stone. As the north side of the square underwent construction later that decade, today's Pushkin Park was added to the scene. After an explosion at Tbilisi's Old City Wall in the 1950s, construction of a new row of houses on modern-day Pushkin Street began.
Today, the entire southern perimeter of Freedom Square is occupied by Tbilisi City Council, with the clock tower in its center forming the axis of the square. The building was constructed for police headquarters in the 1940s, but during renovations in the late 1970s it acquired a pseudo-Moorish style.
After the Georgian Civil War of 1991-1992, several buildings on the western side of Freedom Square were destroyed, including the 20th-century Caucasus and International Hotels. In 2002, these buildings were replaced by Courtyard Marriott Hotel.
Despite the numerous changes which Freedom Square has undergone, its original dimensions and unusual crooked trapeze shape have remained surprisingly intact.
Naming of Freedom Square
The designation given to Tbilisi's Freedom Square has changed several times during its history. In 1829, it was named Yerevanskaya Square to honor the achievements of General Paskevich-Yerevansky in the Russo-Turkish War of 1828-1829. After the theatre and caravanserai were added in 1851, it began to be referred to as Theatrical Square.
"Freedom Square" was first coined in 1918 when Georgia declared its independence from Tsarist Russia, but was renamed by the Soviets in 1940 in honor of Lavrentiy Beria, a Georgian-Soviet politician and Bolshevik activist. In 1956, a monument to Vladimir Lenin was erected in the center and the name subsequently changed to Lenin Square.
After Georgia declared its independence from the USSR in 1991, the name reverted back to Freedom Square and the monument of Lenin was replaced with a fountain. In 2006, a statue of Saint George was designed by famous local artist Zurab Tsereteli and placed in the center of Freedom Square, where it stands to this day.
Freedom Square Today
Freedom Square remains the pride of Tbilisians and a favorite among tourists. New Year celebrations, concerts, festivals and even political demonstrations have all traditionally started at Freedom Square before spilling over onto Rustaveli Avenue. The most significant events in the modern history of Tbilisi occurred at the square, including the drafting of the 1991 Declaration of Independence and the 2003 Rose Revolution, and there is no better place to begin your exploration of Tbilisi than at this monumental plaza.
Overlooked by the golden statue of Saint George, Freedom Square offers visitors diverse sightseeing options. Stroll up Rustaveli Avenue in order to discover modern Tbilisi. Head toward ancient Narikala Fortress by way of Sololaki and Abanotubani Districts, where beautiful homes defined by curved balconies and painted entrances line the streets. By following the remains of the ancient city wall from Freedom Square, you can reach Old Tbilisi, where a synagogue, famous mosque and Georgian Orthodox, Armenian Gregorian and catholic churches are all situated within walking distance of one another.
Freedom Square is surrounded by eateries for every taste and preference, from street food and coffee shops to Georgian, European and Asian cuisine. Famous Georgian restaurant chain Machakhela offers visitors a cozy atmosphere, delicious dishes and local wine, while Tabidze Street also has many dining options.
Nearby shopping malls, boutiques, museums, theaters, clubs and exhibition halls provide endless entertainment options. While in the area, be sure to visit the Museum of National History, Liberty and Griboedov Theaters, and the shops and food court of Galleria Tbilisi.
Alexander Pushkin Park, near which Pushkin himself once stayed, offers a relaxing environment. The park includes a bust of the poet near the fountain, a helpful tourism information center and secondhand book stalls where vintage works can be purchased.
Freedom Square in Tbilisi pulses with the heartbeat of the nation as it continues to play a central role in the life of Georgia's capital.