Zugdidi, Georgia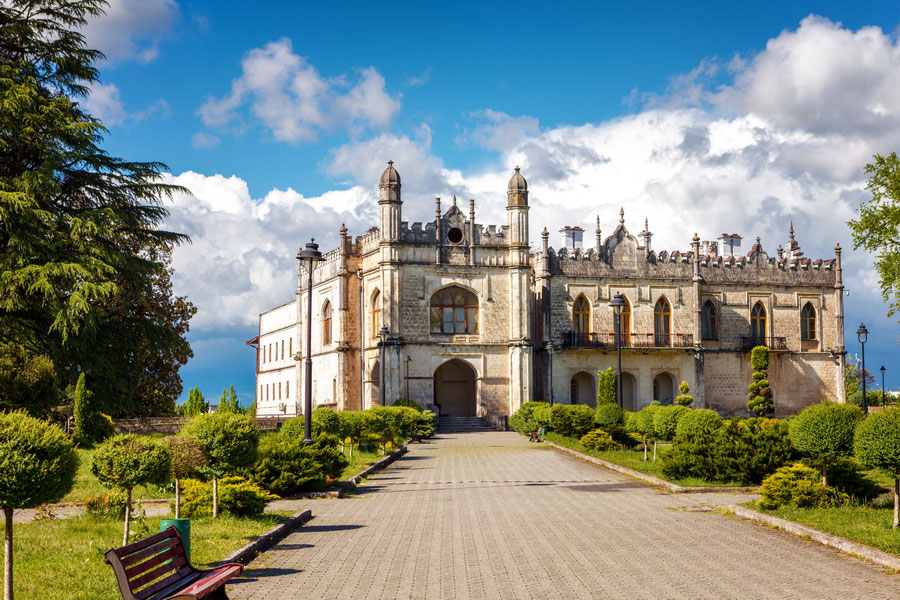 Tours, Attractions and Things To Do in Zugdidi
Located on the Colchid lowland 30 km from the Black Sea near the border with Abkhazia, Zugdidi is one of the five largest cities of Georgia . Its population is over 70,000. The city is rather young (1918) although it is situated in the western part of Georgia , in Colchis whose history is very ancient. Therefore there is a great number of interesting ancient monuments in the vicinities of Zugdidi.
Zugdidi is the regional centre of two united historical areas of Georgia – Mingrelia and Svanetia. From there you can take a trip to Svanetia – the most original area of Georgia known for its ancient watchtowers and ethnic settlements of Mestia and Ushguli.
The city itself has only few places of interest. One of them is Dadiani Palace with its huge garden dated the 19 th century. Zugdidi also has a drama theater, a historical-ethnographic museum and a 16th-century church.
Dаdiani Palace
A graceful patrimonial palace of Dadiani princes is the city's treasure testifying to its former significance. Dadiani were an ancient aristocratic family known for their relationship with Napoleon Bonaparte! One of Dadiani princesses was married to Askil Murat, Napoleon's nephew. Read more...
Mestia
Mestia is a historical, cultural and religious center or Svanetia, the most original and mysterious area of Georgia hiding high in the mountains. Mestia is located on the southern slope of the Major Caucasus, 128 km to the northeast from Zugdidi at the height of 1,500 m. Read more...
Mestia Ethnographic Museum
Mestia Ethnographic Museum was established in 1936. This small mountain museum located in a traditional Svan tower has the richest exposition equaling collections of any European museum. Read more...
Svan Towers
Svan Towers are the symbol of Svanetia. Nowhere in the world is there an analogue of these unique defensive structures of the early Middle Ages epoch. Historically the existence of the towers is explained by the necessity of protection against enemy and natural disasters. Read more...
Ushguli
This name was given to a Svan village in Mestia area. Located 2,200 m above the sea level, the village of Ushguli is considered the highest standing settlement in Europe. Read more...
Lamaria Church
In the outskirts of Ushguli on a lonely hill there stands ancient Lamaria church (church of the Assumption of the Mother of God) with regular services. Read more...