Nature Tourism in Kazakhstan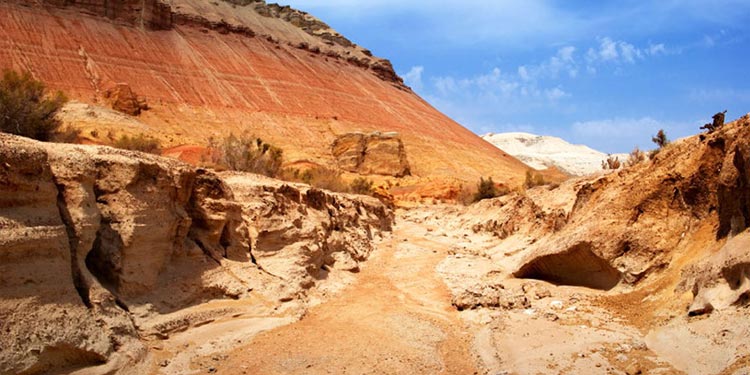 Altyn-Emel, Almaty vicinity
Nature tourism in Kazakhstan welcomes you to national parks the size of small countries, where natural landscapes flaunt a diversity wholly unexpected in a country which lays claim to huge swathes of the world's largest steppe.
Visitors will be delighted to know that many of the land's most acclaimed outdoor destinations are within reach of Almaty, Kazakhstan's largest city and main travel hub. Altyn-Emel National Park, a natural paradise of mountains, forests, wildlife and campgrounds, is perhaps best known for its melodic 'singing dunes' that are sure to delight the eye and ear.
Turgen Gorge entices visitors on a 90-minute drive from Almaty to forest glades, famous waterfalls, glaciers and amazing hiking opportunities. Nearby Issyk Lake is the perfect spot for a picnic before launching into exploration of the region's historical sites. Charyn Canyon's natural labyrinth of russet cliffs stand in polar opposite to the snow-capped mountains and turquoise waters of Big Almaty Lake, a fitting reflection of Kazakhstan's manifold natural riches. A regional falcon farm provides an informative way to familiarize yourself with these culturally significant birds, while an ostrich farm acquaints you with newer, exotic arrivals.
The winter sports facilities of Medeo and Chimbulak, offering stunning views, skiing, gondola rides and the world's highest Olympic-sized skating rink, remain popular with tourists and locals who wish to absorb Kazakhstan nature while remaining close to Almaty.
Nature tourism in Kazakhstan is not limited to Almaty Region alone. Burabai National Park near Nur-Sultan is affectionately known as the "Pearl of Kazakhstan" and offers a welcome reprieve from city life. Within the UNESCO World Heritage Site of Saryarka is Korgalzhyn Nature Reserve, whose wetlands attract more migratory birds than humans, including droves of flamingoes. Even as far west as the port city of Aktau, the Karagiye Depression has left its mark as one of the lowest points in the world and one of the country's most popular desert attractions.
We highly encourage all tourists in the region to visit one or more of these natural beauties, for travel to Kazakhstan simply would not be complete without experiencing all that its great outdoors have to offer.