Urban Tourism in Kazakhstan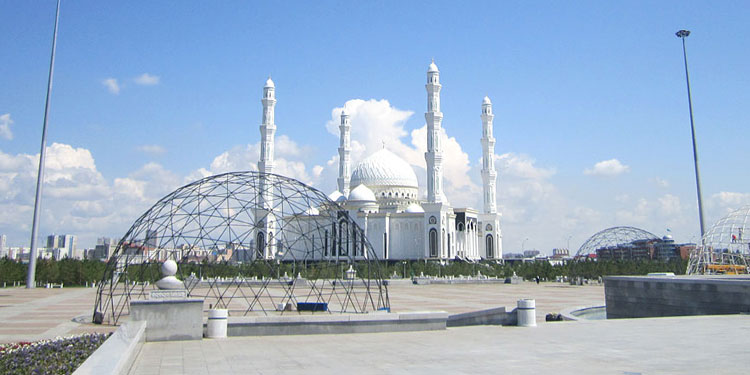 Hazrat Sultan Mosque, Nur-Sultan
Few people realize that urban tourism in Kazakhstan is one of the country's most popular types of travel. As the country is so large and traveling from one point to the next can require time and planning, many visitors choose to focus their adventures in and around capital city Nur-Sultan or Almaty, the southern capital conveniently located near the Kyrgyzstan border.
Nur-Sultan takes many guests aback with its cutting-edge and experimental architecture, a 21-st century oasis on a largely barren steppe. From Khazret Sultan Mosque, the largest mosque in all Central Asia, to the gigantic Khan-Shatyr tent housing hours of shopping and entertainment, it's clear that the relatively young capital has quickly made a name for itself. Special highlights include Bayterek Monument, the ultimate symbol of modern Kazakhstan from which you can enjoy a panoramic view of the city, and the linear Millennium Axis lined with fountains, boulevards, skyscrapers and the ironic Round Square. You can even cut through the capital on a boat ride down the lazy Ishim River.
Almaty offers a more historical perspective with its moving World War II memorial in Panfilov Park, unusually-constructed Zenkov Cathedral, Soviet-style Republic Square and multiple delightfully chaotic bazaars. Stroll along tree-lined downtown avenues, take a ride on the newly built underground metro or spend the day museum-hopping. Numerous parks invite you to relax and people-watch, while the easily accessible outlying regions beckon travelers with stunning scenery at Medeo and Kok-Tobe.
Nur-Sultan and Almaty are not the only worthwhile destinations in urban Kazakhstan. Shymkent, ideally situated between the Uzbekistan border and historical Turkestan, continues to develop its tourist infrastructure with museums and well-maintained parks, while Aktau in the far west flaunts its own unique personality through mosques, churches, monuments and a seaport.
Urban tourism in Kazakhstan is a truly convenient way to become acquainted with local life and culture.