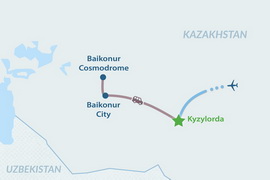 Join Soyuz launch tour at Baikonur Cosmodrome to watch manned rocket to take off. While visiting legendary cosmodrome you will see Baikonur museum, Buran Orbital Complex, astronauts crew at ready-to-go report, and watch historical Soyuz spacecraft launch from Gagarin pad. Prepare yourself for an absolutely unique experience and witness shuttle soaring into crystal clear sky causing earth shake and your body tremble. The moment will stay with your forever.
Please note that currently the number of countries whose citizens can visit Baikonur (town and cosmodrome) is limited. Please check if the country of your citizenship is included on the list.
Enrich your Baikonur Space Launch experience with an extension to the assembly building where you will see a rocket roll-out.
Please note that the tour will take place at a secure zone. Unlike our cultural tours, Baikonur tour does not have a flexible schedule. The timing is set by Russian Cosmos State Agency; based on space ship launch schedule, all visits during the tour will be timed and tour participants are expected to follow. Although not expected, there is a possibility of unforeseen changes by the State Agency that might affect the length and the list of sights included in the program of the tour.
Space ship launch dates are subject to change by Russian Cosmos State Agency. If the schedule changes and new dates do not suit you, we will reimburse tour payment.
All transfers;
Accommodation based on twin room sharing, breakfasts included;
Sightseeing tour program as per itinerary with English-speaking guides/translators;
Entrance fees to sights as per itinerary;
Economy class ticket for flight Almaty – Kyzyl-Orda – Almaty/Astana;
Full-board;
Permission to visit Baikonur cosmodrome;
Permission to photograph objects as per itinerary;
Tour assistant to accompany travellers from Almaty.
Hotel charges for additional services;
Kazakhstan visa support letter and visa fee;
Travel insurance;
International flight tickets before and after the tour.
Accommodation:
Baikonur - 3 nights
Central Hotel or similar local 2* or 3* hotel