Burana Tower, Kyrgyzstan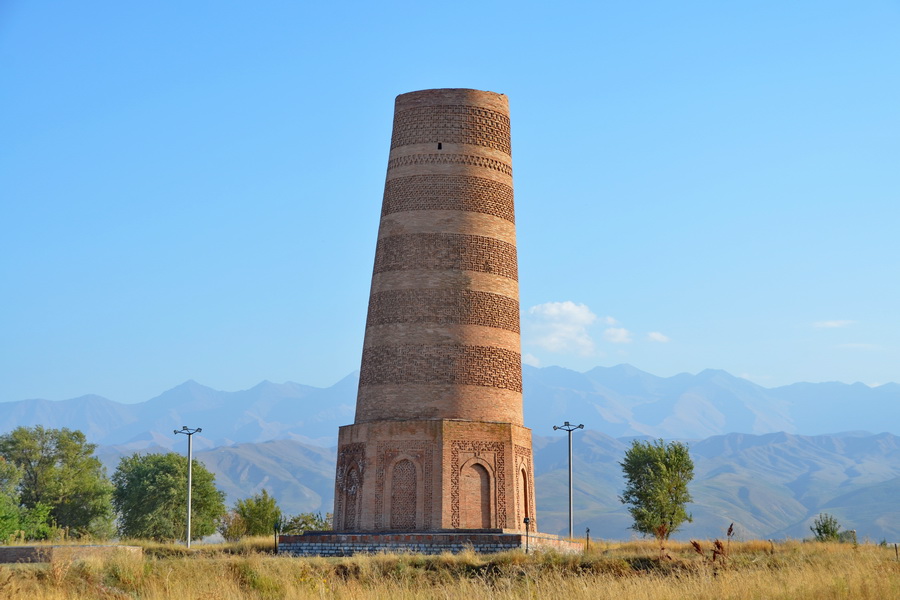 Burana Tower, located 80 km (50 miles) from Bishkek, is one of Kyrgyzstan's best known archaeological sites. Burana is also home to a museum of important archaeological pieces that tell the history of the Silk Road and Kyrgyzstan's place on it.
Burana Tower is all that's left of the city of Balasagun, which was the capital of the Karakhanid Empire in the 9th century. Around the base of the tower are several excavation sites that show brick foundations of buildings, though archaeologists have shown that the town actually extended for quite a bit further (shops, bazaars, baths, and houses have all been discovered).
There is also a small collection of balbals, or kurgan stelae, near the tower. These little stone figures were used to honor the dead, and sometimes marked the spot where a body was buried. These are excellent examples of stonework from the 6th century CE, and are accompanied by petroglyphs from the 2nd century BC that were brought here to be displayed.
The museum itself is small, but houses unique and interesting artifacts. Balasagyn's location on the Silk Road made it a center for traders, with merchandise and people crisscrossing the continent from east to west. Coins, pottery, and other artifacts show the diversity of the region and its storied history.