Nature of Altai land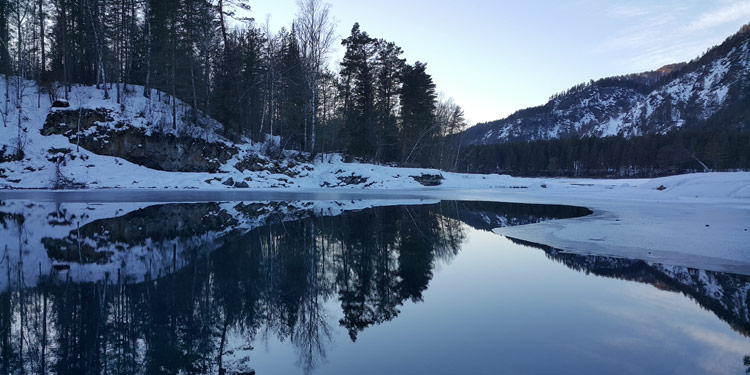 Relief
The biggest part of Altai land is flat. Altai Mountains border the flat from the south. The highest peak of Altai Mountains is the two-headed Belukha Mountain (her height is 4506 м). Central Altai is the most high-mountainous and hard-to-reach area. Many mountain ridges rise here to the height of 3000-4000 m above sea level. Their peaks are covered with snow during the whole year, and the glaciers comes down from their slopes.
Caves
Altai is considered as a land of caves. There are more than 430 caves there. They conceal a huge number of minerals, diversity of amazing stalactites and calcite flowers. The deepest karstic cave is called "Shahta Ekologicheskaya" (literally "Ecologic Mine"), her depth is 345 m. It is considered as the longest cave of Siberia. In the valley of Anuy river a famous Denisova cave is located. It rises to the length of 600 m above sea level. The cave consists of twenty cultural levels of various human epochs; the most ancient of them are 300 thousand years old. Here lying depositions of Stone Age, Bronze Age, early Iron Age and the middle ages epochs. Near the Denisov cave, there is a 70 meter waterfall on Shinok river.
Rivers
The main river artery of Altai is Ob (the fifth longest river in the world), made by the confluence of Bia (280 km) and Katun (688 km) rivers. The main tributaries of Ob are Peschanaya, Anuy, Charysh, Aley, Chumysh. There are also some flat rivers, Barnaulka and Kasmala. In whole, the length of most rivers doesn't exceed 10 km.
Lakes
Altai is not only the region of mountains, but also the land of lakes. In whole there are more than 7 thousand lakes. The most famous lake of Altai is Teletskoe lake. It is marvelously beautiful fresh lake of tectonic origin, the deepest lake not only in Russia, but also in the world. Its depth is 325 m., its volume is 40 cubic meters. Teletyskoe lake's view is extremely beautiful: it is bounded with centuries-old cedars and dwarf birches, its' shores are covered with picturesque thickets of rhododendrons. All that beauty is settled against the background of the mountain peaks, covered with snow.
Besides, there are a lot of lakes, situated in the river valleys, near the glaciers and snowfields: Shavlinskoe, Kucherlinskoe, Taymenye, Multinskoe and others. On Altai flat you found also salty lakes- Bolshoje Yarovoe, Gorkoje-Peresheechnoe, Malinovoje and others, attract the numerous guests with therapeutic muds.
The beauty of Kolyvanskoe lake, on which shores are towering fancy castles of granite rocks is inimitable. Enjoy the stone sculptures of magic animals, lying on a sand beach. The lake Aya, blue pearl of Altai low-hill terrain, is well-known far beyond the land bounds. There are a lot of fish in the lakes. In the river and lakes here it is possible to fish Siberian white salmon, taimen, goldilocks, starlet, pike perch, burbot except usual perch, rudd, crucian, pike, bream.