Lenin Square in Astrakhan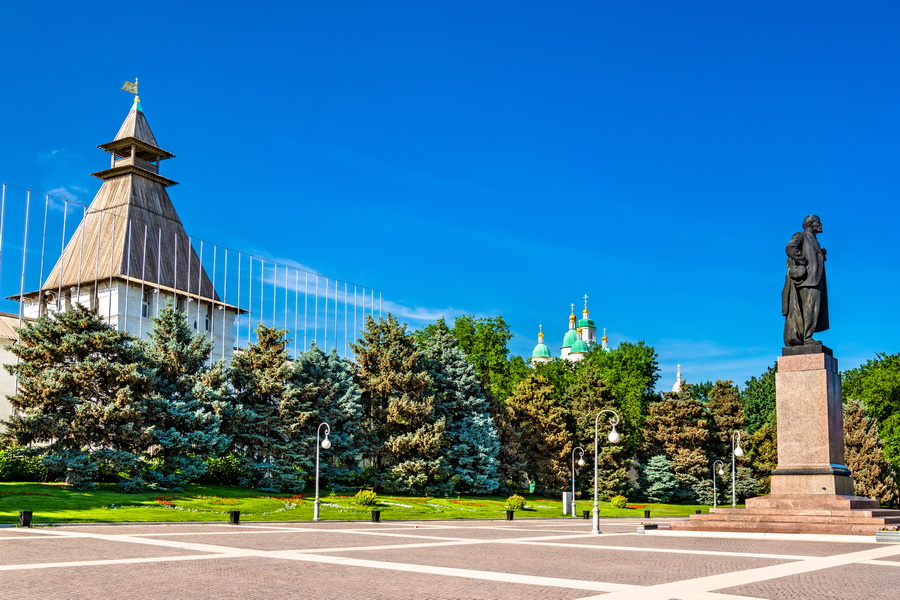 Lenin Square in Astrakhan has long been one of the city's main attractions. It borders the southern wall of the Astrakhan Kremlin and today is a starting point for many city walking tours. Not surprisingly, the central feature of the square is a towering statue of Lenin, although the Neva-Volga Fountain Complex is also very popular with visitors.
History
In the 16th century, grain warehouses known as Zhitny Dvor were located on the site of the modern square. Yet over the years the warehouses, which were fenced in by a wall, became increasingly dilapidated and eventually had to be demolished.
In the 18th century, in anticipation of the arrival of Alexander II to Astrakhan, the site was transformed into a beautiful garden filled with gazebos, pavilions and even an open-air theater for the orchestra. It was named Alexander Boulevard and quickly grew in popularity with Astrakhan residents. After the Russian Revolution, the boulevard was renamed Olympus Garden.
In the mid-20th century, the plaza was given a landscaping makeover and was equipped with underground wiring and a water supply system for newly-constructed fountains. In 1958, on the eve of the anniversary of the Russian Revolution and in honor of the 400th anniversary of Astrakhan, the square was renamed Lenin Square. It was at this time that a 17-meter monument, which consisted of a pedestal of Karelian granite topped with a 9-meter bronze sculpture of the leader, was first unveiled.
Throughout its history, the square has remained the central plaza of Astrakhan and has been the staging ground for everything from solemn parades to political demonstrations.
Lenin Square Today
In honor of the 450th anniversary of Astrakhan, reconstruction was carried out on Lenin Square by a St. Petersburg architect in 2008. It was at this time that the square was decorated with small architectural forms and lined with a light-colored granite which stands harmoniously against the white walls of the Astrakhan Kremlin.
A highlight of the plaza is the Neva-Volga Fountain Complex, which stretches for 500 meters and consists of a central fountain surrounded by seven smaller ones, each with its own white granite pool and mythological sea creatures. Along the edges of the main fountains are sculptures of women hoisting jugs which serve as allegorical representations of the Volga and Neva Rivers. Visitors' attention is often drawn to three sculptures of boys who appear to be watching the eternal flow of water from along the fountains' edge. One of the boys is depicted as reading, one drawing and the third admiring the play of the water jets, and in their unhurried states they inspire passersby to pause along with them and bask in the serenity of Lenin Square in Astrakhan.