Church of St. Nicholas the Wonderworker, Astrakhan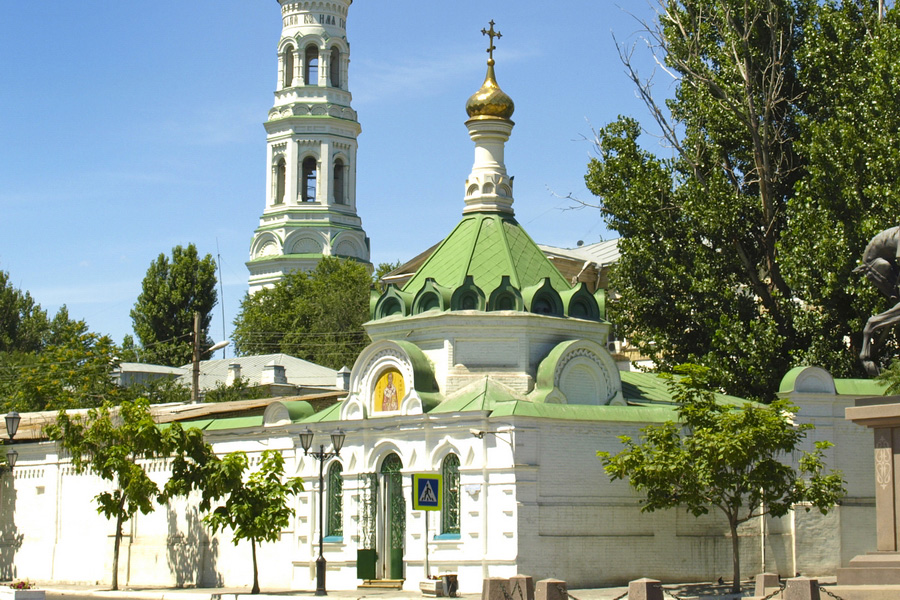 Church of St. Nicholas the Wonderworker in Astrakhan, Russia is a stone structure located in the southeastern corner of the Annunciation Monastery complex. Originally built in 1778, the chapel earned its name from the highly revered icon of St. Nicholas the Wonderworker which was placed on display in the sanctuary.
In the mid-19th century, the dilapidated monastery buildings were restored at the expense of a local merchant. These renovations were followed by the construction of a completely new chapel in 1901 which was built on the site of the original.
Constructed in an Old Russian style, the new chapel is octagonal in shape with a metal tent roof. The lower section of the tent is decorated with a ring of semicircular kokoshniks, while the top is crowned with an openwork metal lantern with a small gilded dome and an eight-pointed cross. A special stone narthex which led to the inner courtyard of the monastery was added on the northern side of the chapel, while in the southern wall of the church, a door with two windows was installed which still leads from the chapel to the street. Although a gold-plated iconostasis was added at the time of the second chapel's construction, it has not survived to our day.
The restored Church of St. Nicholas the Wonderworker in Astrakhan has once again opened its doors to worshippers. The peaceful atmosphere that reigns in the chapel and the friendly nuns who welcome questions from parishioners and visitors add to the pleasant ambience of the site.