Swan Lake, Astrakhan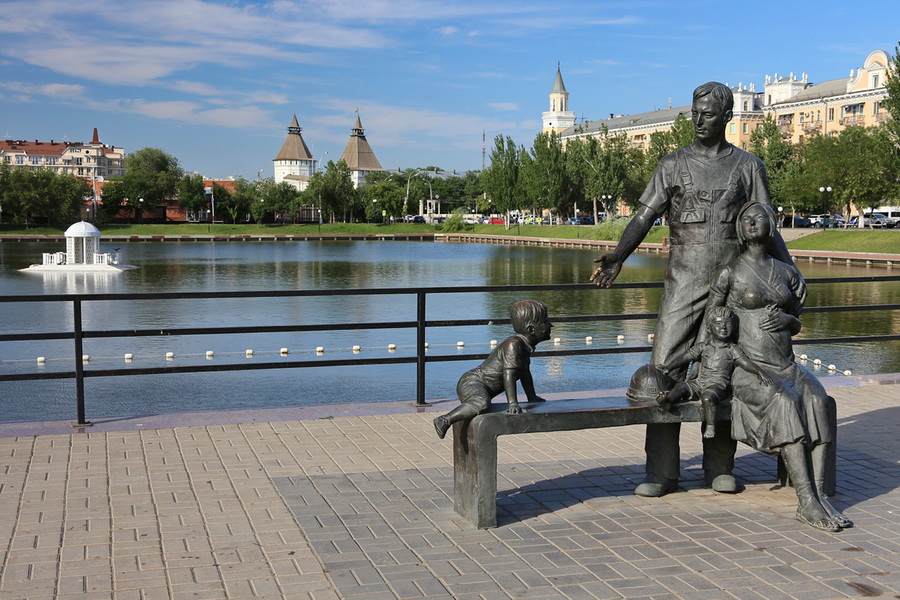 Swan Lake in Astrakhan, Russia is a popular city attraction. An island of nature in a busy metropolis, this accidental creation is now the pride of residents which provides year-round rest and entertainment to young and old alike.
The creation of Swan Lake is actually the result of a botched effort to preserve a natural land formation. Just two centuries ago, the banks of the Volga River extended to the Astrakhan Kremlin walls. Over time, its river waters decreased and the need arose to create a channel to preserve the resulting spit near the Kremlin. The ensuing efforts were insufficient to preserve the spit, however, and the channel soon dried up save the mouth, which today is the beautiful Swan Lake. As Astrakhan grew over the years, the spit joined with mainland Astrakhan to form a district of its own. In 2008, on the 450th anniversary of the city's founding, large-scale renovation efforts commenced on the entire area around Swan Lake, and today it is one of the city's most enchanting spots.
The lake's romantic name was inspired by the graceful white swans which make their home in its waters. They proudly sail along its surface and, being well-loved by residents, will unabashedly swim up to people to wait for a treat. During the latest renovations, the engineers even designed a special island for the birds in the middle of their lake.
Swan Lake is surrounded by a beautiful green lawn which is reinforced with durable granite blocks, while safe and convenient pathways leading down to the reservoir have been intentionally created. The lake's surface is illuminated by beautiful streetlights every evening, a view which can be enjoyed while relaxing on the benches placed along the embankment. An observation deck near Astrakhan Planetarium offers particularly beautiful views of Swan Lake, making it a prime spot for unforgettable photo shoots.
A walk around the quiet, picturesque lake at any time of year is a peaceful experience. Visit on holidays or weekends in spring and summer to enjoy organized picnics and swan feedings on the lake shore. Come in winter when Swan Lake in Astrakhan is iced over, and you can even skate across its surface on the naturally-formed ice rink!