Astrakhan Triumphal Arch and Walk of Fame, Astrakhan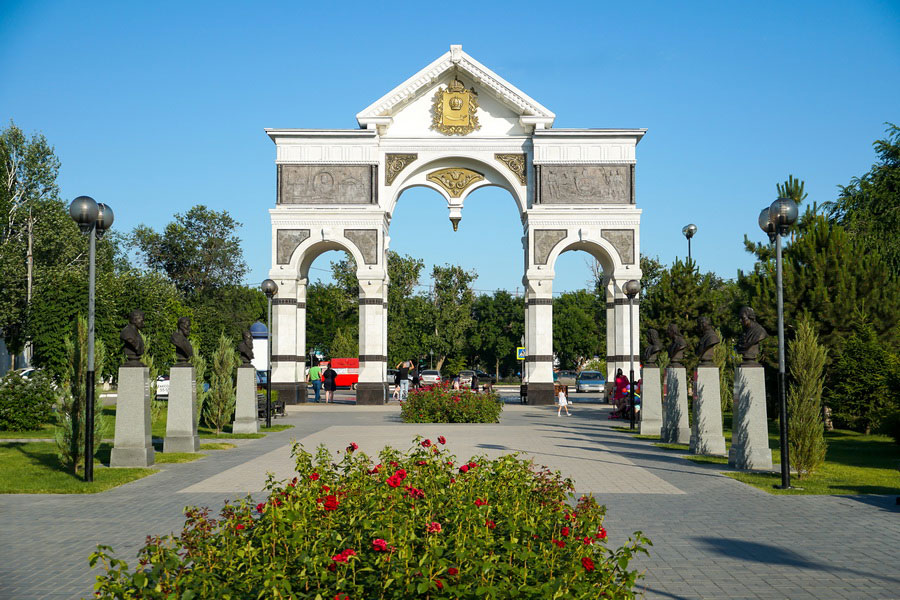 Astrakhan Triumphal Arch and Walk of Fame is a beautiful complex whose opening in 2015 was timed to coincide with the 300th anniversary of the founding of Astrakhan Province. The site now regularly attracts newlyweds and city visitors with its pleasant layout and historic element.
Today's monument is based on a historic Triumphal Arch, which was erected in 1871 in anticipation of the arrival of Emperor Alexander II. The father of famed author Maxim Gorky, who at that time worked as a carpenter in the local port, participated in the construction of the original wooden arch. Although the legendary imperial-era arch is no longer standing, it has been immortalized in the classic film "My Friend Ivan Lapshin", which proved to be a pivotal production in the career of famed screenwriter Aleksei German.
The slender, majestic Astrakhan Triumphal Arch seen today is a continuation of the 1871 construction and intended to embody the connection of time. The fifteen-meter-high concrete structure is lined with Iranian marble and elements of Karelian granite. It is decorated with the Astrakhan and Russian coats of arms and 6 bas-reliefs of significant events in the history of Astrakhan Region, including the annexation of the region to Russia in 1556 and the formation of Astrakhan Province. When visiting, it is considered good luck to pass under this arch before splashing your face in the cooling waters of a nearby fountain, which is shaped in the form of a clock. Instead of numbers, however, this original "fountain clock" depicts the coats of arms of Astrakhan Region.
No less impressive is Astrakhan Walk of Fame, a project initiated by the Russian Military Historical Society. The small plaza is lined with fourteen bronze busts of notable local personalities, including the poet Velimir Khlebnikov, Chief Commander Alexander Suvorov, statesman Vasily Tatishchev and Vasily Trediakovsky, the first academician of Russia. Additional sculptures will likely be added to the plaza in the future. Astrakhan Walk of Fame connects to Peter the Great Monument, built in honor of the founder of Astrakhan Province.