Russian Crafts and Age-Old Folk Crafts of Russia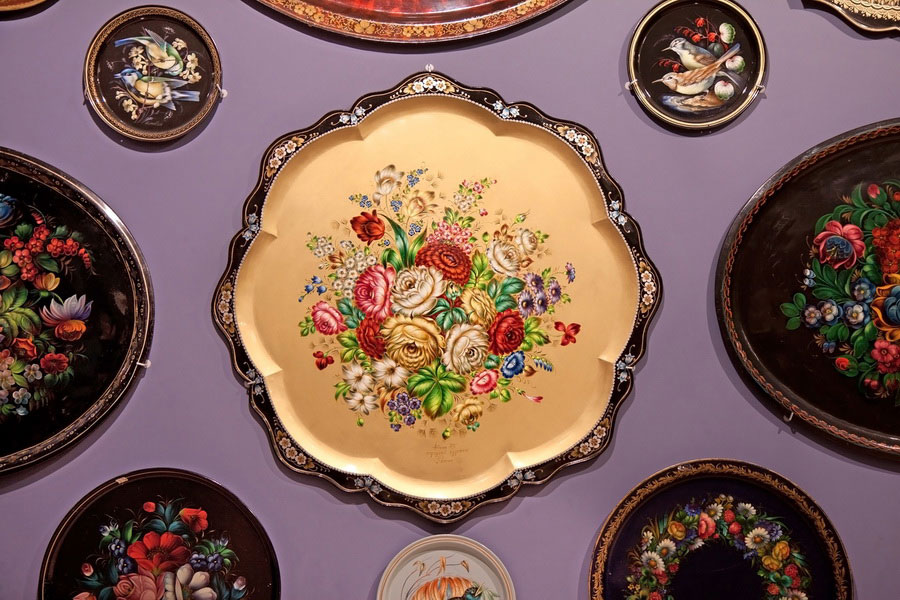 Traditional crafts of Russia
Blacksmithing
The most ancient folk crafts in Rus was blacksmithing. Blacksmiths forged instruments of labor, tools (iron shovels, scythes, sickles, knives, saws, paddle locks) and weapons (swards, sables, arrow heads, chain armors and helmets).
An independent business was "gold- smithing", i.e. jewellery. Masters produced ingenious jewels– bronze amulets and jewelries: pendant, buckles, kolts and grivnas (ancient earrings and necklaces). Jewelry was made by granulating technique (an item was soldered with a pattern consisting of a great number of beads) and filigree (a pattern was applied with a fine wire soldered to a metal surface, then the spaces between cloisonné partitions were filled with colored enamel). Thus they produced highly-valued jewelry, made by plique-a-jour technique, typical Russian jewelries. The jeweler's technique of Russian masters was very complicated and their items enjoyed great demand in many countries of the world.
Pottery
Pottery became a full-fledged business a little later than blacksmithing. It was not until the XI century when a potter's wheel was invented. Along with various houseware, the Russian potters of that time were making bricks.
Woodworking
Pre-Christian Rus was already conversant in molding and embossing, ceramics and embroideries, mastered fine skills of enameling. Kievan artists mastered bone carving, niello, metal engraving, ornamented tiles, and glasswork.
But Rus was more skilful in woodworking. Wooden buildings, izbas, (peasant's log huts) and mansions, gates and bridges, fortress walls, as well as boats and household utensils were generously decorated with carving, which formed their appearance.
Art Painting
From time immemorial Rus was famous for its china and art painting skills. Different schools and various directions of these folk crafts were even established, namely:
Gzhel is chinaware with a stylish blue painting on a white background. Its name originated from the locality, near Moscow. Pottery has been existed there as early as in the XIV century. Gzhel ceramics is famous and popular all over the world.
The Zhostovo floral painting (by name of a village near Moscow) is a decorative oil painting on metal trays with a subsequent lacquering: brightly colored flowers and fruits painted on a black background.
The Palekh miniature painting (by name of a district center in Ivanovo region) is painting applied to varnished items, made of paper-maché. Jewel boxes and chests with popular, folk, literature, historical, and religious subjects were painted in bright colors on black background. The art of the Palekh miniature painting dates back to the XV century. Initially the Palekh artists were engaged in icon painting.
The ancient painting technique is handed down from generation to generation.
The Khokhloma painting is a hand painting on wood. This craft is more than 300 years old. Plates, saltcellar, chairs, shelves are painted with outlandish, flame-scarlet flowers. Their know-how is that they are lacquered two-three times and then tempered in ovens. As a result the laquer is getting yellow and wooden painted plates look like precious gilded dishware.
Lubok, the cheap popular print is a Russian folk picture made by means of impression on paper, applied by a wooden printing block. Sold in the fairs as early as in the XVII century up to the beginning of the XX century, this popular print was considered one of the most mass arts of Rus. The subject of the popular prints was quite various: ranging from religious and moral ones from folk epos and fairy tales to historical and medical ones normally captioned by edifying or jocular texts, narrating about the customs and every-day life of that time, comprising a popular wisdom and humor.
Crafts in Tula
Tula samovar can be met in any corner of Russia and far outside it. The samovar in Tula is known to appear as early as in 1778. There are about 200 kinds of samovars. As a matter of fact, Tula has a samovar museum. But the main Russian souvenir is considered a Russian nesting doll – Matryoshka, a hollow brightly painted wooden doll, from which the same dolls, one smaller than the other, can be taken out one after another.