Monument to Alexander Nevsky, Gorodets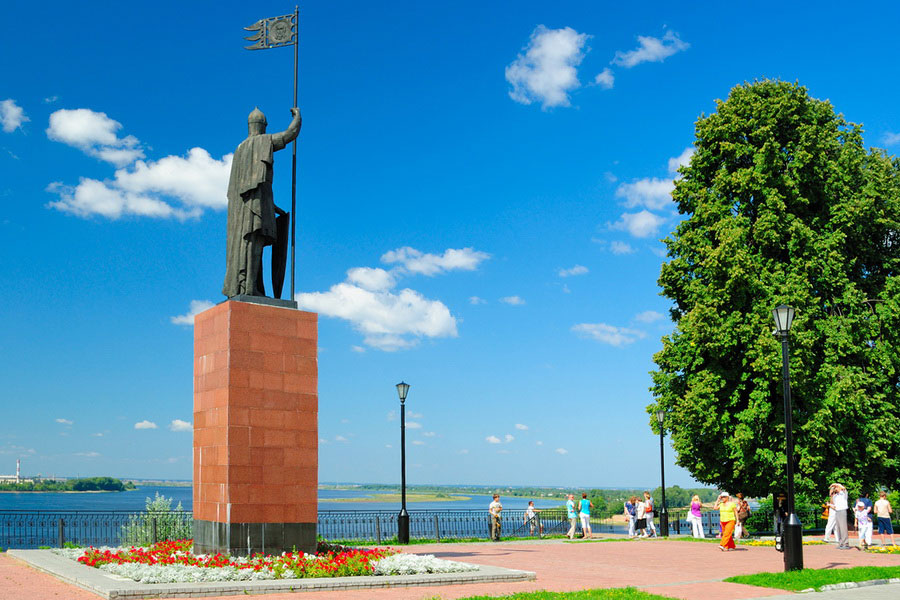 Monument to Alexander Nevsky in Gorodets of Russia's Nizhny Novgorod Region is a post-Soviet monument dedicated to the great military commander who passed away in the city. The sculpture occupies a central place in Gorodets which was carefully selected for its majestic views of the Volga River.
The city of Gorodets takes great pride in Prince Alexander Nevsky, for this heroic military commander died here from illness on his return trip from battling the Golden Horde. On the eve of his death, Alexander Nevsky was taken to Fedorovsky Monastery, where he took monastic vows before being given the monk's name of Alexei.
In the 1980s, the idea to ​​create a Victory Square in Gorodets and install a bust of Alexander Nevsky on the plaza was first proposed, yet the plans were not carried through for another decade. Inspiration for the existing monument came from the famous sculptor Ivan Ivanovich Lukin, who in 1992 requested financial help for his project from the philanthropist Evgeny Vasilyevich Mamontov. Eager to support such an endeavor, Mamontov completed funded the project and even became directly involved in its undertaking.
The united efforts of several architects and a passion to see the projected completed allowed the bronze sculpture and its massive base to be completed in a year's time. A suitable location was chosen for the monument, which was opened to the public on September 11, 1993, the 730th anniversary of the death of Nevsky. In honor of the completion of Monument to Alexander Nevsky, a large celebration was staged in Gorodets which culminated in an air show and a military parade. The sculpture's creators were chosen to unveil the memorial, and when the cloth was unfurled, combat aircraft gave a salute as they flew overhead.
Monument to Alexander Nevsky rises high on a pedestal along the Volga Embankment. The heroic commander is depicted leaning on a battle shield and holding an Orthodox banner in his right hand, his gaze directed towards the Volga and the city of Vladimir, the historical heart of Russia.
In 2009, Fedorovsky Monastery resumed its monastic activities and since 2013, its religious processions through Gorodets have passed Monument to Alexander Nevsky on the Volga Embankment.
WHERE: Alexander Nevsky Street 1, Gorodets, Nizhny Novgorod Region, Russia
WHEN: Open Daily