City of Masters Museum, Gorodets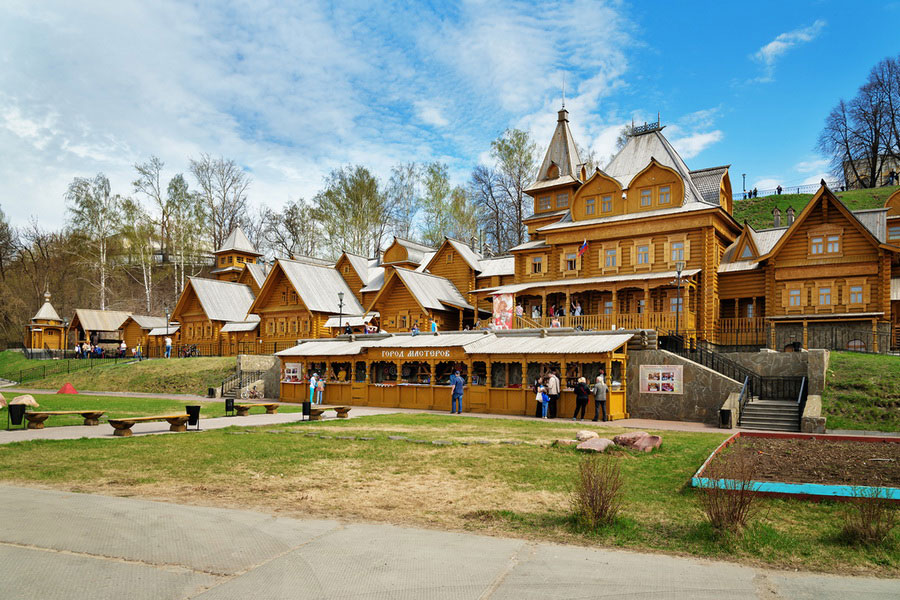 City of Masters Museum in Gorodets, Russia holds a special place among the museums and monuments of this historic city. A pearl of the town, City of Masters is a recreated wooden village filled with interactive workshops that successfully capture the atmosphere of Russia's bygone days through the beauty of traditional architecture and the revival of precious art forms.
For centuries, Gorodets was known for its wooden ship construction and its high-quality, handmade crafts.
A recreation of Russian wooden architectural traditions, City of Masters Wooden Architecture Museum was unveiled in January 2010 in order to acquaint residents and guests with the city's acclaimed past. The project is particularly designed to instill a love for the region and the historic arts among younger people, with the aim of keeping folk traditions alive for generations to come.
Situated near the pier of Gorodets on the picturesque banks of the Volga River, the quaint village includes a tower, a wealthy merchant's home and a peasant hut, all of which are conveniently connected by indoor passages. Guided sightseeing tours are provided for an additional fee. During the tour, the guide will provide an introductory speech and a tour of the pavilions, where guests will have the opportunity to talk with the folk craft masters. Each artisan will explain the secrets of their craft, answer guests' questions in detail and showcase completed samples of their work.
Master Classes and Performances
City of Masters Museum also offers a variety of unique master classes in which both children and adults are welcome to participate. Workshops are offered on historic Russian paintings, guipure embroidery, pottery, woodcarving, gold embroidery, Zhbannikovskaya clay whistles and more. During each class, experienced artisans will invite you not just to watch but to participate in the process yourself. At the end of the session, participants will be able to take home the handicrafts and toys which they helped to create.
Traditional Russian round dances and songs are also performed on site by the Gorenka Dance Ensemble.
At the Ivan Chai Tea Ceremony, held in the Hall of Traditional Rituals, visitors can enjoy a variety of sweets and the famous Gorodets gingerbread.
WHERE: City of Masters Museum, Gorodets City, Aleksandrovskaya Embankment St. 1, Nizhny Novgorod Region, Russia
WHEN:
Monday - Closed
Tuesday-Friday: 10:00 - 17:00
Saturday-Sunday: 10:00 - 16:00