Museum House of Countess Panina in Gorodets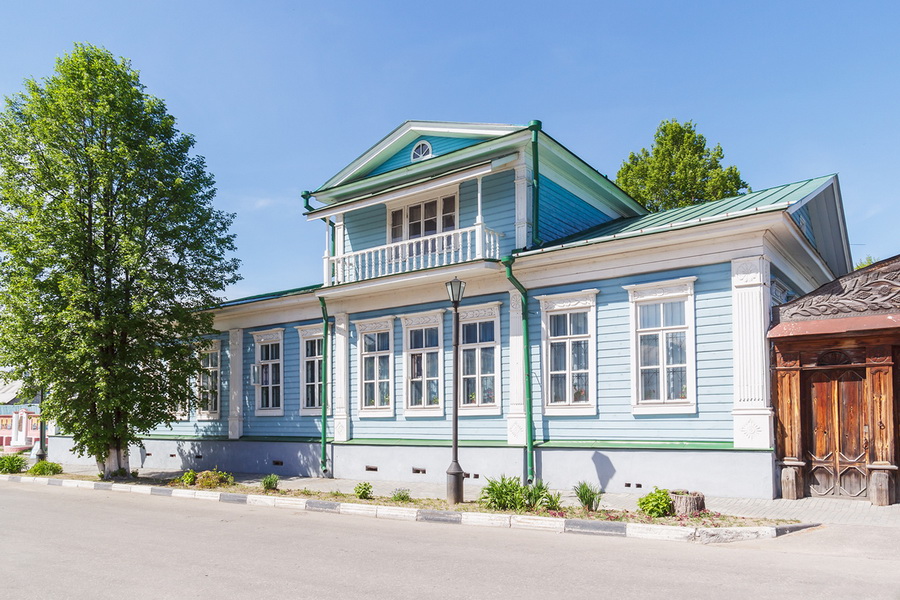 At the Museum House of Countess Panina in Gorodets, visitors can travel back in time to experience the life of a wealthy city dweller in pre-revolutionary Russia. One of the main city sites, Museum House of Countess Panina is one of only a handful of 19th-century homes in Russia which remains in excellent condition.
In the 18th century, Russian Empress Catherine II gifted the territory of Gorodets to her lover, Prince Grigory Orlov. The land later passed into the possession of Grigory's brother, Vladimir Orlov, and when one of his daughters married into the famous Panin family, Gorodets was also transferred to them. It is Vladimir Orlov's great-great granddaughter, Sofia Vladimirovna Panina, whose name is now associated with the historic estate.
Life of Countess Panina
Countess Sofia Vladimirovna Panina faced a difficult life even from her early years. In 1872, when she was just 1 year old, her father died suddenly at the age of 30. Shortly thereafter her sister Natalya, Sofia's junior by one year, also passed away. Two years later, her grandfather and the builder of House of Countess Panina, Viktor Nikitich, followed them in death. When Sofia was 11 years old, her mother remarried and Sofia was sent to the Institute of Noble Maidens in St. Petersburg.
In 1899, Sofia married at the age of 19. With her grandmother's death that same year, she also inherited the Panin House, thereby becoming its last legal owner. Her marriage proved to be an unhappy one which was to end in divorce just a few years later. Sofia went on to dedicate the remainder of her life to social work, the arts, literature and political causes connected with both pre-revolutionary Russia and the early Soviet regime. In 1920, her political activities prompted her to emigrate from Russia for good, first to Europe and then to the United States, where she lived an active life until her death in 1956.
History of Panina Estate
House of Countess Panina in Gorodets was built in 1845-1847 by Sofia's grandfather, Viktor Nikitich Panin. It was partly reconstructed in 1888 and passed into the hands of Sofia Panina after her grandparents' death. The original Panina Estate consisted of 3 structures: the House-Museum of Countess Panina (16 Rublev Street), the wing of the main house (14 Rublev Street) and the Clerk's House (13 Rublev Street), the latter two of which are now privately owned.
After the October Revolution of 1917, the Soviet government nationalized Panina Estate. The wing of the main house and the clerk's house were marked as residential buildings, while the present-day house-museum was allocated for government offices, a police station and a school.
House-Museum of Countess Panina was opened in 2005 in an effort to preserve the unique home and make it available to the public. It is now included in a list of federal monuments which fall under state protection, and plans are also underway to complete an accompanying 19th-century manor's garden.
What to See: As you enter the estate grounds of Museum House of Countess Panina, you can see the coat of arms of Count Panin on the gates. Antique gramophones and music boxes will greet you inside with 19th-century Russian classical music. The house is adorned with 18th-20th century Russian and international paintings, objects of decorative and applied art, early printed manuscripts, antiques and richly embroidered costumes. Diverse displays include Russian traditional clothing, copper dishes, revived artistic masterpieces, an old iron, a music room, antique, handwritten books and Time Lords, an ancient clock with pleasant chimes. After your museum tour, relax with a glass of fragrant tea and Gorodets' famous stamped gingerbread.
WHERE: Andrey Rublev Street, House #16, Gorodets City, Nizhny Novgorod Region, Russia
WHEN: Tuesday-Friday, 10:00-17:00; Saturday-Sunday, 10:00-16:00
Closed on Monday and the last Friday of each month