Church of St. Michael the Archangel, Kolomna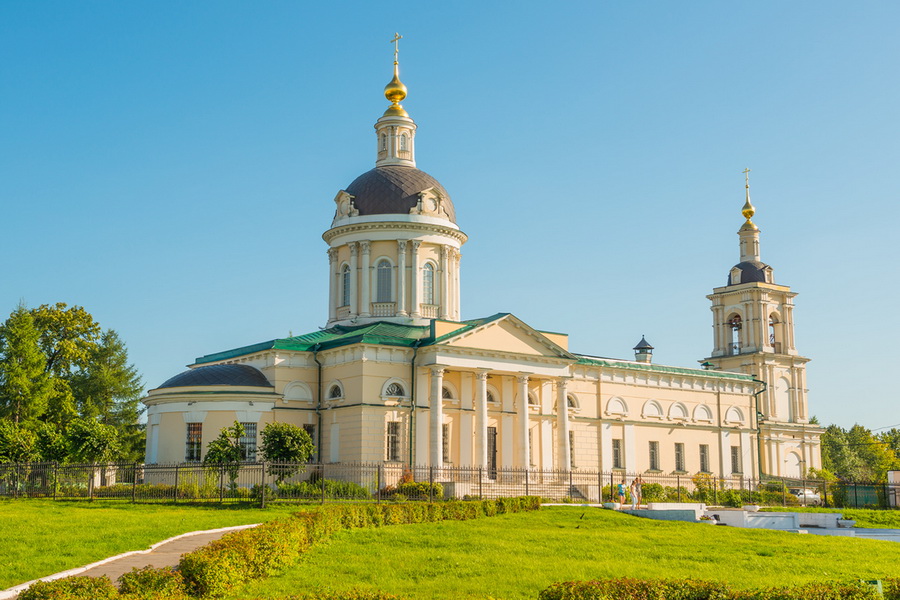 Church of St. Michael the Archangel in Kolomna, Russia is the largest cathedral in the city which is noted for its highly unusual architecture.
The stone church was built in 1700, although it was preceded by a wooden counterpart. Reconstruction of the church was carried out in 1828 by an architect from Moscow who altered its facade to reflect the classical style which was fashionable in that day. Under Soviet rule, the church was shuttered and later transferred to the Museum of Local Lore, and services did not resume here until 2007 after extensive restoration work.
The cathedral's unusual design gives the impression that the building is not a church at all, but rather a mansion built in the classicism style. The entrance to the rectangular church and refectory stands out vividly due to its four-columned portico and pediments, while a smaller portico can be seen on the opposite side of the building. Although many Russian churches are crowned with a large drum with domes, Church of St. Michael the Archangel is decorated with a massive rotunda with a semicircular dome, above which is a simple dome planted on an elegant drum.
An 18th-century bell tower attached to the refectory is now the oldest section of the cathedral. During the Soviet era it was badly damaged, and today only the lower tier of the original tower has been preserved. The upper section was completely reconstructed and installed with 6 bells cast specifically for the church. On the opposite side of the cathedral is a side chapel which was built in 1906 in honor of St. Seraphim of Sarov.
Regrettably, the cathedral's original interior design has been completely lost, and all décor seen by visitors today is dated to recent times. The walls of the church are adorned with icons, the highlight of which is a gorgeous Palekh iconostasis which was gifted to the newly renovated church by the Metropolitan of Kolomna.
Church of St. Michael the Archangel in Kolomna is located to the west of Kolomna Kremlin near the Skating Center tram stop and the Ivanovskaya Street bus stop. You can also admire it at a distance from the banks of the Kolomenka River.
Address: 71 Grazhdanskaya Street, Kolomna