Kolomna, Russia
Kolomna - the oldest city of the Golden Ring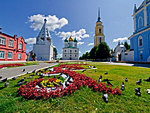 Located halfway between Moscow and Ryazan stands the oldest city of the Golden Ring, Kolomna. It is situated at the confluence of the rivers: the Oka, the Moskva and the Kolomenka.
In the old days this place was considered strategically important, since it stood on the key land and water trade routes. Therefore, Vladimir, Ryazan and Moscow princes fought for it. The city of Kolomna has been there for more than eight centuries.
In 1177 it was founded by Ryazan princes as the fort from the side of Vladimir. Kolomna, which was a part of the Ryazan principality, became a flourishing Russian city. In 1301, when all the Russian principalities began to unite around Moscow, Kolomna was the first to join the Moscow principality and became its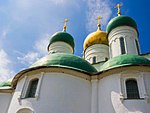 important stronghold standing on the way of Tatar raids from the south. Later Kolomna was regarded as a patriotic city. There, the Grand Prince Dmitry Donskoy gathered his troops before the battle of Kulikovo. It was in Kolomna that Ivan III in 1472 defeated the forces of the Golden Horde. Ivan the Terrible assembled the troops before heading for Kazan.
The strategic importance of Kolomna resulted the construction of Kolomna Kremlin in 1525 -1531, which became the main monuments of ancient architecture in the city. By the 17th century the city of Kolomna lost its military-strategic importance and gradually turned into a rich trade center.
In 1781 Kolomna received its coat of arms, which today is its historical emblem. Kolomna and its suburbs have over 420 monuments of federal and regional significance.
Kolomna - Interesting Places