Ascension Church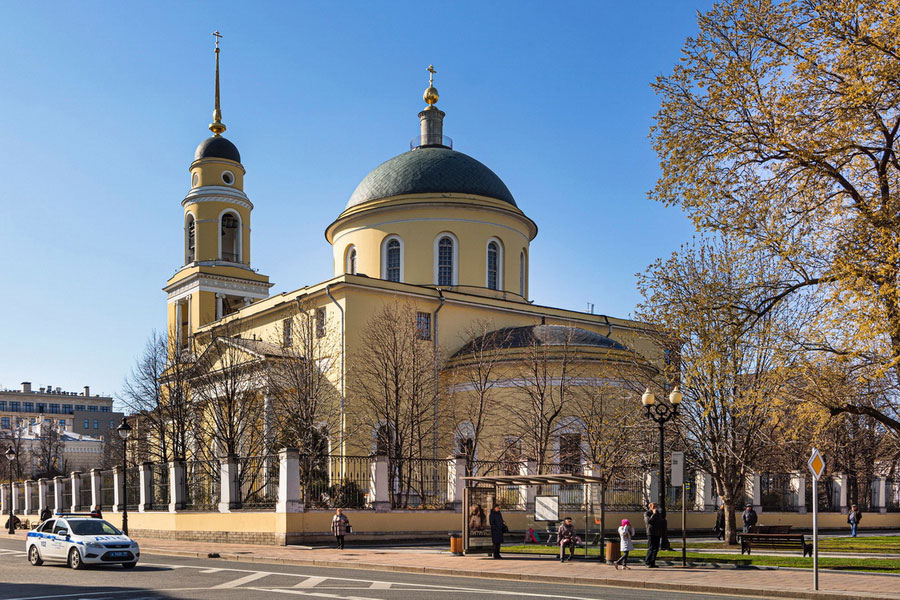 source: temples.ru
The majestic temple of the Assumption, which is also called the Great Ascension, decorates the square of Nikitsky Gate. The first wooden church on this site was first mentioned as early as 1619. In 1685-1689 the church was replaced by the stone temple built by the order of the Tsarina Natalia Kirillovna Naryshkina, the mother of the future Emperor Peter I.
In the time of Catherine II her favorite, Prince Potemkin, lived next to the church; the Preobrazhensky Regiment he was the commander of, was stationed nearby. Potemkin decided to replace the old church with a majestic and spacious church of the Preobrazhensky Regiment.
However, the construction lasted for nearly half a century: it was completed only in 1845. The church is linked to fates of many famous people in Russia. There, according to the old legend, were kept the marriage crowns, in which Catherine was married to Potemkin. On February 18, 1831 in the vestibule of the unfinished church Pushkin was married to Natalia Goncharova. The temple was closed in 1931, but the memory of Pushkin saved it from demolition, although the interior was completely destroyed, and many icons were burned. In different times it housed various institutions and then there was a plan to turn it into a concert hall using the excellent acoustics of the temple. In 1990 the renovated temple was returned to believers. In 1990 the first icon-bearing procession to the church from the Assumption Cathedral in the Kremlin led by the Patriarch took place. The bell tower was restored later and consecrated in 2004. There is a Sunday school for children in the church.