Danilov Monastery
Danilov Monastery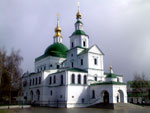 source:
ru.wikipedia.org
Danilov Monastery is the oldest monastery in Moscow. It was founded the first Moscow Prince Daniil, the youngest son of Alexander Nevsky in the 13th century.
The Prince began the construction of the monastery on the site of the wooden church of St. Daniel Stylites, the patron saint of Prince Daniel. The monastery changed its location several times. Originally, Danilov Monastery did not last long, for only about fifty years. The son of Daniel Alexandrovich, Ivan Kalita transferred all the monks to the Kremlin, the Spassky Monastery, under the protection of the Kremlin walls in 1330. Half a century later, under Ivan III, Spassky monastery was moved to Krutitskii hill, and got a new name, Novospassky. Danilov Monastery was forgotten. It was restored only under Ivan the Terrible. At the same time in the monastery was built the white stone church of the Seven Ecumenical Councils. In the end of the 17th century Danilov Monastery was surrounded by a brick wall with seven towers and the bell tower above the northern gate.
The current group of monastic buildings formed mainly in the 18th – 19th centuries. In the end of the 18th century the monks' cells and deanery were added. And in 1838 the monastery was decorated with yet another magnificent building, the Trinity Cathedral with a dome and classical portico of Doric columns. The Cathedral can accommodate 3,000 people. All these buildings were restored after being seriously injured during the Soviet era. Moscow's first monastery was closed among the last ones in 1930. Its territory was given to the orphanage, which existed until 1983. The buildings of the monastery were distorted beyond recognition. In May 1983, Danilov Monastery was handed over to the Russian Orthodox Church. After sixty years of neglect it became the first functioning monastery in Moscow. Now there is the residence of the Patriarch and the Holy Synod. In 1989 the monastery acquired its current look.