Holy Trinity Convent, Murom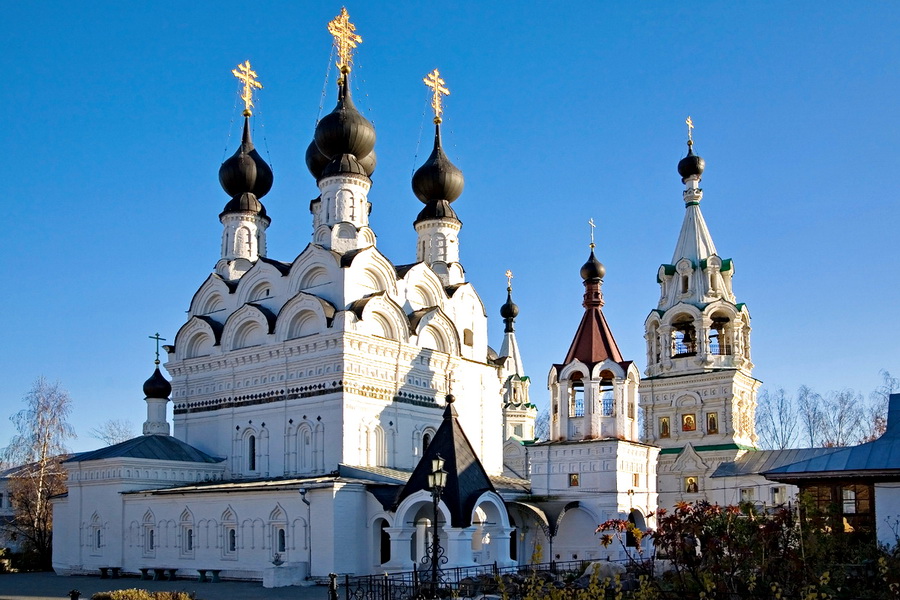 Holy Trinity Convent in Murom, Russia is an unmistakable landmark in the city center which attracts pilgrims and tourists with its centuries-old past and revered icons.
The present-day convent was preceded by the early 12th-century Boris and Gleb Church, which was built by Prince Konstantin after he converted the native Muromians to Orthodox Christianity. Holy Trinity Convent was built in 1643 by Murom merchant and philanthropist Taras Tsvetnov, who undertook his endeavor with the full blessing of the Bishop of Murom. The accompanying Church of the Kazan Icon of the Mother of God and the hipped, multi-tiered bell tower were added in 1648 and 1652, respectively.
With the rise to power of the Soviets, a portion of the monastery was sectioned off for secular use in 1918. In 1921, the monastery was completely shuttered and the building transferred to the city. In the ensuing decades, Holy Trinity Convent alternately housed warehouses, an archive, a military department, a shoemaking workshop and communal apartments.
In 1975, Church of St. Sergius of Radonezh , a masterpiece of wooden architecture built in 1715, was moved from the nearby village of Krasnovo in Melenkovsky District and incorporated into the monastery.
Yet Holy Trinity Convent did not experience true revival until after the reforms brought about by perestroika and the ensuing collapse of the USSR.
On May 15, 1991, Holy Trinity Convent in Murom came to life again - nuns returned to the convent, the holy relics of Saints Boris and Gleb were transferred to the church and the Peter and Fevronia icons, regarded as the patrons of family and marriage, were reinstalled. In 2001, the monastery opened Nadezhda (Hope), a shelter for at-risk minors and the elderly.
Holy Trinity Convent, located in the city center, is open to both Murom residents and tourists. A walk through the icon-laden church and complex will interest religious devotees, history fans and anyone with an appreciation for manmade beauty.