Alexander Nevsky Cathedral, Nizhny Novgorod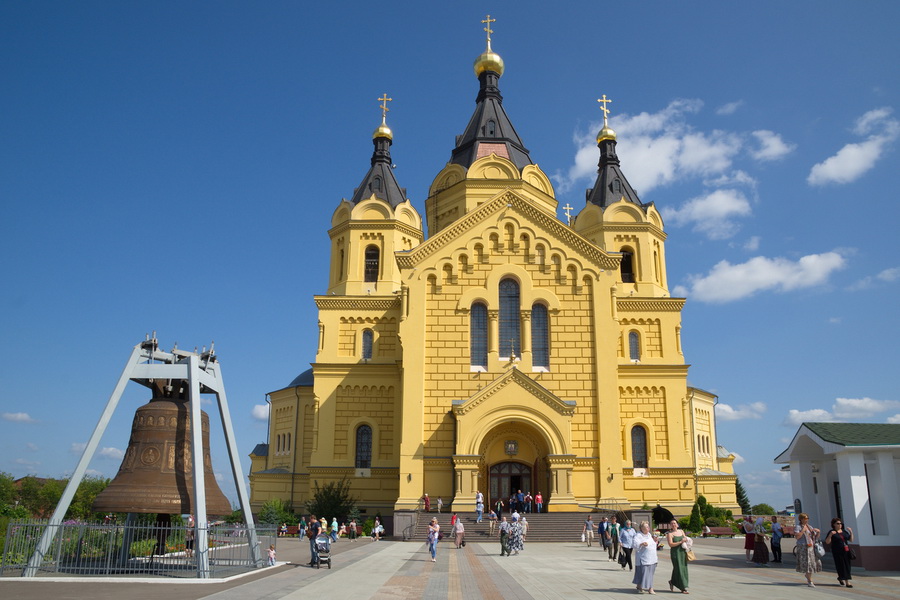 Alexander Nevsky Cathedral (Novoyarmorochny) is located in the historical center of Nizhny Novgorod, Russia. A breathtaking piece of architecture, it towers above the Volga River and is famous for guarding the relics and icon of Prince Alexander Nevsky and the images of Nicholas the Wonderworker, Sergius of Radonezh and Peter and Fevronia.
The cathedral was founded in 1864 in memory of the visit of Emperor Alexander II to the Nizhny Novgorod Fair. Its construction was initiated by local merchants who wished to memorialize the emperor's visit while providing a house of worship for the city's growing population of Orthodox followers. The Nizhny Novgorod cathedral differed from other churches in that it did not have a permanent parish. Its parishioners were instead merchants who came to town for the famed Nizhny Novgorod Fair, which gave rise to its second name, Novoyarmorochny (New Fair). Alexander Nevsky Cathedral became a popular meeting place for many honored guests of the city, including the royal family and Orthodox Church leaders.
The church was relocated to its current locale on the Nizhny Novgorod Strelka (Spit) in 1868, although its construction was not completed until 1888. It was consecrated in the presence of Emperor Alexander III, his wife Alexandra Feodorovna and his son Nicholas.
The phenomenal construction and architecture of Alexander Nevsky Cathedral was apparent from the outset. At the time of its construction, the 87-meter-high cathedral was the third-highest in the country, after Moscow's Cathedral of Christ the Saviour and Ivan the Great Bell Tower in the Moscow Kremlin. Due to its fanciful appearance and unusual proportions, it quickly became an important landmark on the Volga riverbank and another example of the magnificent architecture for which Nizhny Novgorod is known.
The layout and appearance of Alexander Nevsky Cathedral are rather eclectic, with the exterior decor combining elements of different architectural styles. It is a tent church whose large central head is surrounded by four small domes, while five octagonal tents combine into a single structure. The twenty-three-meter high iconostasis was painted by 19th-century Moscow iconographer Fyodor Sokolov. Additional icons from Makaryev Monastery once adorned its walls before they were destroyed in a fire.
In the 1900s, the cathedral was forcibly closed by the Soviet government and its property was seized. The carved iconostases and interior wooden decor were destroyed and used as firewood for heating neighborhood homes, although dismayed citizens were able to salvage a fraction of the historic icons by hiding them in the walls of Vysokovsky Holy Trinity Church.
Renovation efforts on Alexander Nevsky Cathedral began under the initiative of a special restoration project in 1984 and continued until 2006. Services resumed in 1992, and in 2009 the church was again granted the official status of cathedral. Today, the majestic Alexander Nevsky Cathedral of Nizhny Novgorod stands proudly on the riverbank and is visible from almost anywhere in the city.