Fedorovsky Embankment Observation Deck and Jules Verne Monument, Nizhny Novgorod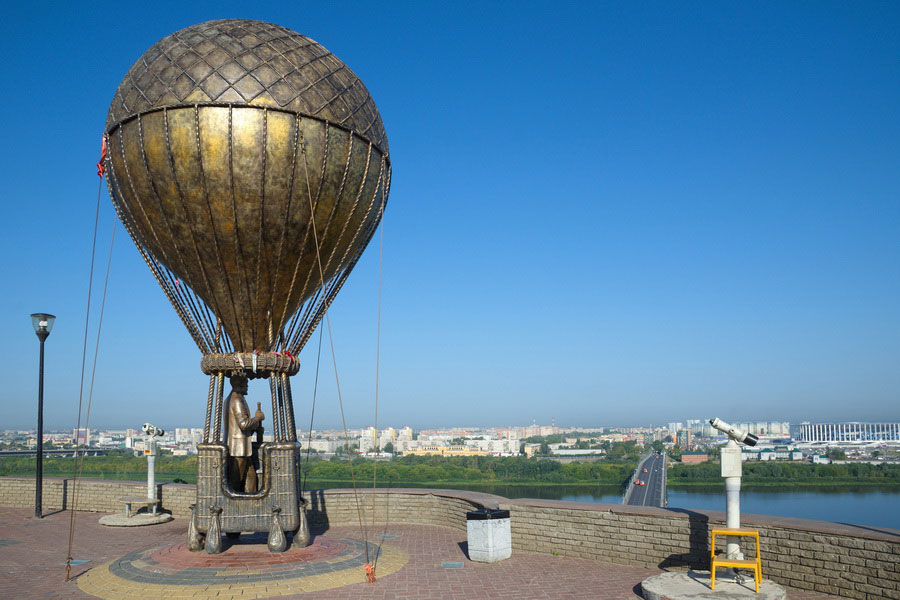 The Fedorovsky Embankment Observation Deck and Jules Verne Monument are two of the most popular attractions along the famous waterways of Nizhny Novgorod.
Fedorovsky Embankment owes its appearance to Nicholas I who, having visited Nizhny Novgorod in 1834, ordered the city receive a complete overhaul. The tsar proceeded to personally draw up an 88-point plan for its renovation and monitor the entire process. The embankment, located in Nizhny Novgorod's historic Zapocainye District, was previously called Verkhne-Okskaya before being renamed after the 19th-20th century geologist Nikolai Fedorovsky. A bridge, hotel and residential buildings were added in the 1960s, but the embankemnt did not acquire its modern appearance until 2008 when its pedestrian paths and the stairs leading through the hills to Rozhdestvenskaya Street were added.
From Fedorovsky Embankment Observation Deck you can admire Nizhny Novgorod's historic center, Nativity Church, Kanavinsky Bridge, Annunciation Monastery, Nizhny Novgorod Fair and Alexander Nevsky Cathedral, whose golden domes are particularly gorgeous at sunset.
On one of the hillside observation platforms, a monument to renowned French writer Jules Verne depicts the author flying in a 10-meter-high balloon with a telescope in his hand. Erected in 2005, it quickly became one of the most visited places in Nizhny Novgorod by tourists who love to join the flight of the French writer and take extraordinary photos with him.
Apart from the Fedorovsky Embankment Observation Deck and Jules Verne Monument, visitors to the popular strolling area can also see Assumption Church (1672), noted for its green domes and high belfry, and the Chambers of Nizhny Novgorod Merchant Olisov, a two-story mansion built in the 17th century.